One way or another, the 27-inch iMac is going to get a reaction. Some people like to build a PC out of bits, some like the value of a modular tower PC and don't see why they need to pay more for a Mac (no-one who uses a Mac asks that question, by the way). What you think of this iMac, or any iMac will almost certainly come down to your attitude to money and your attitude to design. If money is everything and design can go to hell, then you should probably stop reading now.
iMacs are all-in-one desktop computers for people who want a neat computing solution. It looks like all you get is a screen and a keyboard and a mouse; in fact, the computer itself is built into the back of the screen under a gently bowl-shaped curve that you hardly notice.
This does mean that it's hard (read impossible) to upgrade your hardware later. When you buy an iMac, you need to get the specs absolutely right for your current and future needs. Once it's built, that's it.
On the other hand, the speed of the Thunderbolt 3 interface (this iMac has. Two) means that you can connect VERY fast SDD and RAID storage, for example, so there's less need to prise open the case and add more drives later. Which you can't do, by the way. You can also plug in up to two 6K external monitors.
Specifications
Processor: 3.1GHz 6-core 10th-generation Intel Core i5 processor
Storage: 256GB SSD
RAM: 8GB
Display: Retina 5K 5120x2880 P3 display with True Tone
Graphics: Radeon Pro 5300 with 4GB of GDDR6 memory
Connectivity: 2x Thunderbolt 3/USB-C, 4x USB-A, 1x Ethernet, 1x SDXC card, 1x headphone socket
Included accessories: Magic Keyboard, Magic Mouse
*All specs can be upgraded during purchase
Key features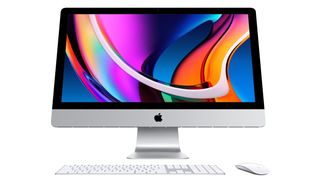 One of the key features of the 27-inch iMac is the Retina 5K display – 'Retina', because the resolution is so high that you just don't see the dots. This does have advantages for photo-editing. It means you are seeing the resolution of your photos, not the resolution of your screen and it does, in a curious way, cut down on pixel-peeping.
There is an option to upgrade to Nano-textured glass with a matt finish etched into the glass at a 'nanometer' level rather than simply applied as a matt layer. The idea is that the screen should be unaffected by glare in any environment, and it really does work – but it adds a huge $500/£500 to the price.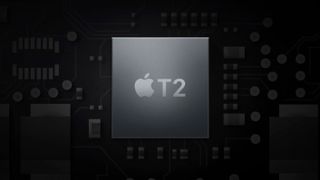 This is just one iMac spec you can customize and upgrade on your way to the checkout. The 27-inch iMac comes in three off-the-shelf configurations, starting at $1,799/£1,799, each of which can be configured with a faster processor, more RAM, a bigger SSD (all iMac models now come with SSDs), a better graphics card or faster Ethernet.
The price can quickly skyrocket, so it pays to be sensible about what you need and what you can afford. Even the base level 27-inch iMac comes with that beautiful 27-inch 5K screen and enough power for most photo-editing needs, but if you intend working on multi-layer Photoshop composites you might want to get more RAM, or a better graphics card for 4K video editing, or a faster processor for 3D rendering… and so on.
Swipe to scroll horizontally
Off the shelf iMac 27-inch configurations

| Header Cell - Column 0 | $1,7999/£1,799 | $1,999/£1,999 | $2,299/£2,299 |
| --- | --- | --- | --- |
| Processor | 3.1GHz 6-Core Processor with Turbo Boost up to 4.5GHz | 3.3GHz 6-Core Processor with Turbo Boost up to 4.8GHz | 3.8GHz 8-Core Processor with Turbo Boost up to 5.0GHz |
| Internal SSD | 256GB | 512GB | 512GB |
| RAM | 8GB | 8GB | 8GB |
| Graphics | Radeon Pro 5300 with 4GB of GDDR6 memory | Radeon Pro 5300 with 4GB of GDDR6 memory | Radeon Pro 5500 XT with 8GB of GDDR6 memory |
| Row 4 - Cell 0 | Base model | Faster processor, bigger SSD | Faster processor, better graphics card |
If you keep on going, you can eventually spec up a 27-inch iMac to the level of the iMac Pro, which starts at $4,999/£4,999. This sounds like crazy money for a desktop computer, but we are now into professional workstation territory. There is some overlap between a maximum spec 27-inch iMac and a base level iMac Pro, but if you need a 10-core processor (or more), up to 256GB RAM or a graphics card with 64GB RAM, you should be looking at the iMac Pro, or the Mac Pro instead.
The average photographer/videographer won't need this. This kind of power is the preserve of coders, 3D designers and sound engineers. For digital photography and regular video editing, a standard 27-inch iMac will work fine – though you might want to consider upping the base level 8GB RAM to 16GB and going for a bigger internal SSD than the baseline 256GB.
Design and usability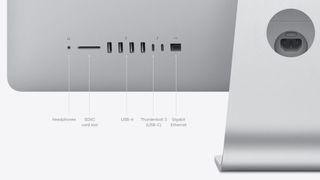 Desktop computers are typical not pretty, but the iMac is practically a piece of modern sculpture. The brushed aluminium body has nothing on the front but the screen and an Apple logo, while round the back you'll find two Thunderbolt 3 (USB-C) arts and four USB-A ports. There's also an SDXC memory card slot and a headphone jack.
The stand is built on to the back, and there's no height adjustment but there is a smooth and simple tilt movement which is a perfectly effective substitute. There is no separate power block. Instead the mains lead plugs straight into the back of the iMac, via a hole in the stand, so that you don't even see the power cable, or indeed any other cable.
The Apple 'Magic Keyboard' is wireless and very slim, but also has a very nice short, light and positive key travel. The 'Magic Mouse' that comes included has been known to divide opinion, but it's a masterpiece of minimal design, with no moving external parts and, instead, a seamless top surface which is gesture and click-sensitive, for both left and right-clicking and up/down, left/right scrolling/swiping.
The design finesse extends to the Mac OS and the included applications. Existing Mac users will already know that Macs don't come with any bloatware, but do come with a whole suite of apps for everything from everyday productivity (Calendar, Mail, Notes, Reminders) to creative tools (Photos, iMovie) to office software (Pages, Numbers, Keynote).
Performance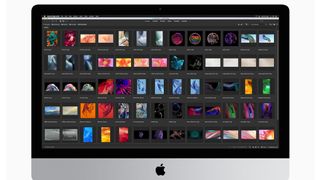 The standout feature of the 27-inch iMac is the screen. The 5K resolution is remarkable, but so is the utterly even illumination, 1 billion colors and 500 nits of brightness.
Straight out of the box, the colors, contrast and brightness look spectacular. If you produce high-quality prints or work in print publishing, you might still want to calibrate the display, but if you're working towards on-screen media sharing, that would probably take you in the wrong direction.
The swap to SSDs for internal storage and steady processor evolution makes this iMac faster than ever. Lightroom, Capture One and DxO PhotoLab all loaded and ran faster than on the older 21.5-inch iMac we ran alongside, though what you're getting here is a performance improvement not a step-change. The speed depends on the software as well as the hardware, and whether it can make proper use of multi-core processors and GPU acceleration, for example.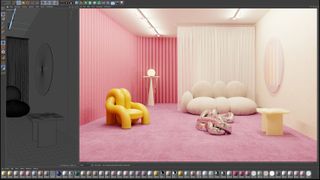 We'll bet that you can get similar performance from a cheaper Windows based system – though if you go for equivalent specs on a Windows machine, the costs can escalate just as quickly. What you won't get is the iMac's design finesse, streamlined OS and simple but effective apps.
This could make a difference for the millions who now work at home. The iMac is a machine which will suit any minimalist office workspace, and it has a built-in 1080 FaceTime HD camera and 3-mic array for high-quality video conferencing. You can use a headset if you want, but why would you?
Verdict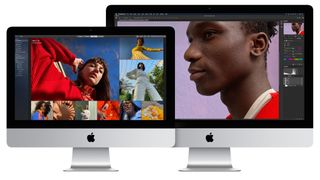 Expensive? Perhaps, but there is a lot of hardware packed into the 27-inch iMac, and while the optional upgrades look expensive compared to what you might pay for similar Windows components, you should remember you are getting them fitted too. Above all, part of what you're paying for is design, both in terms of the physical device, its screen, its presence on your desk, and its everyday operation.
When you buy a computer today, you're buying a device you are going to be living with, looking at and using for a very long time. It's likely, in the new realities of home working, to be your sole companion for hours at a time. It will be a constant presence in your house and your interface with the outside world. This is what the iMac was made for, and it does it brilliantly – and the new 27-inch iMac and its to-die-for display just take it to another level.
The costs of up-speccing the three standard models could quickly get out of control, however. For photographers, we'd recommend any of the three, but with 16GB or 32GB of RAM and a 512GB SSD at the least and ideally 1TB.
Read more:
• Best MacBook for photographers
• Best photo-editing laptop
• Best desktop computer
• Best external hard drives
• Best NAS drives