Zhiyun has become one of the go-to brands for the best camera gimbals and best phone gimbals. Recently Zhiyun has expanded its video range to include a range of LED lights, from the pocketable yet powerful Fiveray M40, to light sticks such as the Fiveray F100.
Today Zhiyun is expanding its product video lighting offerings with a new range of compact Chip-on-Board, or COB, LED lights for content creators – the new Zhiyun MOLUS G60 and MOLUS X100 ultra-compact COB lights.
Both new lights feature Zhiyun's DynaVort cooling system which has been used in its previous lights and was well received by our reviewers. DynaVort uses a gyroscope-modeled heat sink and a FOC fan to prevent overheating, based on a fluid dynamics and attitude control algorithm, the technology significantly increases cooling efficiency by more smartly controlling airflow through the light. This creates a consistent light source with no flickering or cool-down periods.
The new Zhiyun Molus lights are launching alongside a new ZY Vega companion app that can wirelessly control both the X100 and G60. The app enables complete control over individual lights or selected groups of lighting with minimal effort.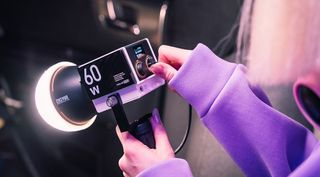 Zhiyun MOLUS G60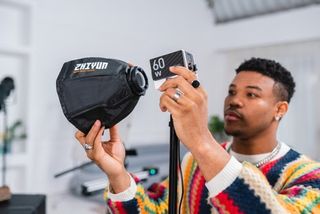 The Zhiyun MOLUS G60 weighs just 300g and is roughly the size of a Rubik's cube, what's more, the Molus G60 can be powered using the included DC adapter or a USB-C cable with 100W power delivery, although will perform at lower brightness on lower inputs. This offers maximum portability and easy setup in any location.
At full power, the Molus G60 can produce 60W of power, which is very impressive for such a small device. It also offers a dynamic color temperature range of 2700K - 6500K, which is adjustable by Bluetooth or the brightness control dial on the rear of the G60, with 3 preset brightness levels for quick navigation. The Molus G60 offers a CRI of ≥96 and a Television Light Consistency Index (TLCI) of ≥97 ensuring accurate color reproduction.
Zhiyun MOLUS X100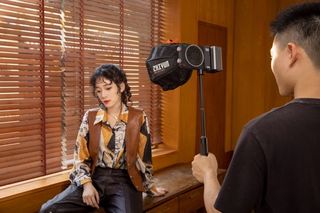 The Zhiyun MOLUS X100 is a larger and flatter design than its little brother the G60, although still manages to remain highly portable, weighing in at only 385g. As the name suggests the Molus X100 manages to deliver a massive 100W of lighting power from its compact form factor.
Like the G60, the X100's color temperature can range between 2700K-6500K, and the X100 offers a color rendering index (CRI) of ≥95 and a Television Light Consistency Index (TLCI) of ≥97. The light's brightness and color temperature can be easily adjusted using Bluetooth and the connected ZY Vega app or using on-device manual controls. The X100 also offers a music mode that will sync the light to changing music or sound effects for wider creative filmmaking opportunities.
There are three ways to power the Molus X100, either using the included DC adapter, using the 100W PD USB-C power port, or attaching the optional battery grip available as a bundle or a standalone purchase.
You can find out more about lighting for your videos in our guides to the best video lights, the best LED light panels, and best photography lighting kits.