Weighing just 9g and measuring 27 x 18 x 9.8mm, Infiray's P2 Pro lays claim to being the smallest thermal camera in the world. It achieves this, like some others, by connecting to a phone for its display and operation but even then it is considerably smaller than alternatives, from Flir and others. It is also, InfiRay (or IRay) says, the first with an 8μm thermal sensor.
Thermal imaging is growing in popularity (and coming down in price). They're popular DIY tools and essential for electricians and HVAC engineers, so it's worth finding the best thermal camera for your needs.
What is all the more impressive is that the Infiray doesn't just equal bigger devices, in some respects it surpasses them. Thermal cameras all have what seems a very low resolution from a photographer's perspective, making the 256 x 192 better than many.
InfiRay's other piece of innovation comes in the form of a magnetically attachable macro lens. The device is being made available in bundles with and without this attachment.
Another issue that plagues the industry is stuttery imagery because of restrictive export rules (we're looking at you, America) so many devices are artificially limited to about 10Hz. This, however, is at a much more fluid 25Hz, so can capture motion if required.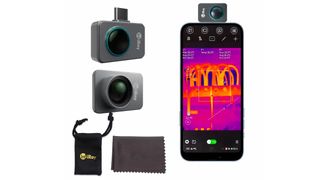 The device has a range of -20 to 550˚C (-4 to 1044˚F) with a ±2°C margin, comparable to physically bigger alternatives. There are iOS and Android versions (though we've only seen images of the USB-C version).
The InfiRay P2 Pro costs from $249/£249 and is already on sale from Amazon and elsewhere - or around $299/£299 with the magnetic macro lens.
We hope to get our hands on one to review soon, but there are obvious risks to the design. It clearly depends on the sturdiness (or otherwise) of its connector. Apple devotees might also consider waiting on their next handset upgrade if iPhone 15 rumors about USB-C are true! Nevertheless, rugged alternatives like the FLIR One Edge Pro have notably more bulk (and fewer pixels) so it seems. Other options that don't use your phone are also to be found on our best thermal cameras list.