French smart telescope-maker Unistellar has used CES 2023 to announce and show off its eVscope eQuinox 2 smart telescope – the follow-up to 2021's impressive eVscope eQuinox. Selling for US$2,499/£2,199, it's the company's most affordable model yet in a line-up that also includes the Unistellar eVscope 2.
Read: Best smart telescope
What sets apart eQuinox 2 from eVscope 2 – and, indeed, from almost every other telescope on sale – is its lack of an eyepiece. A 4.5-inch/114mm reflector telescope with a focal length of 450mm, focal ratio of f/4 and 50x magnification, like its stable-mates the eQuinox 2 is more an autonomous astrophotography rig than a backyard telescope.
It's inspired by how professional telescopes on mountaintops work; inside is a Sony CMOS image sensor that uses Unistellar's 'Enhanced Vision' technology' intelligent image processing, live-stacking long-exposures of deep-sky objects it's tracking and displaying them on the company's smartphone/tablet app. Unistellar also tells us that its partnership with NASA will soon permit any eQuinox 2 to be used to search for distant exoplanets around other stars.
On this new version, the image sensor is upgraded from a Sony IMX224 to a Sony IMX347, which increases the resolution of its images from 4.8 megapixels to 6.2 megapixels, an increase of 27%. The eQuinox 2 also brings a new field of view, offering 34x47 arcminutes compared to the original product's narrower 27x37 arcminutes. Crucially, that means the Moon now fits into its field of view. Though eQuinox 2 isn't primed for observing our natural satellite, Unistellar tells us that a future firmware update will bring it into sharp focus. The telescope weighs 9kg with its motorized Alt-Azimuth mount and 11-hour rechargeable battery; it has 64GB of built-in storage.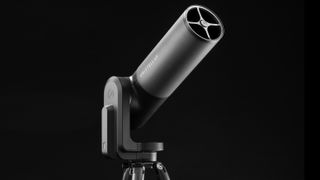 The eQuinox 2's images will also benefit from advances in machine learning, not only in terms of contrast and color, but also the removal of the effects of light pollution – perhaps the most impressive benefit of smart telescopes. Here 'Smart Light Pollution Reduction' digitally removes skyglow to allow people in heavily urban settings to view deep-sky objects.
However, perhaps the biggest change is what the eQuinox 2 is designed to observe. Once restricted to long exposure observations of galaxies, nebulae and stars, a new firmware addition to its 'Enhanced Vision' technology makes it possible to use eQuinox 2 to study planets – chiefly Jupiter, Saturn, and Mars. That will be done using a technique called 'lucky imaging' to help overcome Earth's turbulent atmosphere, which plays havoc with planetary photography. Often used by astrophotographers, 'lucky imaging' refers to the practice of taking a succession of short exposures of these bright objects in the hope that there will be a gap in turbulence when the 'seeing' is perfect.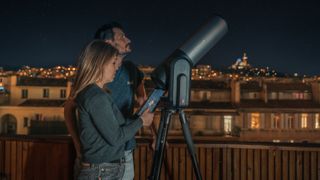 "Thanks to its state-of-the-art innovations and its smart design choices, we are making space within reach from anywhere, even from light-polluted cities," said Laurent Marfisi, co-founder and CEO of Unistellar. "Now, everyone from novice stargazers to amateur astronomers can enjoy stunning clarity, color, and hard-to-see detail like the striking colors of the Dumbbell Nebula."
Pre-sales for the eQuinox 2 are open with the product available from mid-February 2023.
Read more:
Unistellar eQuinox smart telescope review
Unistellar eVscope 2 smart telescope review
Vaonis Stellina smart telescope review
Vaonis Vespera smart telescope review
The best camera for astrophotography
The best CCD cameras for astrophotography
The best lenses for astrophotography