A 'smart telescope' that swaps an eyepiece for a Sony IMX224 CMOS image sensor seems an awful lot like a camera, right? Except that the Unistellar eVscope eQuinox, an update of the original eVscope, is simply about creating a telescope that actually works well under light-polluted skies than it is about being the best telescope for astrophotography.
However, that changed slightly during our review. While we were testing this 4.5-inch reflector telescope a firmware update increased the resolution of its deep-sky astrophotos from a shareable 1.27 megapixels to a much more serious-sounding 4.8 megapixels.
Pixels aside, the eVscope eQuinox – which arrives with a photographic-style adjustable tripod (though with a proprietary design) – has some impressive light-gathering abilities. Though its core optics are average for a backyard telescope, it's sensor, circuitry and its algorithms are unique. Small telescopes only impress with planets and the Moon, but the eVscope eQuinox goes for the celestial jugular by concentrating solely on galaxies and other previously unobtainable objects in the deep sky. However, its lack of an eyepiece means the objects you point it at can only be seen on the screen or a smartphone or tablet hosting the Unistellar app.
Order the Unistellar eVscope at Astroshop £2,660
Order the Unistellar eVscope at Astroshop $3,635
Specifications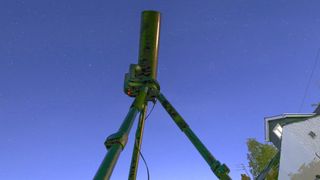 Optical design: Reflector
Aperture: 114mm
Focal length: 450mm
Focal ratio: f/4
Magnification: x50
Mount: Alt-Azimuth
Resolving power: 1.7 arc-seconds
Field of view: 30 arc-minutes
Limiting stellar magnitude: 18
Storage: 64GB
Battery life: 12 hours
Weight: 9kg
Handling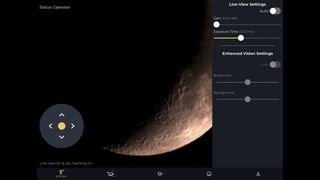 The lack of an eyepiece takes a bit of getting used to. In theory it's slightly more difficult to focus. Whereas on the original eVscope you could use its electronic eyepiece itself to focus the telescope, on this latest iteration that's obviously impossible.
In our test we first focused the eVscope eQuinox on a waxing crescent Moon, twiddling the focus knob on the bottom of the tube with one hand while looking at an iPad with another. The results looked good, but since the eVscope eQuinox isn't really designed to observe the Moon we slewed the eVscope eQuinox to bright star Arcturus high in the east to focus it using an included Bahtinov mask. Say what?! Hidden in the lens cover is a plastic circle with a distinctive pattern of slits in it. All you do is have the eVscope eQuinox line-up with a bright star and tweak the focus until you see three angled spikes of starlight come into alignment. Easy!
However, the standout feature of this telescope's super-simple set-up is its Autonomous Field Detection, during which the eVscope eQuinox checks-out what stars it's pointed at and automatically calibrates itself. It mostly works well, though more quickly if you orient it towards the Milky Way where there are more stars. An app is then required to slew to anything on a 'recommended' list. It's cleverly tweaked depending on whether you're observing from very dark skies or, like most of us, in light-polluted urban skies.
The key to the eVscope eQuinox's success is its Enhanced Vision (EV) mode. The digital noise present on a pure view of a galaxy is initially disappointing, but with EV mode engaged the eVscope eQuinox takes a photo every four seconds, stacking and constantly refreshing a composite image; you see it gradually appear and improve on a smartphone or iPad. The end result is a dark, clean, bright image of a galaxy, nebula, globular cluster or open cluster the likes of which you can never see through a regular eyepiece on a similarly-sized reflector telescope. You can manually adjust the gain (ISO) and exposure times if you want to, and even take a dark frame to cancel-out any hot pixels on the sensor.
Performance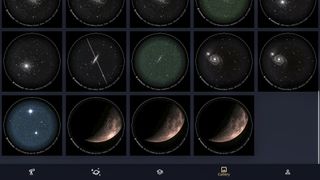 Image quality does depend on the target. For example, the Whirlpool Galaxy (M51) looks good seconds after you engage EV and just better the longer the eVscope eQuinox is trained upon it. That's not always true; some faint nebulae never really look good at all, though most targets benefit from patience – and that can mean a wait of 30 minutes if you want the very best images of distant galaxies.
It's specifically not designed to observe the Moon and planets, with this reflector telescope's field of view measuring 30 arcminutes – too small to get the entire lunar disk in. However, we were able to focus on some of the limbs of the Moon and get some decent images of its mountainous southern highlands.
Although the eVscope eQuinox is largely the same as its predecessor, that slicing-off of the electronic eyepiece means it now lasts 12 hours instead of 10 hours. It's also got four times the storage at 64GB.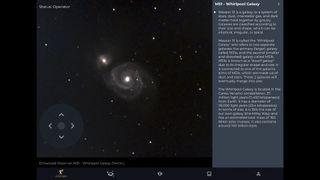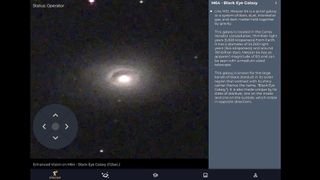 That was, of course, a clue as to the imminent increase in the eVscope eQuinox's maximum resolution. Although it's not yet possible to download the images in raw (only JPEG), Unistellar did tell us that it's developing a backend for its users where they will be able to access their observations in various formats such as FITS, alongside other post-processing options.
For now the eVscope eQuinox is largely for observing and sharing nicely-labelled images on social media (typically the object's name and your exposure time are populated) but it also has an intriguing citizen science dimension. Although the excellent app is mainly about making the eVscope eQuinox easy to use, there is a manual page where you can enter any location in the night sky (right ascension and declination). There's also a community dimension; Unistellar also runs themed observation events where multiple citizen astronomers can identify an asteroid occultation or even exoplanet detection, with this unique crowdsourced scientific data made available for proper science.
One thing we did notice is that although you can attach a battery via a (preferably very long) USB-C cable, there's nowhere to rest a battery and the slewing around the night sky does cause tangles. It would be great if there was a fold-out shelf on the tripod and a USB-C slot on the undercarriage of the eVscope eQuinox rather than on its side. During our review we also found the app to be just a little unstable, though on the few times it did crash it re-booted quickly and kept connection to the eVscope eQuinox.
Verdict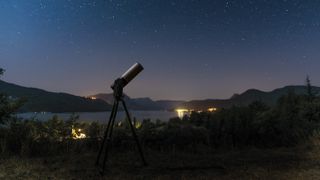 The eVscope eQuinox is not perfect, but compared to your average small reflector telescope the views it affords of deep sky objects are astounding. With resolution increasing via firmware updates, the already very clever algorithms inside the eVscope eQuinox's onboard computer will only get better. Add an intriguing community dimension for crowdsourcing observations and the admittedly very expensive eVscope eQuinox seems a next-generation 'smart telescope' with a very bright future. It is available to pre-order now for $2999 / £2599.
Read more:
• Astrophotography: How-to guides, tips and videos
• The best camera for astrophotography
• The best telescopes
• The best star trackers
• The best lenses for astrophotography
• The best CCD cameras for astrophotography
• The best spotting scopes
• The best binoculars