You probably reacted to the announcement of KodakCoin – a Kodak-branded cryptocurrency specifically for photographers and photo agencies – the same way most people did, something along the lines of "What? Huh. Okay."
Much of the photography community didn't really know what to make of the announcement – and, as it turns out, the business community didn't either. The company's shares tumbled by more than 15% when markets in New York opened on Wednesday, following delays to the currency's rollout and an announcement that only accredited investors with a net worth of more than $1 million, or an income of at least $200,000, would be able to actually buy them.
What exactly is going on?
Whose name is it anyway?
An important thing to note is that when we say that Kodak has launched a new cryptocurrency for photographers, what we actually mean is that "Kodak" has launched a cryptocurrency for photographers.
Ever since Eastman Kodak filed for Chapter 11 bankruptcy protection in 2012, the Kodak brand has been licensed to several other companies who have then freely exercised their right to slap the name and logo on whatever they want. It's perfectly possible to buy Kodak-branded cameras if you're so inclined, for example, but they will actually be made by California-based company JK Imaging.
You may remember some of its releases from years gone by – the SL "smart lens" cameras for instance, which were clearly inspired by the Sony QX range of lens-style cameras to snap onto a smartphone. DPReview published a good primer on the situation here.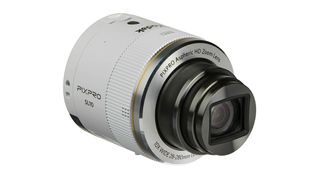 The KodakCoin and Kodak One platform are really no different. They may have the name and the logo that evoke the warm fuzzy feelings of nostalgia, but the KodakCoin is the product of a paparazzi company photo called WENN Media. And, as Ars Technica noted, it bears a striking resemblance to a project called RYDE coin, which was abandoned a few days prior to the announcement of KodakCoin.
RYDE coin shared with KodakCoin the extra feature of using the blockchain, which is the system by which Bitcoins are mined and authenticated, as a means of authenticating and licensing photographs. This isn't a terrible idea in itself, though it would require large-scale adoption across the photographic community in order to be of any use.
And then there's the other thing.
Kodak KashMiner
This was Kodak's major cryptocurrency-related announcement from CES, and in all the excitement you may have missed the other one. Kodak also announced the Kodak KashMiner, a bitcoin-mining device. In other words, a specialised computer used to earn bitcoin.
This is how it works. You rent the KashMiner for $3,400 up front, and receive a payout of about $375 per month, assuming Bitcoin retains its price of $14,000. The licensing company takes about 50% of cryptocurrency mined while paying for all ancillary costs such as insurance and power.
If you're a normal person, you're probably not that well-versed in cryptocurrency, and that probably sounds fair enough. If that is the case, then it's well worth taking the time to read this Buzzfeed report, which takes in both the KashMiner and the KodakCoin.
Actual bitcoin experts point out that the KashMiner plan doesn't seem particularly literate in how the cryptocurrency actually works – principally, that the power cost of mining bitcoin (already considerable) goes up every time a new one is mined, because the calculations required for the next one get even more complex.
Thus, the idea of a steady cost for a bitcoin-mining machine over multiple years makes no sense; the power required to mine one has doubled in the last six months alone. Incidentally, the slogan Kodak used for the new scheme, was "In math we trust".
It is really worth reading the article linked above. It also contains the following words:
"scam"
"absurd"
"mind-bogglingly stupid"
"suckers"
Two things that are extremely in right now: cryptocurrency and nostalgia. By slapping the Kodak name on new bitcoin-related activities, the firm has been able to grab headlines (yes, such as this one) and draw attention to itself. In the short term it worked; initially, Eastman Kodak's stock skyrocketed. Schemes this murky and seemingly ill-thought-through, however, will not assure long-term success, and this latest tumble in Kodak's fortunes may be a sign investors are realising this particular emperor has no clothes.
Read more: 8 bizarre lenses you can use with DSLRs and mirrorless cameras