The Hähnel Creative Lantern Kit does look pretty clever. It's like a concertina paper lantern that fits to the front of your flash and fans out to produce a much softer, more diffuse light source.
You can use it on its own, or in conjunction with six different colored filters included in the kit. You can use these filters to produce colored flash effects, add a color contrast with the ambient light or experiment with different combinations of filters and white balance settings.
The kit comes with the Lantern Diffuser, a filter adapter, a wallet and the blue, green, purple, red, orange and yellow filters. It's designed to be used with the Hähnel Modus 360 and 600 flashguns – but you will need to buy a separate Module 360 or Module 600 Clamp to fit them.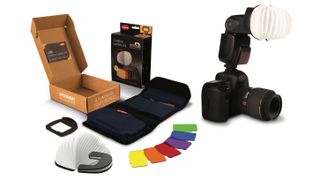 Hähnel does say, however, that these clamps are adjustable and can fit a variety of Speedlights, not just Hähnel's own. The Module 360 clamp has a maximum width of 64mm, and the Module 360 clamp goes up to 80mm.
The Creative Lantern kit attaches to the Hähnel clamps magnetically, and the company also makes a Module Softbox which fits in the same way.
The Creative Lantern kit will sell for a recommended retail price £59.99 (US and Australian pricing has yet to be announced).
Read more:
• Best flash diffusers
• Best flashguns
• Best lighting kits
• Hähnel Modus 600RT II