A Leica series camera just sold for an eye-watering €3.5 million (AU$5.7 million) making it the second-highest price a camera has ever achieved at auction. In total, 259 lots were up for sale at the fifth Wetzlar Camera Auction (WCA), but it was this sought-after 100-year-old Leica that stole the heart of a very rich, very committed Leica collector.
The extraordinary Leica 0 series camera came from an Italian private collection with bidding starting at €800,000 (AU$1.3 million). The only camera to sell for more belonged to Oskar Barnack, the German inventor and photographer who is responsible for designing the Leica 0 series. In June 2022, his own Leica 0 with his name engraved on top sold for an astonishing €14.3 million (AU$23m) blowing the previous record of €2.4 million (AU$4 million) out of the park.
• We round up the best Leica cameras - modern-day digital versions that deliver a unique, high-end shooting experience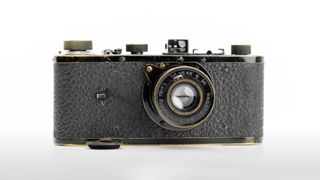 Dating back to the years before Leica cameras were introduced to the mass market, only 22 to 25 Leica 0 series cameras were crafted specifically for testing purposes and just 16 are known to exist worldwide. The historical significance of the Leica 0 series lies in its role as the prototype for all 35mm film cameras, marking a pivotal moment in the "revolution in photography."
Lars Netopil, co-owner of WCA, expressed his pride in the event, stating, "Exactly 100 years after this camera was manufactured here in Wetzlar, we were now able to auction it here in Wetzlar—an honor for our auction house and, of course, an absolute highlight in our company history."
Leica Rumors also reported a few other exceptional sales from the auction including the prototype of the Leica IIIc from 1934, which fetched €400,000 (AU$661,000).
A Leica M3 from the former German Military (Bundeswehr) in a NATO olive green version from 1966 achieved an impressive €162,500 (AU$268,000).
Rare black-painted Leica M cameras and lenses from the 1950s and 60s also saw remarkable results. An early black-painted Leica M2 with two matching lenses from 1958 sold for €162,500, while an extremely early black-painted Leica M4 with a Leicavit-MP rapid-winder reached €112,500 (AU$185,000). Jo Geier, WCA co-owner, attributed the high demand and prices to the rarity of these items, explaining, "Such a camera in fine original condition is now an absolute rarity, and demand from collectors worldwide remains extremely strong."
Wetzlar Camera Auctions has a reputation for achieving top prices in camera sales but it extends beyond the Leica domain. An extremely rare Nikon 1200-1700mm super-telephoto zoom lens from the 1990s also sold for a record-breaking price of €425,000 (AU$700,000) making it the highest-ever price achieved for a Nikon lens at auction.
This auction in particular delivered some remarkable results showing just how much people are willing to spend to get their hands on a slice of photographic history.
Why not also check out the best film cameras to experience the beauty of shooting analog