This year's shortlist for the Deutsche Börse Photography Foundation Prize covers everything from war and conflict, diasporic communities and decolonization, contested land, heritage, equality and gender. Established in 1996, the Deutsche Börse Photography Foundation Prize is widely regarded as one of the most prestigious photography competitions in the world, celebrating photographers who have made a significant contribution to photography with thought-provoking, innovative work.
After a rigorous selection process, outstanding individuals have been shortlisted for the upcoming award including Swiss photographer Vallie Export who explores women's roles in society through photography, film and immersive installations. Duo Gauri Gill & Rajesh Vangas have been dominated for their book Fields of Sight, published in 2023 by Edition Patrick Frey which combines Warli painting with photography to address aesthetics, environmental issues, memory and decolonization.
• These are the best 50 photographers including pioneers Henri Cartier Bresson, Ansel Adams and Helmut Newton
South African visual artist Lebohang Kganye from Johannesburg has been nominated for his exhibition at Foam, Amsterdam which blends personal and collective histories through experimental installations combining images and words. Finally, the Syrian-Armenian photographer Hrair Sarkissian has been selected for his work The Other Side of Silence which is currently on display at the Bonnefanten Museum, in The Netherlands. It explored a deeply personal narrative with hidden socio-political realities through conceptual, life-sized photography uncovering behind the scenes of conflict.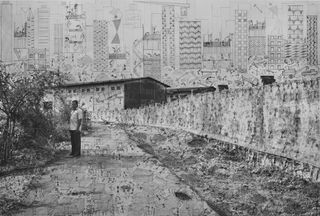 These artists have been selected as they demonstrate the unique ability of photography to unveil the invisible, the forgotten, and the marginalized while envisioning paths toward redress. The winner of the Deutsche Börse Photography Foundation Prize will receive a prize of £30,000 ($37,000), and the other finalists will each be awarded £5,000 ($6,200). The winner will be announced at an award ceremony at The Photographers' Gallery on May 16, 2024. Full details of the exhibition and award evening will be announced in early 2024.
This year's jury includes Rahaab Allana, Quentin Bajac, Anne-Marie Beckmann, Laura El-Tantawy, and Shoair Mavlian. According to Shoair Mavlian, Director of The Photographers' Gallery, this year's shortlist reflects a wide range of important themes in contemporary photography.
The annual exhibition of the shortlisted projects will be on display at The Photographers' Gallery, London, from February 23 to June 2, 2024 before moving to the Deutsche Börse Photography Foundation in Eschborn/Frankfurt from June 15 to September 15, 2024.