Having given its OM-D series of cameras a refresh with the OM-D E-M10 Mark III and flagship OM-D E-M1 Mark II models, Olympus has now turned its attention back to its more style-oriented PEN line by introducing the E-PL9.
We've already had our hands on the new E-PL9 – read our hands-on review here
Olympus E-PL9 specs
16MP Live MOS sensor
Micro Four Thirds lens mount
TruePIC VIII processing engine
3-axis Image Stabilisation system
4K video recording to 30p with option to extract images
121-point contrast-detect AF system
3in tilting, touch-sensitive LCD, 1.04million dots
Built-in Wi-Fi and Bluetooth LE (Low Energy)
16 Art Filters, including Bleach Bypass and a new Instant Film mode
Built-in flash
Advanced Photo mode
SDHC/SDXC support (inc UHS-II)
117.1 x 68 x 39mm
332g (body only)
Much like the existing E-PL8, the E-PL9 is targeted towards young, style-conscious smartphone users that are looking for a pain-free transition to interchangeable-lens photography.
The camera mirrors the model it succeeds in offering a 16MP Live MOS sensor, although the processing engine is the TruePic VIII version that was included in the flagship OM-D E-M1 Mark II, rather than the older TruePic VII option. This, Olympus claims, will help the camera to deliver better low-light performance than before.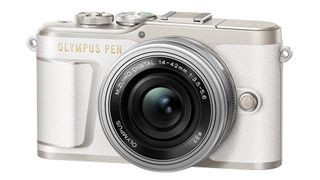 Video recording has also been given a boost, jumping up from the E-PL8's Full HD option to 4K recording here, with the option to extract images from recorded footage too.
Read more: Olympus OM-D E-M1 Mark II review
The focusing system has been revamped from the previous 81-point system, now with 121 points in total, and Olympus claims this covers most of the frame. It continues to be based on contrast-detect AF technology, however, rather than have any phase-detect AF pixels incorporated into it.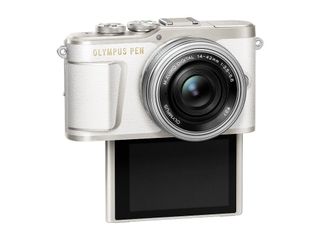 You can also focus on the subject by tapping the camera's LCD, as this is fully responsive to touch. Once again, it flips down through a 180º angle to face the front, with this selfie-friendly design augmented by an e-Portrait mode to smooth skin tones.
There's also a new Advanced Photo mode, something that was also seen on the OM-D E-M10 Mark III, that lets you access creative photo mode faster, while multiple exposures, HDR shooting and focus bracketing are all possible. A built-in flash, meanwhile, provides a further advantage over the flash-less E-PL8.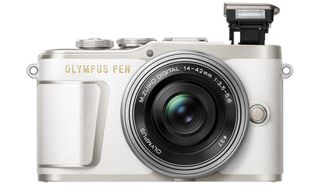 Wi-Fi and always-on Bluetooth LE are also included, and this works with the O.I. Share app that packs a collection of free "How To" videos. It's also possible to wake the camera up from your phone to view its images, without needing to turn it on again. This might sound like a gimmick, but Olympus points out that you can do this once you've put your camera back in your bag, which is potentially useful for quick editing and sharing while you're on the move.
Olympus E-PL9 price and release date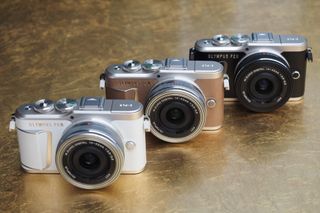 The E-PL9 will go on sale in the middle of March, in white, brown and black finishes. Those stepping up from previous models will be able to get it in a body-only option, although a kit with the M.Zuiko Digital ED 14-42mm F3.5-5.6 EZ Pancake lens will also be made available.
In the UK, an RRP of £579.99 has been confirmed for the body on its own, and £649.99 for the kit with the optic. We'll update this with US and Australian prices once we have them.
Read more: Olympus E-PL9 hands-on review