Obviously 2020 was rough for everybody. And for Olympus it marked the end of 84 years as one of the most iconic brands in the camera business, as the corporation sold off its imaging division in one of the industry's biggest bombshells.
Olympus, as a camera company, is no more – though its cameras and lenses live on under new ownership. And as rough as 2020 was, it still saw the erstwhile brand release some of the best Olympus cameras and lenses – including the single most expensive product it has ever brought to market.
While it paused its perennially popular PEN series of cameras (leading many to speculate about the future of the line), Olympus gave us fresh iterations of both its flagship professional camera and its entry level SLR-style body – along with a bizarre refresh that we didn't see coming.
It also gave us a couple of new pro-grade optics – including perhaps the most advanced and impressive Micro Four Thirds lens we've ever seen.
The biggest development, though, was obviously the earth-shattering sale announcement. Here's how it all went down, in one of the most tumultuous years in history for the former Olympus…
January – Olympus OM-D E-M1 Mark III
The year kicked off with a bang, as the manufacturer brought out the latest version of its professional flagship camera: the Olympus OM-D E-M1 Mark III.
While many sceptics scoff at the idea of a camera with a Micro Four Thirds sensor being used for professional work, this is a true powerhouse – and is one of the best all-around cameras for general practice professional photography.
The aging 20.4MP image sensor is most certainly overdue an upgrade, but it's hard to argue with the core specs: industry leading IBIS good for up to 7.5 stops, maximum 80MP imaging resolution, 60fps continuous burst speeds, handheld astrophotography, in-camera Live ND filters, Pro Capture that buffers 14 shots before you press the shutter so that you don't miss a moment… there's really nothing that it can't do.
One month in, and the year is looking good…
February – Olympus M.Zuiko 12-45mm f/4 Pro
A lens that few people expected was the Olympus M.Zuiko 12-45mm f/4 Pro, which landed shortly after the launch of the E-M1 Mark III.
Rumored to be the start of an f/4 line of zooms to match their f/2.8 trinity counterparts (though we have yet to hear about f/4 versions of the 7-14mm or 40-150mm lenses), the 12-45mm f/4 Pro has an equivalent 24-90mm focal range in full-frame terms, making it a standard zoom for all-purpose shooting.
While the 12-40mm f/2.8 Pro isn't that much bigger or more expensive, the new f/4 version offered a notable weight reduction, great optical quality, full weather sealing along with light macro capabilities (and a crazy close minimum focusing distance). For anyone who doesn't need to shoot below f/4, it was a very welcome release.
Two months in, and things are still looking good…
June – Olympus announces sale of camera division
Talks of a sale had been rumored throughout 2019, but had been repeatedly and fervently shot down by Olympus' top brass. Six months into the year, with little further chatter about a sale, we thought it was just industry gossip.
Then June came.
Olympus announced that it was divesting its camera business, and had agreed to sell it to Japan Industrial Partners (JIP) – a private equity and carve-out firm, which specializes in purchasing unprofitable businesses and turning them around for resale to "corporate acquirers".
Previously JIP's biggest acquisition had been the Vaio brand, which it purchased from Sony. That didn't inspire a great deal of confidence, however, since the brand has since disappeared from most markets, and the quality of Vaio products is not nearly what it was under Sony's umbrella.
While it was known that Olympus' imaging and audio divisions were being sold, little else was made clear. What of the Olympus brand itself – would cameras and lenses still bear the Olympus name? Which camera lines would or wouldn't continue? What would the new company even be called? What exactly does the Olympus sale mean for existing users, and the industry as a whole?
We wouldn't get some of these answers until later in the year – and we still haven't got answers to others, even as 2021 knocks at the door.
August – Olympus OM-D E-M10 Mark IV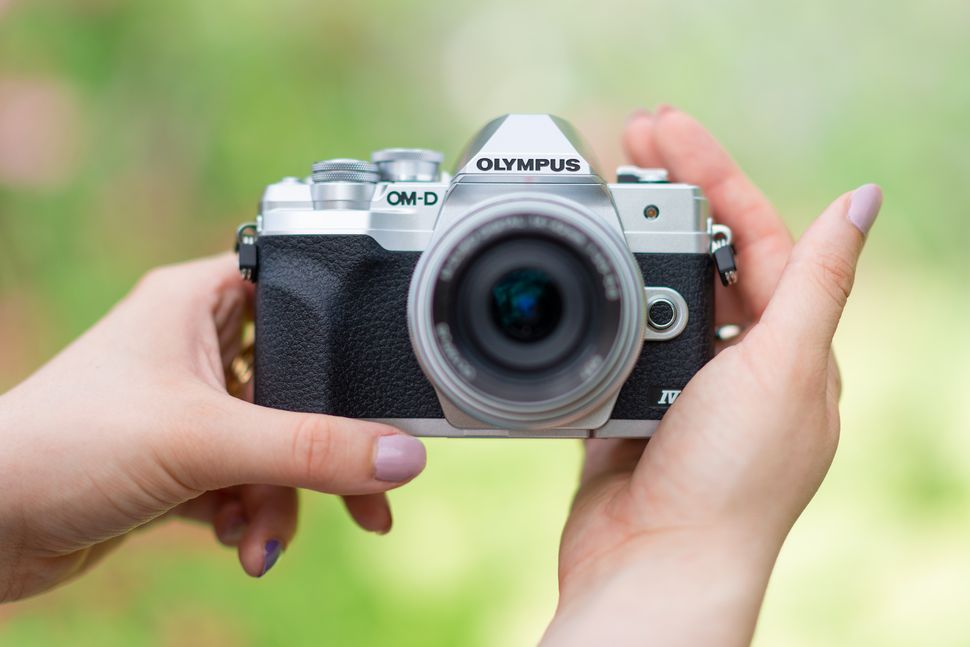 With the industry still reeling from the sale announcement, the announcement of the Olympus OM-D E-M10 Mark IV came with the message "business as usual". Olympus would honor the products on its roadmap, and the latest version of its entry level SLR-style camera brought some much needed improvements.
Finally Olympus upgraded the 16MP sensor traditionally seen in the E-M10 line, replacing it with a 20MP chip – albeit the contrast AF-based 20.3MP one from the Olympus PEN-F, rather than the phase detect AF-based 20.4MP
It also reinstated the manual silent shooting mode that had been bizarrely omitted from the Olympus OM-D E-M10 Mark III, and introduced a fully flipping 180° selfie screen that had previously been the calling card of the Olympus PEN line (again leading to questions about those cameras).
September – Sale agreed: meet OM Digital Solutions
Following the sale announcement in June, the sale to JIP was formally agreed in September – and with it came the reveal of the new company that would assume the Olympus product lines: OM Digital Solutions Corporation.
Here's where things got fascinating. Obviously, the OM Digital name comes from the established Olympus SLR-style cameras – named after the original 35mm OM film bodies, where the initials stood for "Olympus Maitani" in honor of legendary camera designer Yoshihisa Maitani. And the OM-D in the company's product names, likewise, stood for "OM Digital".
So, in that sense, the new company's name made perfect sense. What was conspicuous by its absence, however, was any iteration of the Olympus name itself (despite Olympus retaining a 5% stake in the new company). Obviously this raised further questions about the Olympus brand, and whether or not OM Digital Solutions would use it for future products.
Initially, JIP stated that "the Olympus brand will be maintained for the time being". However, Olympus UK later confirmed that the new company "will utilize the Olympus brand for a certain period," suggesting that new products ultimately will not carry the brand name.
That said, it was confirmed that the individual product lines – including OM-D, PEN and Zuiko – would continue to be used. We still don't know what logo will be appearing on those cameras, though… and that would seem a fairly important thing to let consumers know.
October – Olympus OM-D E-M10 Mark IIIS
Okay, we never saw this one coming! Obviously we expected that the E-M10 Mark III would be replaced by the E-M10 Mark IV, which happened in August. What we didn't expect, though, was that it would also receive an update in the form of the Olympus OM-D E-M10 Mark IIIS.
It is, in all but three ways, absolutely identical to the existing E-M10 Mark III. So what's different?
1) It reinstates the silent shooting mode
2) It adds the Instant Camera Art Filter
3) It has a "IIIs" logo on the front
All of these – save the logo, which we can live without – could and should have been added via firmware to the existing Mark III. Still, if you're looking to pick up one of the best travel cameras, at least you can now opt for this one and be able to take manual control when using the silent shutter (which was frustratingly relegated to an automatic shooting mode in the Mark III).
November – Olympus M.Zuiko 150-400mm f/4.5 TC1.25x IS Pro
Olympus shocked us once in June, by announcing it was selling its camera business. Yet somehow it managed to shock us again with its final announcement of 2020, by revealing its monster super telephoto lens – with a $7,500 price tag!
The Olympus M.Zuiko 150-400mm f/4.5 TC1.25x IS Pro had been announced in 2019, but it took over a year before the finished product was ready. This behemoth features an innate 300-800mm equivalent focal range in full-frame terms, but also features an integrated 1.25x teleconverter, expanding its maximum zoom to 1000mm.
However, it's also compatible with the Olympus MC-20 2x teleconverter – which means that you can achieve an astonishing 2000mm reach, in a lens that's truly light enough to shoot handheld!
This incredible optic boasts 4.5 stops of in-lens stabilization, but mounted on the Olympus OM-D E-M1X employs Sync-IS to deliver 6 stops when used at 500mm (1000mm equivalent) and 8 stops at 150mm (300mm). While a tripod is obviously better, it's no exaggeration to say that you can shoot and film handheld at 2000mm – simply astonishing, especially for wildlife and safari photographers.
Obviously, though, that $7,500 price tag will sting for customers – many of whom adopted the Micro Four Thirds system for the lower price, especially regarding wildlife lenses (where the reduced size and 2x crop factor makes smaller lenses shoot much longer).
Still, an equivalent full-frame lens remains much more expensive; the Canon EF 800mm f/5.6L IS USM costs $12,999, so the Olympus optic is thousands of bucks cheaper. We still fear, though, that this lens – the last ever photographic product released by Olympus – might be priced just a little too ambitiously. Perhaps not the ideal product to segue into the bold new OM Digital Solutions era…
Read more:
Olympus OM-D E-M1 Mark III review
Olympus OM-D E-M10 Mark IV review
Olympus M.Zuiko 12-45mm f/4 Pro review
3 new Olympus lenses for 2020, with 100-400mm IS & 12-45mm Pro