The iconic photograph known as Nude on Sand, Oceano arguably the most famous image by Edward Weston, is expected to sell for almost $100,000 at the upcoming Bonhams Skinner Prints and Photographs Sale.
The auction will be held between January 16-26 at Skinner Marlborough, Massachusetts, and also includes work by American photographer Alfred Stieglitz, pop art icon Andy Warhol, and British artist Damien Hirst.
• These are the best film cameras – vintage models that capture the magic of film
Taken in 1936, at the sand dunes of Oceano in California, the vintage gelatin silver print is considered to be one of the most successful photos from Weston's Modernist Nude Studies. It captures Charis Wilson, who would later become his muse and spouse, lying face-down, arms crossed on a sand dune, where a black line has been created by her shadow.
The year after it was taken, Weston sent a copy to the artist Charles Sheeler, who described it as being "one of the outstanding photographs in the field for me," before comparing it to the Grande Odalisque, the iconic oil painting by Jean-Auguste-Dominique Ingres.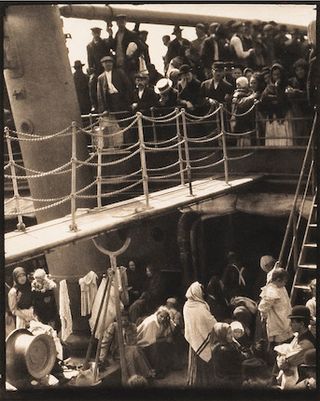 Other works included in this high-profile auction include a print of The Steerage, by Alfred Stieglitz, which is expected to sell for $4000-$6,000. The photograph captures the third-class section of a ship during a transatlantic journey in 1907. It's often considered to be the first modernist photo but also acts as a study of society and class. The Steerage is from Camera Work issue XXXVI and is in excellent condition according to Bonhams.
The Steerage is just one of 16 photos by Stieglitz that will be included in the Bonhams Skinner auction alongside Damien Hirst's All You Need is Love, Love, Love, which is estimated to sell for $25,000-$45,000, and a photo that was taken by Ansel Adams in Yosemite National Park, California in 1938.
• Discover the best 50 photographers ever – from early pioneers to genre-defining photographers and modern-day documentary photographers