Of all the things we saw at Photokina 2018, OpTech's new Tripod Sleeves was one of the most bizarre. Waterproof trousers for your tripod might just sound like an April Fool's joke... but there is a lot of sense in having extra weatherproofing for your three-legged support.
As any seasoned landscape photographer will know, you often need to plonk your tripod in a stream or the sea if you are going to get the best viewpoint. And water, mud, sand and salt are sure to accelerate the wear and tear on your legs, and particularly at the joints.
The Tripod Sleeves are essentially plastic bags that are custom-designed to slip onto each of your tripod's legs. Each has a drawstring closure at the top to ensure a snug fit, and so that they do not slip down. There is a reinforced bottom panel at the bottom for extra durability.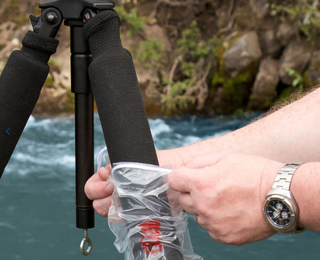 American manufacturer OpTech suggests that the Sleeves can be left in place between shots, as the legs not only remain visible through the transparent plastic, the legs can also be adjusted without removing these unusual sheaves.
The Sleeves are 46 inches in length (1.16m), so can protect some of the tallest tripods, and can accommodate legs with a diameter of up to 2 3/4 inch (7cm).
The Rain Sleeves are due to go on sale this month, and will retail for $9.95 for a pack of three.
Read more: