Digital photo frames have come a long way from the basic models first introduced in the 1990s. While the digital photo frames of yesterday lacked style and sophistication, today, digital photo frames are smart and stylish.
When I was first asked if I wanted to review the Aura Carver photo digital photo frame, I was a little worried I'd hate it. However, I did a complete 180 and my stance on digital frames has changed entirely. I use mine every day, I regularly update it and I love glancing over to it when I'm in my room.
If you're stuck on a present idea for a loved one, a digital photo frame is a great idea and with Amazon Prime Day there are plenty of deals that can save you a lot of money. But why are digital photo frames so great these days? Here are 5 reasons why:
1. Easily add photos
Upload images via Bluetooth, Wifi, or your frame's unique app. Many allow you to add photos from anywhere in the world too!
2. Looks stylish
Choose from a classic wooden finish to a more modern speckled stone finish – no mater your taste there'll be a photo frame to match.
3. Internal memory
You won't even have to go out and invest in a memory card or USB drive to use alongside your digital photo frame as all the best ones come with internal memory making it possible to store 1000s of images.
4. High-res display
The quality of digital photo frames has include significantly and many now feature a high-res 2K screen with touchscreen capabilities. Smart features such as auto-turn dimming turn the screen off in low light to save energy and not disturb you.
5. No decision making
Never make a tricky decision about which photos to frame again – with a digital photo frame you can upload all your favorite images and have them on rotation. We all take so many photos because even our camera phones are so good, so it seems a shame to not show them off.
Here are some of the best Amazon deals on digital photo frames: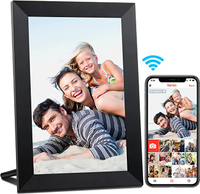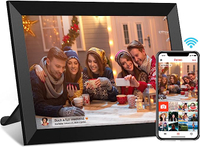 Frameo Digital Photo Frame| $67.99
Use in portrait or landscape mode, add photos from your phone, and play videos with the Frameo 10.1-inch digital photo frame. When it comes to value for money, this is hard to beat, it has advanced featured and a 1080p display.