More than 50,000 votes have been cast by wildlife lovers worldwide to pick a new 'Big 5' of favorite animals to photograph and be seen in photos – elephant, polar bear, gorilla, tiger and lion.
Launched in April 2020, the New Big 5 project was created by British photographer Graeme Green.
It aims to raise awareness about the crisis facing the world's wildlife from threats including habitat loss, human-wildlife conflict, poaching, illegal wildlife trade and climate change.
So what exactly is the 'Big 5'? It was a term used by trophy hunters in Africa for the five most prized and dangerous animals to shoot and kill: elephant, leopard, lion, rhino and Cape buffalo.
But the New Big 5 project turns that definition on its head to create a New Big 5 of Wildlife Photography, rather than big game hunting – shooting with a camera, not a gun.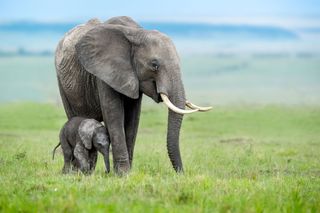 More than 250 of the world's leading wildlife photographers, conservationists and wildlife charities have joined together to support this international initiative, including Jane Goodall, Pavan Sukhdev (WWF), Kaddu Sebunya (AWF), Save The Elephants, Dian Fossey Gorilla Fund, Conservation International, Ewaso Lions, Polar Bears International, Wildlife Direct, IFAW, Orangutan Foundation, Save The Rhino International, WildAid, IUCN, Wildlife Trust Of India, Save Pangolins – and more.
Race and gender diversity were a key part of the project, with more than 120 renowned, global, male and female supporting photographers on board from Kenya, Japan, Peru, USA, Lebanon, France, India, Rwanda, UK, Australia and more, including Marsel van Oosten, Ami Vitale, Paul Nicklen, Gurcharan Roopra, Daisy Gilardini, Brent Stirton, Art Wolfe, Usha Harish, Marina Cano, Steve Winter, Suzi Eszterhas, Clement Kiragu, Joel Sartore, Xi Zhinong, Thomas Mangelsen, Jasper Doest, Rathika Ramasamy, Jo-Anne McArthur, Shogo Asao, David Lloyd and Melissa Groo.
Actors, musicians and famous wildlife supporters, including Djimon Hounsou, Chris Packham, Eugenio Derbez, Levison Wood, Carla Morrison and Joanna Lumley are also backing the New Big 5 project.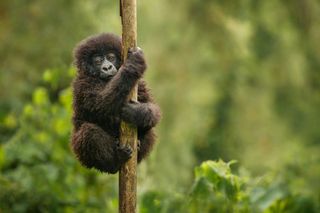 Said photographer and founder, Graeme Green: "The 5 animals that wildlife lovers around the world have voted to include in the New Big 5 of Wildlife Photography – elephants, gorillas, tigers, lions and polar bears – are not just some of the most beautiful, incredible animals on the planet.
"All five also face serious threats to their existence. The New Big 5 are the tip of the iceberg.
"They stand for all the creatures on the planet, so many of which are in danger. From bees to blue whales, all wildlife is essential to the balance of nature, to healthy ecosystems and to the future of our planet."
Each of the five species in the New Big 5 face severe threats to their existence and are listed by the IUCN either as Critically Endangered, Endangered or Vulnerable.
One million species currently face the threat of extinction. The animals in the New Big 5 can serve as global ambassadors for all the world's wildlife and the crisis they face.
All five animals are keystone species, essential to the balance of nature in their habitats, biodiverse ecosystems and the survival of other species. Each species is vital to the health of the planet and to our future.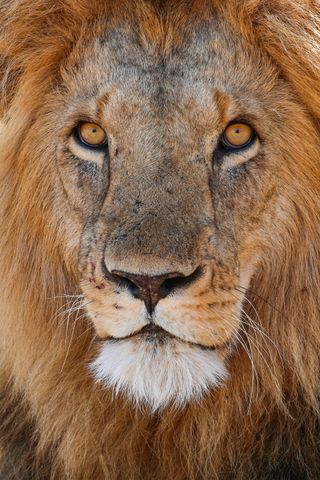 The New Big 5 also offers a new bucket list for travelers, wildlife lovers and photographers to experience in their lifetime.
Tourism funds much of the world's vital conservation work. The New Big 5 encourages travellers to visit the places where these five animals live, support conservation efforts, and learn about all the wildlife there and the threats they face.
"We're currently experiencing the worst spate of species die-offs since the loss of the dinosaurs 65 million years ago," said photographer Marsel van Oosten.
"But unlike those past mass extinctions, the current crisis is almost entirely caused by us: humans.
"The New Big 5 consists of elephants, polar bears, gorillas, tigers and lions – some of the most iconic animals on our planet. They're a stark reminder of what's at stake if we don't change our ways.
"That's how I will look at each of them, as beautiful representatives of the many thousands of other, often lesser-known species who desperately need our help."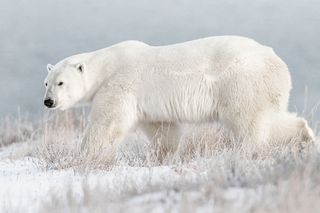 Dr Jane Goodall, Founder of The Jane Goodall Institute, added: "We now have the results of the New Big 5 project. These 5 animals – elephants, polar bears, gorillas, tigers and lions – are such beautiful and remarkable species, and are wonderful ambassadors for the world's wildlife, from iconic species to little-known frogs, lizards, fish and birds.
"So many face threats to their survival from issues such as poaching, habitat loss and climate change. A million species are at risk of extinction.
"If we work together, we can stop this happening. There is always hope. Change is possible if we each play our part."
Click here to find out more about the New Big 5 project.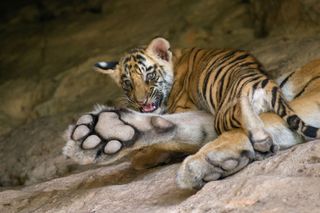 Read more
Best cameras for wildlife photography
Best binoculars for wildlife, nature and astronomy
Best lenses for bird photography and wildlife photography
Best trail cameras