Happy New Year! If you were the grateful recipient of a new camera at Christmas, then we have the perfect present to go with it – a guide to mastering your new DSLR or mirrorless in just half a day.
Our Camera Crash Course is this month's cover feature.
Remember that you can also buy Digital Camera online, or make great savings of up to 34% with a subscription.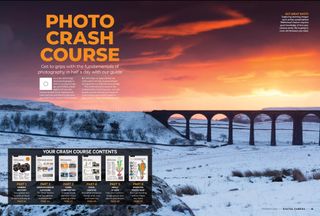 Other highlights in February's Digital Camera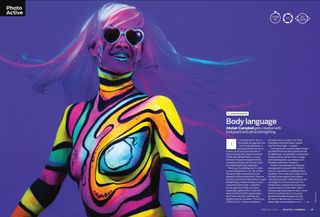 As ever, get some fresh inspiration for things to shoot by browsing the 10 all-new photo projects in Photo Active. These include Viking portraits, capturing condors in flight and a bodypaint in UV lighting shoot.
And there are more great ideas for keeping things local in our Stay at Home section.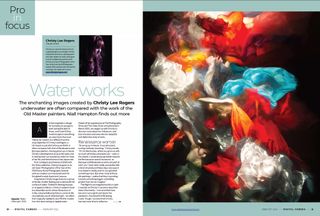 Leading professional photographers to feature in this issue include the visual artist Christy Lee Rogers, in Pro in Focus, while Rankin offers insights into what it's like to take portraits of your heroes, in our Q&A interview.
Plus, see some of the images from the recent Women Street Photographers exhibition, in our Hotshots gallery.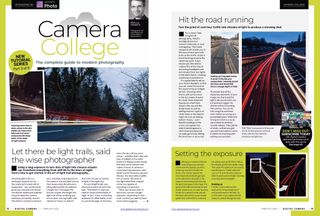 This month's Camera College focuses on photographing light and star trails.
Learn how to master the necessary techniques and enter a shot in our new monthly photo challenge where one lucky reader can win a copy of Affinity Photo, worth £49/$50.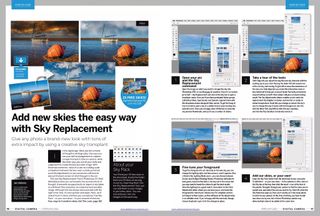 Discover how to use this month's bonus digital gift – 25 creative skies for Photoshop – with an in-depth walkthrough from Jon Adams.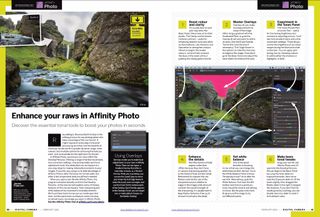 Other image editing tutorials in the February issue showcase creative techniques for Affinity Photo, Lightroom, Photoshop and Photoshop Elements.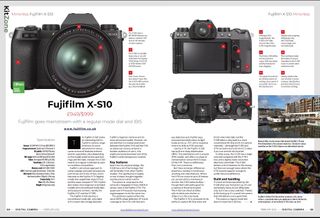 The Fujifilm X-S10 and the Leica Q2 Monochrom lead our equipment reviews this month, and you can also read our verdicts on the Nikkor Z 14-24mm f/2.8, the Lumix S Pro 50mm f/1.4 and the iPhone 12 Pro Max – is this Apple's best-ever camera phone?
This is all alongside mini tests of camera L-brackets and waterproof compacts.
The latest issue of Digital Camera comes with an unrivaled selection of digital gifts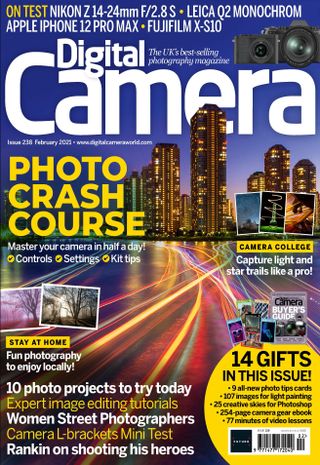 This issue's digital gifts comprise a Sky Pack for Photoshop, 107 images for light painting; 77 minutes of bonus video tutorials covering Photoshop, Lightroom and Affinity Photo; and a 254-page Camera Buyer's Guide ebook.
Here's the full line-up of the bonus gifts with issue 238:
Nine all-new photo tips cards on landscapes, architecture, macro – and more!
25 creative skies for Photoshop to transform your landscape photos
107 images for light painting with a smartphone or tablet
77 mins of image editing video tutorials for Photoshop, Lightroom and Affinity Photo
254-page Camera Buyer's Guide ebook packed full of buying advice
Subscribe now
Every issue of Digital Camera magazine is packed with tips, techniques, pro advice, reviews, news and inspiration.
To make sure of your copy every month, subscribe at our online shop from just £12.50!
You can buy limited back issues of Digital Camera magazine in print at our Magazines Direct secure store.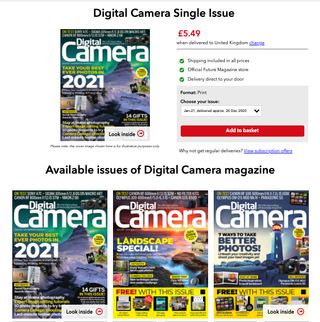 Alternatively, there is a range of different digital options available, including:
• Apple app (for iPad or iPhone)
• Zinio app (multi-platform app for desktop or smartphone)
• PocketMags (multi-platform app for desktop or smartphone)
• Readly (digital magazine subscription service)