The new issue of Digital Photographer is out now.
This month we have another amazing issue for you, packed full of pro techniques, advice and insight.
Master Dramatic Black and White
Black and White photography is an ever popular topic, so we've put together an in-depth guide to capturing dramatic mono images. Learn to manage contrast, and texture, find the best subjects, work with light and even edit your shots for maximum impact.
Master Manual
While many photographers know how to control the settings on their camera it can be tricky to know when and how to take full control over all aspects of the shooting process. This issue Dan Mold takes us through the main reasons for shooting manual, so if you're new to photography or just need a refresher, there is something here to make you a better photographer.
Fine Art monochrome landscapes
In this issue's Creative Project assignment Peter shows you how to shoot and edit a fine art landscape scene. As is the theme for this issue, the best black and white images are created when you shoot with conversion in mind. Learn how to expose, frame and process for max drama!
Mirrorless shoot out!
Get your copy of DP Issue 236 today!
Get a digital copy instantly for less than £3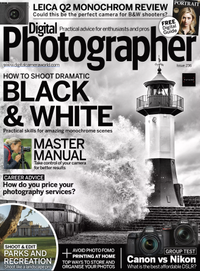 Digital Photographer is a monthly magazine, and the kitbag essential for enthusiasts and amateurs alike!
Inside, you'll find practical guides, shooting tips and techniques from working photographers, plus all the latest industry news.
Where to find Digital Photographer
Plus we've got the usual tutorials, interviews, insight and opinion, from a range of experienced pro photographers from across the industry.
Don't miss out on all of this essential professional-level advice. Get your copy of Digital Photographer now.
Why not Subscribe for a print copy or you can read us on your mobile device with a digital subscription.
You can get your copy of Digital Photographer in stores - but if you can't get out, then order a copy direct from us, either in print or digital form.
For printed back issues go to Magazines Direct
For digital editions of the magazine, you have a variety of options available:
Apple app (for iPhone and iPad)
PocketMags app (multi-platform app for Android and other devices)
Zinio app (multi-platform app for desktop and smartphone)
Readly (all-you-can-eat digital magazine subscription service)
Connect with us
Find us on Facebook and Twitter and subscribe to Digital Photographer, to ensure you never miss an issue!
Digital Photographer on Facebook
Digital Photographer on Instagram
Digital Photographer on Twitter
Read more:
The Sony A1 makes the Canon EOS R5 look like a bargain
The best camera gear for landscape photography
Instax film deals in February 2021 – great buys on print packs in an instant!