If you've recently been thinking about selling camera equipment I highly recommend trading it into your local camera retailer instead of using eBay. I've never had much luck selling stuff on eBay; either the buyer never pays, they end up requesting a refund, or the item sells for way less than I was hoping. So now, I've thrown in the towel and have decided to sell my used kit to a camera retailer that offers cash for trade-in.
Over the years I've tried to sell several things on eBay including a Nikon D750, a Nikon AF-S 24-70mm f/2.8 lens and a Manfrotto tripod. Not a single sale has gone smoothly, I've ended up having items sent back because they "didn't match the description", had buyers win a bid but never pay for an item, and once I even had a package go missing.
One of the problems with selling on eBay is that it massively favors the rights of the buyer over the rights of the seller. From my experience, even if you are really transparent about the condition of an item, if the buyer complains it "didn't match the description" you are forced into offering a refund - even if you've stated you have a no refund policy.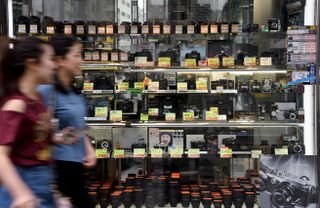 When I tried to sell my Nikon D750, I listed it as used and explained that there were several marks on the body where the paint was missing, slight discoloration on the rubber and scratch marks underneath. It came with the original box and charger but I forgot to mention the strap was missing and it had an unbranded body cap.
Despite my transparency, soon after the item arrived I got a refund request from the seller based on the fact I'd forgotten to mention it was missing the original strap and body cap. I apologized and offered to give a partial refund to cover the cost of a new strap and body cap but as I'd caused him "unnecessary hassle" he would only settle for a 10% refund - which I was not willing to give.
In the end, the buyer opened up a case with eBay who of course took their side. I was forced to offer a full refund and had the item sent back to me. I didn't bother to relist it - with eBay's 12% fee and the time and effort it took to package and take to the post office I decided to cut my losses and sell it to a local retailer instead. I didn't get quite as much as it had sold for on eBay but I was able to drop it off in a store, had it inspected straight away and walked away with money in my bank account.
With new cameras costing so much, lots of people are turning to the secondhand market when looking to upgrade kit and these days most reputable camera retailers offer trade-ins either for cash or credit. You don't even need to go in-store to sell your kit, lots of retailers will send you a prepaid label so you can package up your items and send them in for free. You will then receive a quote with the prices they're willing to pay and you can decide to accept or decline.
Don't get me wrong, I love eBay as a buyer. I've picked up some bargains including a Tamron - Canon FD adapter for my Canon AE-1 for just £9.95/$9.95. But I am so done trying to sell on it.
Also check out the best DSLRs if you prefer a chunky grip and want a longer battery life