A lie. A myth. Malarkey. Hokum. Hogwash. That's what 'compression of perspective' is, according to a couple of prominent online stories.
'Compression of perspective' is a term that has been used by photographers for decades, to describe the effect of using longer lenses to visually 'compress' the fore, mid and background of an image. This results in objects and environments in the background looking bigger, and it also flatters the elongated features of a human subject.
However, compression of perspective isn't some magical property possessed by telephoto lenses; rather, it is simply a byproduct of magnification and perspective distortion.
"Focal length does nothing but magnify that image, that's it," says Marcus McAdam, in a segment on YouTube channel Photography Online. "So the myth that longer focal lengths compress a scene, and shorter focal lengths exaggerate a scene, is totally false.
Watch video: Marcus McAdam debunks the compression "nonsense"
"I understand where the theory comes from, and it's because we tend to photograph things that are a long way away with telephoto lenses, and things that are very close to us with wide-angle lenses. But it's important to remember that it's our distance to the subject which is changing perspective, not the focal length."
McAdam uses his daughter standing in front of an old church, shooting with 25mm, 50mm, 100mm and 200mm lenses, to demonstrate that it isn't the focal length of the lenses but the distance of the photographer from the subject (which is, obviously, tied to which lens is being used) that actually affects the compression of a scene.
Ergo, all the lens actually does is magnify what's in front of the camera. Thus, "rather than state the focal length, which is what you would typically see in the textbook, we should really state the distance, as this is the force at play here."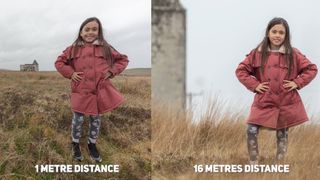 Petapixel writer and commercial photographer, Illya Ovchar, wrote a similar teardown of the notion that lenses cause compression. "The focal length of lenses doesn't cause perspective distortion, which is often explained as 'lens compression.' Period."
Like McAdam, Ovchar took photographs of a subject (this time a Canon EOS 5D Mark IV) at different focal lengths to illustrate the effect of perspective distortion.
"There are different types of distortion that exist. When it comes to perspective distortion, only the image plane (camera) position affects it. Hence, you can take the exact same picture with a 16mm lens and a 200mm lens simply by cropping the wide-angle photo into the telephoto one.
"Different focal lengths will cause a photographer to choose different distances to their subjects, and this distance is what causes perspective distortion, not the focal length. Hence, it could more accurately be called "distance compression" rather than "lens compression."
So there you have it: lenses don't compress perspective. Though of course, a wide-angle lens causes all kinds of optical distortion on the human face, so you would still choose a telephoto lens to shoot a portrait – but it won't technically compress the background any more than a wide lens would.
Read more:
Best telephoto lenses
Best wide-angle lenses
Best lenses for portraits