Actress and star Angela Jolie is set to direct a biopic of the British photojournalist Sir Don McCullin, with Tom Hardy portraying the lead.
The film is being adapted from McCullin's 1990 autobiography Unreasonable Behaviour, and will share a title of the same name. Sir Don McCullin is one of world's most prolific war photographers. Born in London, he sold his first image to the Observer in 1959, and between 1966 and 1984, covered international conflict zones as an overseas correspondent – documenting crises such as the Falklands War and the construction of the Berlin Wall – for the Sunday Times Magazine.
This won't be Jolie's first time in the director chair, and the war drama isn't a new genre for her either. Her debut, In the Land of Blood and Honey (2011) was an American anti-war film, a powerful story about a man and a woman and a country divided.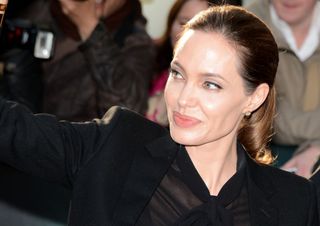 Jolie has directed and written several further war dramas since: Unbroken (2014), and First They Killed My Father (2017) .
The latter featured in Netflix's catalogue of original feature-lengths, and it was this film which persuaded McCullin to work with her on the adaptation of his autobiography for the big screen.
According to The Guardian, Jolie is humbled to have a chance to bring Don McCullin's life to film. "I was drawn to his unique combination of fearlessness and humanity – his absolute commitment to witnessing the truth of war, and his empathy and respect for those who suffer its consequences.
"We hope to make a film that is as uncompromising as Don's photography, about the extraordinary people and events he witnessed, and the rise and fall of a unique era in journalism."
Now 85, McCullin lives in Somerset, England. While his photographic subjects are now more pastoral in nature, he's be best known for his iconic black and white images of war, conflict and poverty.
In an interview with Martin Parr at the Martin Parr foundation that we recorded in late 2018, McCullin reflected on the role photography has had on his life and career. "Photography has given me an amazing life. Without it I would be nothing and I would have nothing.
"But I've looked at some of the most horrible things you can imagine in this world, and when you are standing in front of a naked landscape in Somerset, these things never go away. I love photography, and paid a huge price for it."
The film is being produced by Working Title alongside Tom Hardy's own company, Hardy Son & Baker.
It will be titled Unreasonable Behavior after McCullin's autobiography of the same name and the story centred around his coverage of international conflicts.
Read more