DJI, the drone and camera tech firm, launched a new 'RS 3 Mini' gimbal stabilizer for mirrorless cameras today. The gimbal brings the same stabilization algorithm already seen in DJI's other 3rd generation Ronin stabilizers – the RS 3 and RS 3 Pro. The size and weight, however, are now better suited to mirrorless cameras.
Paul Pan, Senior Product Line Manager at DJI said "Now, anyone with a mirrorless camera can experience the same industry-leading technology used on film sets and studios across the globe."
• See the best gimbals for DSLRs and mirrorless cameras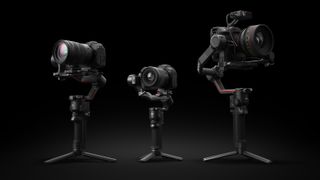 Next to its bigger siblings, the RS 3 Mini looks smaller, and it is relatively lightweight. The RS 3 Mini comes in at 795g (1.7lbs) in vertical mode or 850g (1.8lbs) in horizontal. That is 40% less than the RS 3 and half that of the RS 3 Pro. Crucially it can support a camera and lens combination of up to 2kg (4.4lb).
That means it has the power to support a pro-quality lens, for example Sony A7S III paired with a 24-70mm f/2.8 GM lens, or equivalents with the Canon EOS R5 or Fujifilm X-H2S (see a full list on DJI's site here). DJI also notes that the motors are strong enough to allow for zoom to be used without repeat balancing.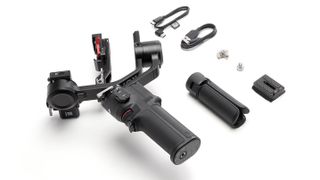 It should be noted that the Ronin series gimbals are already popular choices with users of mirrorless cameras – the RS 3 Mini is adding convenience. DJI also has a presence in the smartphone gimbal market with the Osmo series (see our Osmo Mobile 6 review), which is a premium product it the category. DJI is not just offering a more compact Ronin for pro users, but a bridging product for aspiring creatives moving up from phone shooting to mirrorless cameras.
The RS 3 Mini gimbal supports native vertical shooting using a quick-release plate which can be attached to a different point in the gimbal arm (rather than needing additional accessories). This will appeal to social media creators, and it's interesting to note that DJI's 'Mini 3' drones were the first to offer true vertical shooting.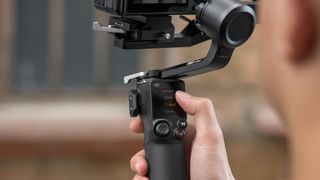 Like the Ronin RS3, control is via a touchscreen as well a front dial, trigger, joystick and three buttons (the screen is 1.4 inches, while the RS 3 boasts 1.8-inches). These can be used to trigger the camera and control focus, aperture, or other settings via a Bluetooth connection or a cable. Features from its bigger brothers, like the 360˚ roll mode is included, as are app-powered features like motion timelapse, track recording, and remote control.
DJI says the built-in battery in the handle can provide up to 10 hours charge, and charge in 2.5 hours, meaning that – if properly balanced – it should easily handle a day's shooting. (It should be noted that some cameras might attempt to draw some of this power when connected by USB-C). There is also a NATO port for accessories including DJI's own Briefcase Handle (or lights, microphones, etc).
The DJI RS 3 Mini will retail for $369 / £339 / AU$539 and is available immediately at launch – that is $180 / £130 / AU$260 cheaper than the 3kg capable RS 3.