Both Snapchat and Google Lens are at the front of quite a frenzied augmented reality push at the moment, using the lens of your camera to bring to life animations in the real world.
Both are either offering or about to offer a pretty big update, tackling AR in very different ways but together showing just what you can do with augmented reality.
Google Lens, according to 9to5 Google has begun to rollout a great feature that will allow Lens to analyse any image on your phone and give you relevant information about it.
This is a feature that you have been able to use live when pointing your phone at, say, a famous landmark in the wild and taking a photo. For instance, if you were to point it at the Leaning Tower of Pisa you would get information about that building, its history etc.
Now, if you snapped a picture of it a few years ago, Lens will be able to give you the same information on the saved picture from the Lens app or through Google Assistant. This functionality is available in many phones, including the Google Pixel 3.
Turning static images into animations
Snapchat is taking a very different approach with its Lens Studio function. According to Engadget it now allow users to 'tag' a 2D object with an animation.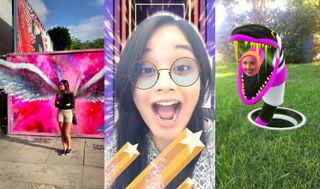 Whether it's a sign, poster, postbox or whatever, users will be able to add a fun animation then send out a Snapcode so that any Snapchat users nearby will also be able to see the animation through their phone.
With Google, Apple and Snapchat betting big on AR, it's innovations like these that will get people using their phone - and, most importantly, phone camera - in more original ways.