Arlo has introduced what it claims to be the first wirefree surveillance camera and floodlight combo on the market. Without the need for mains power cabling, the Arlo Pro 3 Floodlight Camera will be much simpler to install than other contenders for the best outdoor security camera.
Introduced at CES 2020, the camera offers 2K video with HDR and incorporates a zoom for homing in on objects and details. It also offers night vision, recording in color or black and white. The camera offers a 160-degree wide-angle view.
The LED light offers wide floodlight coverage, and is activated by motion of manually. The unit is powered by a long-lasting rechargeable battery. Integrating with the Arlo smart home security system, the unit offers two-way audio and a built-in siren.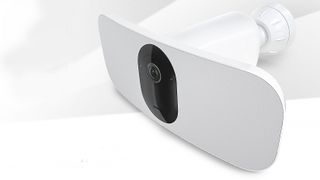 The new camera seems to have much the same specification as the existing Arlo Pro 3, but with the addition of a brighter floodlight.
Pricing for the Arlo Pro 3 Floodlight Camera has yet to be confirmed, but the unit will go on sale this spring with a three-month free trial to the Arlo Smart cloud-based backup service.
Read more: