Yesterday I ventured out to the Excel in East London for Drone X, the trade show (which runs again today, September 27, if you're keen to go). There I spoke with representatives of the UK's aviation authority, and heard the government present its plan for drones. It was a worry. Not just for me, as a UK pilot, either – the UK's aviation authority, the CAA, cooperates and co-develops its plans with others like the FAA and EASA.
• See our list of the best camera drones
If so many UAV operators are gathering together in an exhibition hall that the government and aviation authority think it's worth their while being there what is the worry – on the face of it that shows a good deal of respect? On the face of it yes, but the presentation by Darryl Abelscroft of the Department of Transport, which sets the overall government ambitions, made me see that – as photographers – we're now a very tiny slice of a big pie. A big pie that a government desperate for any kind of success is keen to milk.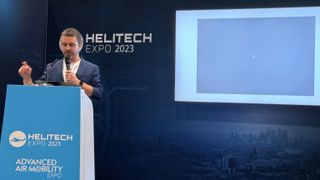 The UK government is aiming for "global leader" status, by 2030, in the "adoption and integration of emerging aviation technologies." This does beg the question of whether they genuinely think that, in other countries, civil servants sit back and say "You know what, let's wait for the UK to lead this"? Probably not. More usefully there are clear goals for standardizing BVLOS (beyond visual line of sight) operation so that it becomes normal, rather than the odd tests being undertaken now.
That's understandable – the UK has clean energy goals, and remote monitoring of power lines will help build the necessary infrastructure to supply electric cars. This is the kind of thing governments think of (though there is also a lot of excitement around what are basically flying taxis, but that's another story.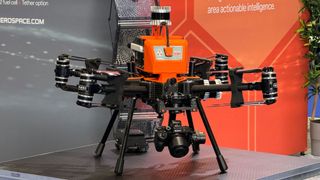 All very exciting, but it is somewhat beyond the needs of most photographers and videographers. We, I'd speculate, would like – given the recent improvements in tech seen with craft like the DJI Air 3 and Mini 4 Pro – simply be allowed to venture slightly further into the 20km radio range than the 500m we are allowed now.
Drone tech, after all, seems to have done much of what was demanded of it in terms of safety – why can't we have a little flexibility, at least, perhaps, with the right certificate?
For that, I spoke to the CAA, who were not unsympathetic. In fact, as regulars at The Photography Show we know they're also aware of our existence! But it is one small problem in a very big world and I thought it telling that the example they used first when discussing BVLOS was also power line inspection.
Seriously, does anyone look at anything else through a drone?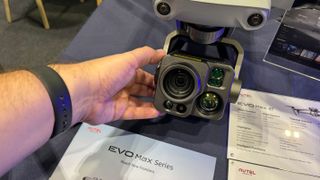 Side note – we did also see the Autel Robotics Evo Max 4T at the Excel – it'll be shipping in November, with a laser rangefinder, 640x512 thermal camera, 50MP wide and 48MP zoom camera (10x optical, 160x digital) and capable of 8K.
There might have been a lot of big drones at the DroneX show, but perhaps you don't need to go big – check out my review of the new DJI Mini 4 Pro launched this week. Perhaps the Autel will make our best thermal drones list soon too?