Best known for his exploits on the cricket pitch – including captaining the Australian team from 1999 to 2004 – Steve Waugh today is a businessman, philanthropist and photographer.
He has retained close links with India, a country he first visited in 1986 to play international cricket, and is the driving force behind the Steve Waugh Foundation which is dedicated to financially helping children suffering from illnesses or afflictions and who, for one reason or another, can't be helped by the mainstream charities. Steve was appointed the Australian Of The Year in 2004 and was named the Australian Father of the Year in 2005. His family is an extremely important part of his life, and documenting family events and holidays is one of the key aspects of his photography. Another is simply the everyday people he has encountered during his international cricket career, particularly those in third-world countries.
Never content to be just a casual observer or simply a visiting sportsman, Steve was always keen to see beyond the major cricket grounds and international hotels, often venturing onto the back streets and into market places with his camera. It was this exposure to "real life" – as he puts it – which has led to his extensive involvement in charity work, both in Australia and overseas, again particularly India.
Canon Australia is a major supporter of Steve's foundation and he has subsequently become involved with some of the company's activities, most recently the Shine campaign which was designed to emphasize the power of a picture.
"The theme was 'Shine A Light On What Matters Most To Me'," he explains, "So I took a photograph of one of the recipients of my foundation, a young boy called Daniel. He has a form of muscular dystrophy so basically his body isn't working properly, but he has the use of his fingers and he can manipulate certain things and we, as a foundation, bought him a robotic arm which connects onto his wheelchair. I wanted to show that the robotic arm was an extension of his body so I had him touching his pet dog on the nose.
"Canon and my foundation are very closely linked. Along with A.V. Jennings, Canon is a key corporate supporter of the foundation so it's a very important relationship to us."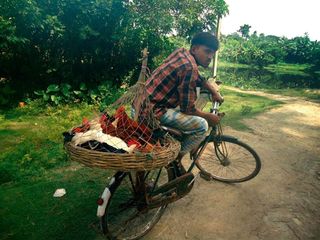 Another planet
Playing cricket was indirectly responsible for Steve Waugh becoming hooked on photography.
"I think I've always been interested in photography without really knowing it," he says, "but it was probably accentuated by the fact that when I started playing cricket, I went to third-world countries and there were sights there that I'd never seen before. I've always been inquisitive by nature. I like looking at what's going on around me, checking out the people and seeing how they live. The first time I went to India, I thought I was on another planet… I just couldn't believe what was going on. The colours were so vibrant there… the street scenes and the people working or going about their day-to-day lives, and that's when I thought that I'd really like to get out and start taking photographs.
"On a cricket tour, you've got a lot of spare time and a lot of time is wasted sitting around doing nothing, so I wanted to do something more productive. I actually learned a bit from Mike Whitney in this regard because he really liked to get out on the streets and take photos. So I started making a conscious effort to get out, to meet the people and to see the sights. But not just go to the tourist spots, but go to the real side of life."
"When I started my tour diaries, they included a lot of my own photographs. In those days I used to shoot on slide film and then hope the slides would come back in reasonable shape after I put them in for processing somewhere in rural India or Pakistan… which didn't always happen!
"So I think that from then on I was pretty hooked. And I always had a good relationship with the photographers who were on tour with us – people like Trent Parke, Jack Atlee and Phil Hilliard, and the guys from the Sun Herald, Tim Clayton and Craig Golding. They're all high quality photographers. I'd always be asking a few questions and trying to see things the way they saw them… so I learned a lot about how they worked."
No doubt the switch to digital capture was a relief, eliminating the uncertainty of shooting with transparency film in places where the processing wasn't always reliable.
"Yes, but it almost seemed like cheating at the time. In some ways, digital takes a bit of the fun out of photography because anybody can take a shot – which is great, of course – but when you were trying to take really tricky shots, you really prided yourself on getting it right without any help from the camera. Look, it makes photography a lot easier, and it's instantaneous, but I don't think there's quite the same excitement. It's modern life and I suppose it's a bit like 20-20 cricket; you get a result a lot quicker, but…
"I started out with a pretty basic camera. In fact, on some of my earliest cricket trips as a schoolboy, I'd buy one of those disposable cameras at the airport then just take the 24 shots and hope for the best. After that though, I always had a pretty decent camera and, looking back, by coincidence it was usually always a Canon."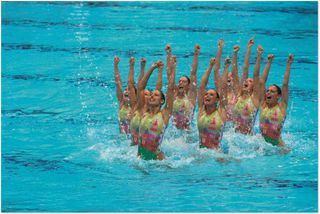 Trial and error
Steve says he has always been more interested in the picture than the process so he's educated himself by simply taking more and more photographs.
"I guess that, early on, I was just like many amateurs; taking as many shots as possible and hoping for the best. If you take enough, you'll end up with a few good ones. I didn't really know how to get better shots so I learned a lot by trial and error."
But even as he became more experienced as a photographer, Steve says he still mainly taught himself new techniques and skills through experimentation.
"I have done a couple of workshops and various courses primarily to learn more about the technicalities, but essentially I'd say that I'm self-taught and that's really the way I like to do it. I like the fun of discovering new things, but I'd say that I'm still 'a work in progress' as a photographer."
Being a top-level sportsman, you might expect Steve Waugh to be interested in sports photography, but for him it was a bit too close to his 'job'.
"I like looking at good sports photography because I have some appreciation of what's involved, but I'd much rather go to the back streets of India where you're not supposed to go and just see what's going on with real life. And after going to America recently and visiting places like the Grand Canyon, Bryce Canyon and the Arches National Park in Utah, I'm starting to really appreciate landscape and nature photography. Some of the rock formations there are amazing and they look really incredible in the early morning light.
"The sports photographs that I really like are not the normal ones; they're the behind-the-scenes shots of people or the things you don't usually see. I think if I did any sports photography, they're the sort of things I'd like to shoot. I mean, mainstream sports photography is incredibly hard. You have to have an amazing amount of patience. If you're shooting cricket, you've got seven hours of waiting around and then, if you miss that one second when something actually happens, you're probably out of a job. I admire the guys who do sports photography well because I know that it's very tough."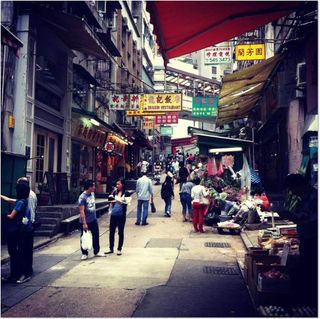 On The Streets
Working with professional photographers has fostered Steve's appreciation of what they do, and he says he enjoys looking at the work of others. Like any photographer, he also has some favourites.
"If I go into a book store, I'll always look in the photography section to see what's there. I really like Steve McCurry's work – particularly the pictures he's shot in India – and Raghu Ray, who's a pretty famous Indian photojournalist. And I like looking in magazines like Time when they publish the year's best press photography. Sometimes these pictures are very confronting, but I really like photographs that tell a story without you having to read anything extra. To me, that's what a good photograph should do."
If you get the idea from these comments that photo documentary in general and street photography in particular, are Steve Waugh's favourite areas of photography, you'd be right.
"Yes, I definitely like photographing people the most. I like just seeing people in their natural environments, unaffected and not really knowing that you're taking a photo."
But street photography must be a bit of a challenge for somebody who is well-known and, in some countries like cricket-mad India, for example, a major celebrity.
"In India I've probably got five minutes leeway at the most before somebody recognises me and then that's really the end of trying to shoot incognito. But it depends on the location. The last time I went to New Delhi, I visited old Delhi and got some great shots in the spice market there without being noticed."
However, the problem for Steve Waugh is that he particularly likes photographing in crowded locations like food markets or fish markets – "That's where all the action is" – so the chance of being spotted is always very high.
"Once you've got 20 or so people around you, all you're going to get are lots of shots of people's faces looking at you. I try to explain politely that I'm there just to take a few photographs on holiday or whatever, but then I usually just have to grab a cab or tuk-tuk and go somewhere else. They're always very friendly, but they don't understand the idea of personal space and they just want to get as close to you as possible."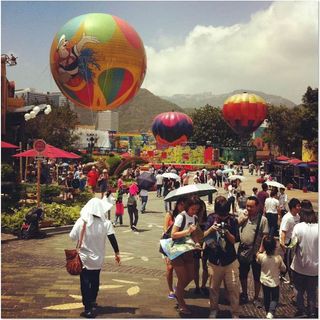 Making the effort
One of the key indicators of your dedication to photography is just how keen you are to get up before sunrise, and Steve says he's never been deterred by early starts.
"I've always prided myself on getting up and having a go. Even on cricket tours, I'd always try to organise trips to somewhere interesting or off the beaten track, and these nearly always involved very early starts, but it was always worth the effort. I've always had the attitude that 'If you don't go, you'll never know' so I'd always try and get up for sunrise. Even in America this time, when it was snowing and freezing cold, when the sun came up, the light was just sensational and I got some amazing shots."
The trip to America was a family holiday, but fortunately for Steve, the whole Waugh clan are into photography so there wasn't any moaning when he wanted to stop for a shot.
"They all love photography. My wife is a good photographer. My daughters love it and even my son is into it so on that last trip we were running five or six camera kits. Most of my luggage was camera gear. I like trying out different lenses. I've been using a fish-eye which I find very quirky and interesting. When we were in America, I went to Alcatraz and the fish-eye was great for shooting the cells… with the bars in the shot so you really get the idea of being in prison. I've used it to shoot crowds too. It sometimes distorts a bit too much, but I actually really like that effect. My wife doesn't like me using it for the family photos though! The 18-135mm lens is very versatile so I use that a lot."
Steve is currently using a Canon EOS 70D DSLR which he's had for about 18 months and, he says, does everything he wants.
"At the moment I really don't feel I need anything else. It's a fantastic camera and it suits me for now. I'm not really that much of a technical person. I'm not good at reading manuals… so, like many blokes, I mostly work things about by making mistakes. I'm really more interested in what I can do with a camera rather than whether it's got all the latest technologies."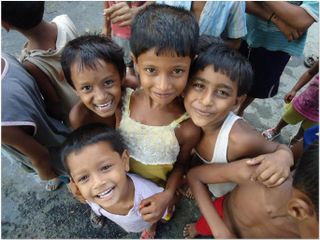 Family history
Having written 13 books (so far), most of them illustrated with his own images, Steve Waugh sees his photography as something more than just a hobby, but the pictures that he takes privately are more important than any commercial work.
"Down the track, when you look back, the family photographs will bring back memories. They're a history of what you've done and holidays long forgotten. Incidents that you can't remember, all of a sudden come to life when you look at a photograph. This is the main reason why I take photos… and, of course, for the enjoyment of it."
Steve relates one incident which took place on a cricket tour to Pakistan when one of his photographs ended up making the front page of a major metropolitan newspaper back in Australia.
"We were in this rural location, about an hour-and-a-half's drive from the hotel, where we were going to play a match. It had rained very heavily overnight and, when we got to the ground, it clearly wasn't fit for play. But the locals had sold not only the 20,000 tickets for the ground, but the black market had sold another 20,000, so there were 40,000 people trying to get into the stadium, desperate to see a game of cricket. They'd already let some people into the ground, and the people on the outside were throwing rocks at them so the situation was quickly turning into a riot. The police decided not to let anybody else in so there was a mass stampede and people started going nuts and knocking down the fences.
"As it happens, the press bus hadn't turned up so there weren't any journalists or photographers there. I went to have a look at what was happening and saw that people were getting trampled on. I had two shots left in the camera – this was back in the film days – so I snapped them off, but even in the middle of this crush there was one guy who recognised me. I remember him saying, 'Oh, that's Steve Waugh' and, in between getting trampled on, he smiled for the photo. Anyway, he survived and my picture made the front page of The Telegraph. I think they paid me nine hundred bucks at the time which was pretty good."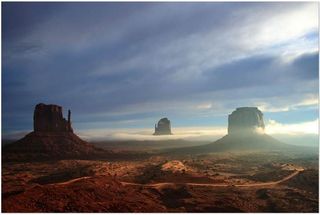 Looking for the unexpected
Although he's travelled extensively around the world, Steve still has a 'bucket list' of locations he'd love to visit to take photographs.
"I'd really love to go to Patagonia. I think the Galapagos Islands would be great too. Madagascar. Antarctica. Africa again. There are so many naturally beautiful places that I'd like to visit, but Patagonia is probably at the top of the list… so, if you know of anybody who is looking for a travel photographer, I'm ready for the assignment!
"I think places that are untouched are the most fascinating. I went to a place in Guyana, many years ago when we were on a cricket tour, called Kaieteur Falls. It's the highest single drop waterfall in the world and it's right on the border of Guyana, Venezuela and Brazil. I flew there with Glen McGrath and it was a truly amazing experience… just standing in the middle of this South American jungle and looking at this absolutely magnificent waterfall. But not many people actually know about it. I like finding something unexpected that's also a bit of a challenge.
"I don't want to know what I'm going to photograph all the time. While somewhere like the Taj Mahal is great to photograph, everybody has photographed it, so I want to photograph something that hasn't been done."
Read more
Best locations for photography around the world