Steve Rolfe's debut photography book, Small World, is a witty, playful documentation of the things we so often miss; a lost tennis ball, an empty drinks can, or a humble drain can create the perfect staging for tiny photo shoots.
Looking at the world from a different angle and paying attention to the small things has become a part of Rolfe's daily life. A trip to the supermarket or a walk in the park now provides endless possibilities for new photoshoots in Rolfe's ongoing series, 'The Little People'. While some of these photoshoots are complete coincidences, some shoots are carefully planned with the perfect location in mind – it's just finding it that can take a while.
• Check out the best macro lenses for extreme close-up photography
There is a lot to be learned from Rolfe's outlook on life, even if you're not a photographer. Opening your eyes to the things that so often go unnoticed can bring about an inadvertent smile or even a little chuckle, as many of Rolfe's photos do.
Was there a moment you consciously decided to try to notice the small things?
No, it wasn't a conscious thing. Ever since I started photographing The Little People, the small things have become more noticeable. It's almost like my creative side has been switched on and I'm always looking out for things to photograph or scenarios that may work with the little people.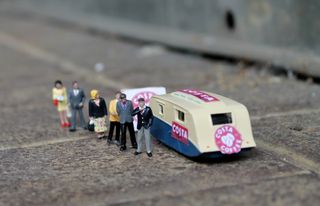 How has your approach to photography changed in creating this book?
If I'm being honest, it hasn't. My approach to photography has stayed the same.
What got you into photography and has it always been a passion of yours?

I took photos when I was younger, but it never gripped me until Christmas time 2010. I was in a bookstore and came across an interesting book of street photography using railway figures. I was captivated by the scenarios and something just clicked, and I thought that I could create my own images. It was a hobby of mine until 2014 when I took redundancy from the Civil Service, then I took the leap of faith to become a professional photographer.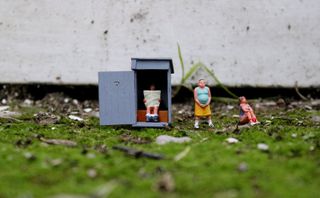 Do you ever have an idea for a scene and hope you'll stumble across something suitable, or is it always chance?
The creative process works in mysterious ways. I can be walking along through the town or city and see something on the pavement or gutter that just pings an idea. The same can be said for when I get an idea, and then being out and about searching for that special location. It took me about three weeks to get one location correct.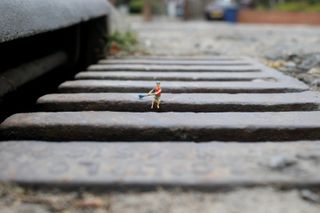 Have you got a favourite image from 'The Little People'?
For me it has to be the road sweeper picking up the gherkins. I don't like gherkins and always pick them out of my burgers, which is what gave me the idea for the scenario. I notice so many people that pick them out of their burgers, it makes you wonder why they still put them in. I had stored the gherkins for a well-known fast food restaurant in the fridge for a week, while trying to locate the right location
Will you continue this series or have you got other projects in the pipeline?
'The Little People' is an ongoing series and I'm always thinking about and looking to create even more.
What advice could you give to someone wanting to create a photo book?
I had always wanted to create my own book of images, but never got lucky until I bought a street photography book from Trope Publishing. In the back of the book, they asked photographers who have an ideal book in mind to please get in touch. I emailed Trope with a selection of my images and I couldn't believe it when they replied to my email wanting to set up a Zoom call to discuss them. Just keep going, and maybe reach out to a publisher. You have nothing to lose and everything to gain.
Small World is already available in the US through Trope Publishing and will be available worldwide in March 2023.
If you enjoyed this article, you might want to look at the best books on photography, the best coffee table photography books, and if you want to explore small worlds of your own, these are the best cameras for macro photography.