Like many people, I love the Olympus OM-10. Unlike many people, it wasn't my first camera (or even my first Olympus, for that matter) but it's nonetheless one that has a very special place on my camera shelf.
For my money, the Olympus OM-10 is and always was one of the best film cameras. Launched in 1979 as the first entry-level camera in the legendary line of OM bodies, it's an aperture priority camera – as in, it has no manual mode. Which obviously distinguished it from professional models like the iconic Olympus OM-1.
• Looking for the best Olympus cameras (OM System) of the current era?
Also distinguishing it was the weight; at around a hundred grams less than its pro siblings, it is an incredibly compact and lightweight camera. Sure, it's not built to withstand the same rigors as its big brothers – but given that the OM-10 is now 44 years old, and still one of the most reliable SLRs out there, it certainly is built to last.
So, why am I waxing lyrical about a four-decade-old camera? Because I hope – and, with my educated guess, I think – that the Olympus OM-10 is the next camera being "resurrected" by OM System (the modern-day iteration of Olympus).
Of course, the "old Olympus" already produced a mirrorless version of it – four times, in fact, culminating in the Olympus OM-D E-M10 Mark IV. However, given that alphabet soup of letters and numbers, you would be forgiven for (as, it seems, most of the camera-buying public were) being oblivious to the fact that this was a spiritual successor to the Olympus OM-10.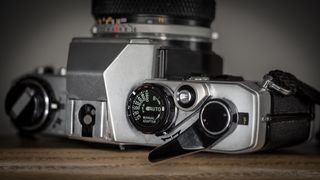 OM System has already given us the latest version of the professional Olympus OM-1 in the form of the OM System OM-1, along with the semi-pro OM System OM-5. But the OM-10 was arguably the most beloved of the heritage Oly SLRs – so the inevitable OM System OM-10 is a fresh opportunity to take the principles that made the old film camera great and apply it to modern mirrorless technology.
Do I want to see a modern camera eschews manual in favor of aperture priority alone? Actually, I don't think that would necessarily be the worst idea in the world. Heck, maybe even ditch one of the control dials – yes, seasoned photographers balk at using cameras with only one exposure dial, but confusing controls are one of the reasons why casual shooters stick with their phones instead of trying a camera.
This would also help differentiate the OM-10 from the OM-5 (which was always a tricky act for Olympus with the E-M-10 and E-M5). At the very least, I would love to see OM System double down on the guided shooting modes and streamlined operation.
I would love to focus on this being an unapologetically shooting-oriented camera, that puts the fun in photography rather than specs on a spec sheet. I would love this to be a camera I can buy for my girlfriend, so she can join me on days out taking photos without resorting to her phone.
I would love the OM System OM-10 to be the modern classic that the Olympus OM-10 was, so it can join it on my camera shelf one day.
If this article was of interest, you might want to take a look at our Olympus OM-D E-M10 Mark IV review to see what the most recent iteration got right. I'd also suggest taking a look at the best Olympus lenses (OM System) – including the Olympus 25mm f/1.8, which is a fantastic nifty fifty for mirrorless cameras!