It sounds like Carolyn is living the dream. Once a self-confessed nine-to-five office worker, she took an evening course in basic digital photography, quit her job and went travelling.
It was the travel that inspired the idea that photography could be more than just a hobby. She spent two years travelling through India, South East Asia and Latin America. "Travel photography was the only kind I knew then, and that's how I got my first published work. My Instagram took off through travel."
So where does the name 'The Slow Traveler' come from? "It was because when me and my boyfriend travel we tend to get a bit lazy and overstay our welcome at the majority of places we go. A few days will turn into a week and a week into a month. A lot of people allude to the fact that it's a lot more poetic that we take things slowly but no, it's because we're lazy!"
Back in the UK, however, her work and her Instagram style have evolved. "Aesthetically, all my pictures are very bright and pastelly. For me it's more about what the photographs represent, and it's the stuff I love – usually ordinary stuff."
Carolyn is currently spending time and home and taking a degree in photography, and discovering the value of the old-school narrative approach to photography: "It's making me question what I'm doing and why and thinking about the narrative more. That's why I'm putting myself in my images more."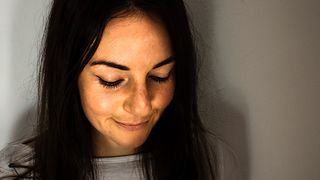 Carolyn's kit, style and tips for others
Carolyn does not think she has a particular style for her travel photography, but she doesn't go for the usual tourist hotspots: "When I'm travelling I try to find neighbourhoods and quiet streets rather than the big monuments, the big tourist attractions."
Her approach is to "find the beauty in ordinary stuff" and then share that with her followers. She does curate her Instagram feed carefully, conscious of the need to build and maintain her signature 'aesthetic'. She explains the her earlier travel pictures were "kind of a mish-mash" but now that she's home she takes the style and the curation much more seriously.
There aren't many people in Carolyn's travel shots and she does spend a lot of time "hanging around" waiting for people to move out of the scene. She travels light, without a tripod, feeling that too much kit takes away some of the "natural feel" of photography.
Her first travel camera was a Canon EOS 1100D which went everywhere with her. After a spell with a Nikon D810 she now uses a Nikon D5600, but maintains that "it's more about the person not the kit".
Carolyn's Lightroom tips
"Aesthetically, all my pictures are very bright and pastelly," Carolyn explains. "I've developed a style which is recognisable – without the editing I wouldn't be able to maintain that style and that look properly."
Carolyn shoots raw images exclusively – one of the first pieces of advice from her photography evening course. She started in Adobe Camera Raw for her editing, but is now working in Lightroom. "I don't really use Photoshop at all because I don't do anything outside of basic editing. Camera Raw and Lightroom works perfectly for the kind of stuff I do with my pictures.
Carolyn's signature style is bright, light and airy and requires some very specific editing techniques to recreate. She frequently shoots in difficult lighting situations facing a window indoors or in bright sun outdoors. "I use the Color panel quite a lot, using Luminance to bring detail back into overexposed images, and I also use Exposure and Highlights in opposition with each other so that I can get that bright light feel without washing out the detail.
She is also meticulous with perspective, making small but precise adjustments to any image skew and correcting verticals carefully. She also spends time on colour adjustments, including white balance and tint. Carolyn does not use presets, preferring instead to work on images individually.
So what's next for The Slow Traveler? "I need to finish my degree, but I love being in the mountains, I would love having more landscape work in my Instagram."
Next time we talk to Julia Smith, a.k.a. Humphrey and Grace