LIVE report: Watch the Sony Xperia 1 IV launch event here
Watch Sony's launch event LIVE with us as the company unveils its latest flagship smartphone, the Sony Xperia 1 IV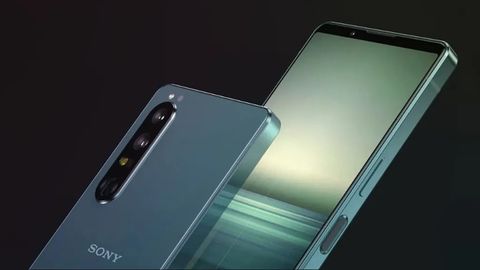 (Image: © Giznext)
Refresh
Sony has announced its ready to bring the next generation of Xperia to the market and we won't have to wait long either as the tech giant has confirmed a launch date of May 11.
The video teaser makes it apparent that the phone we will see announced next month will be the eagerly awaited Xperia 1 IV, successor to the excellent Sony Xperia 1 III, which has pioneered a new breed of periscope zoom with its quad-camera system. There have been two large Xperia 1 IV leaks so far, which, assuming they are correct, tell us a lot about the upcoming smartphone.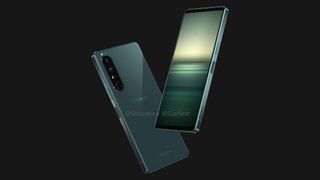 Last month Giznext shared exclusive 5K render images of the Xperia 1 series flagship camera phone's design – assuming they're accurate it features a similar design to the Xperia 1 III.
The images show a flat-edge design, as seen in the previous-gen model but with slightly different dimensions - the upcoming model comes in at 164.7 x 70.8 x 8.3mm and 9.5mm thickness, including camera bump.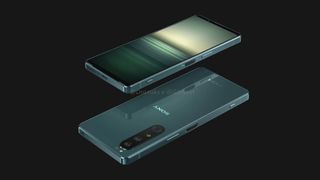 We can also see a tiny selfie camera embedded within the top bezel: there's no punch-hole cut-out or waterdrop notch. On the back panel we can see a good sixed vertical camera module with three sensors and an LED flash. The bottom panel shows the SIM card tray along with the USB Type-C port charging and data transfers.
From the leaked images we can also see the Xperia 1 IV looks to have a 3.5mm headphone jack on the upper left of the top frame and volume, power and shutter key on the right spine. According to this leak we can also expect the power key on the Xperia 1 IV to feature a physical fingerprint scanner for biometrics.
Sony Xperia 1 IV: Leaked specs
The biggest Xperia 1 IV leak so far came back in January via a post on Chinese social media platform Weibo by the usually reliable Zackbuks (via Notebookcheck). According to the leak, the Sony Xperia 1 IV will be powered by a Snapdragon 8 Gen 1 chip with RAM ranging from 12 GB to 16 GB and storage in either 256 GB or 512 GB configurations. The tipped 5,000-mAh battery is said to be complimented by new 45W charging.
Camera wise, the Sony Xperia 1 IV is said to have the same 12 MP Sony Exmor RS IMX36312 ultra-wide sensor as the Xperia 1 III but with both the main lens and telephoto getting upgrades. This does make sense as Sony do tend to choose large sensors over resolution for their smartphones, so we could be looking at 12 MP + 12 MP + 12 MP.
The specs in this leak are indeed as we would expect for the Mark 4 variant of the Xperia 1 smartphone, which has always been very well received.
Not long to wait to see if it's correct…
We're here ready for Sony's Xperia launch, popcorn in hand (even though it's not even 8am here in the UK), ready to see the big launch
The comments section is as lively as you'd imagine. "​Xperia is an android version of iPhone these days" says one.
"if it's gonna cost an arm they should at least throw in a good pair of earbuds" says another
"interchangable lens?" posits a very hopeful individual.
Like… we don't work for Sony, but we'll go out on a wild limb and say "no" to that one.
We'd bite our nails, but we don't have any left after the excitement of the DJI Mini Pro 3 launch just yesterday!
Virtual Product Showcase in Tokyo – so it's a pre-record (obviously)
Short film Kilian's Game was shot at this same virtual studio. The Xperia team was instrumental, apparently. They used the Xperia Pro, wouldn't you know.
Global and remote production capability is key, says this well-spoken chap.

Road to Zero promises a reduced footprint by 2050, with zero plastic in packaging and 50% less packaging in today's new Xperias.
The Xperia Pro and Pro-I will get live streaming starting in July
Sony is democratizing content creation, it humblebrags.
You can cinematize your daily life, apparently.

And Xperia is now also for creating music, too, enabling you to record and upload to the cloud on the spot.

Gaming streamers can now live stream with Game Enhancer.
"What do you need? You need speed. Actually, speed is everything."
Xperia 1 Mark IV is here!
"Technology from Alpha"

16mm
24mm
iTOF

18-125mm
Dedicated shutter button

4K 120Hz screen
3.5mm audio jack
5,000maH batery
Aaaaaaand now we're going to be hearing from creators. Yikes.
Pierre Lambert loves shooting him some 4K 120fps footage. And the ability to translate the shooting from his traditional Alpha camera to his phone – same autofocus system, and three different lenses. Also object tracking, which switches to eye when you get closer.
16-375mm seamless zoom. Okay, that really is pretty cool.
Image stabilization, too.
He's shooting HDR of cyclists under a monorail bridge – the dynamic range is pretty good.
He's doing it with 20fps bursts, too.
Vlog Monitor enables you to see yourself and use the main camera.
You can use the phone as an external monitor, which is a REALLY underappreciated feature.
Music Pro has been designed by Sony Music sound engineers to studio-quality production… but music isn't exactly our specialty.
(Though we can recommend some fantastic synthwave acts, if you're interested.)
MONONKVL is singing a song called Higher. It's quite pleasant.
And now a Sony A&R is talking about more music stuff. Autofocus and framerate doesn't seem to feature, so we're a bit lost.
Yikes, did I write 18-125mm lens earlier? My bad – it's actually an 85-125mm f/2.3-2.8 lens.
And yes, it's completely optical.
So the Xperia 1 IV has four cameras: a 16mm f/2.2 ultra-wide, 24mm f/1.7 wide, and the 85-25mm telephoto zoom. This is actually incredible.
Okay, we're into gaming features now.
You know what games we like to play on our phones? The ones where you pretend you're a photographer and you take pictures with them.
Or XCOM. We love a bit of XCOM.
Okay, this is interesting – aimed at streamers, there seems to be some sort of cooling device on the way
Qualcomm's Snapdragon 8 Gen 1 Mobile Platform is the most advanced 5G and millimeter wave technology platform ever
COmes in black, ice white and purple, and there's a style cover as well. Available this month,
Also here… the Xperia 10 IV!
World's lightest 5G phone with 5,000mAh battery
Looks like it has doggy AF! Yay!
Image stabilization and blur reduction
Comes in four colours: mint, lavendar, white and black, and again a style cover. Available from this summer.
Sony draws from the 3Rs: Reality, Real-time, Remote
Rad.
Aaaaaaaaand we're out! Thanks for watching along with us.
Thank you for reading 5 articles this month* Join now for unlimited access
Enjoy your first month for just £1 / $1 / €1
*Read 5 free articles per month without a subscription
Join now for unlimited access
Try first month for just £1 / $1 / €1