Apple WWDC 2023 Live: new Macbook Air, Mac Studio, Mac Pro, AR goggles & more
Our live report on Apple's WWDC – always a massive event but set to be a launch-fest with some real treats this year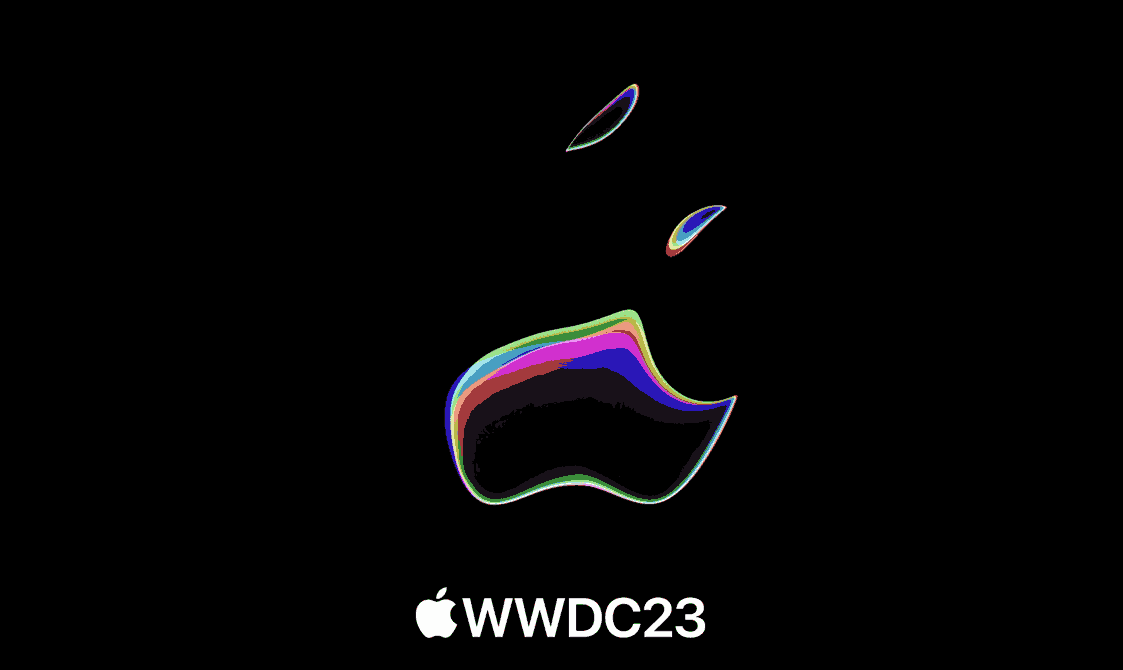 (Image: © Apple)
Apple's WWDC – World Wide Developer Conference – is when the company opens its heavy curtains to reveal what it's been working on, and how it sees tech moving. In theory, it is to help developers prepare, but we're all looking – and Apple knows it!
A select few are invited to Apple Park, in Cupertino, California, but the main event is online. The highlight is always the Keynote, where we expect to see product announcements and new software for the developers to get their teeth into. Since the iPhone is arguably the world's most popular camera, and the company has the power to change industries, everyone should be interested in what happens at WWDC23.
You can watch the keynote live here at 1pm EDT / 6pm BST (today, June 5, 2023) and follow along with our live build-up and analysis of the products, especially from photographers' eyes.
It's fair to say that the rumor mill – which started with some discussion of a 15-inch MacBook Air (which could be a very nice tool for photographers indeed) – has now reached a fever pitch. Some are expecting to see Apple's long-awaited mixed-reality headset. Who knows what that could mean for photography – some say it has 12 cameras in it, while others point out it was expected last year and never appeared!
We've also seen some price cuts on Apple's monitors, which suggests the Mac Studio (rumored to be getting a refresh of its own) might get a new partner on the desk. That could be very interesting for photographers.
What you definitely won't see is a new iPhone – they are always announced at a separate event. We also suspect that, despite the invites using the tag "Swiftly developing," a new film camera is unlikely!
Stay tuned to this page to find out.
Refresh
Apple monitors come along fairly infrequently, but it's a little interesting that Amazon – in the US, at least – is discounting the Apple Studio Display by 16% – big for a discount on an Apple product. Back in April we did hear some talk of a new Apple display, thought to sit between the $1,599 / £1,499 27-inch Studio Display and the $4,999 / £4,599 32-inch Pro Display XDR. Perhaps it's coming, or does this mean the Studio Display is just getting a refresh?
• Apple Studio Display discount on Amazon (US only)
Mark Gurman of Bloomberg has gone as far as to put a codename – J475 – to the next iteration of the Mac Studio. The current desktop is called J375, and is powered by M1 processors, but the M2 Max has been available in MacBook Pros since January. Could this be the final piece of evidence that we're going to see an M2 Max and perhaps even M2 Ultra-powered Mac Studio on Monday?
Apple fans have been waiting a long time to see the not-yet-revealed AR headset, so you'll have to forgive them this. Made me smile too, though in all fairness the Meta Quest 3, just announced, will ship this fall and the Quest 2 can be picked up for about a tenth of what some say Apple's offering will cost... soooo.... which door will people really choose (if they ever get the choice)?
Definitely click the See More on this Tweet box so this makes sense!!
Mark Zuckerberg's Quest 3? I mean who cares? 😂#WWDC23 🙂 pic.twitter.com/K7ejp21MItJune 3, 2023
Looking at AR / mixed reality / goggles a little more seriously, we do find ourselves starting to ask about their potential usefulness in the real world. Reaching out, grabbing, and manipulating part of a data set looks great in the movies, and might actually make a lot of sense in Photoshop. Or would your arms end up getting tired?
Click the See More to see clips of how the system might work.
How will Apple's new realityOS look and feel?Both of these prototypes were designed by people who are now Human Interface Designers at Apple#WWDC23 pic.twitter.com/0Bl2MeCxoaMay 31, 2023
OK, one more on the goggles then I'll leave it for a bit. None other than Morgan Stanley reports that Apple will begin production on the goggles this October, suggesting they'll have to tell WWDC (and developers) about it at WWDC23.
There is also a bit of a show of faith in the tech – an increase of $5 to $190 as a target prices for Apple stock. Oh, and they're calling it 'Reality Pro' and projecting that Apple will be shipping 3.4 million in financial year 2026 (but initial sales as early as December this year, at least for developers, in the low hundreds of thousands).
One more thing... they say invest in the competition too (Apple's interest in a tech is good for others in the space... like Meta Quest!)
Looking over the various WWDC23 bingo designs I'm disappointed to see that almost nobody is considering a new QuickTake digital camera. Apple has done it before... in 1994. (Cue swirling mists of time music if you click that link!)
I can't keep away from Twitter, from nostalgic pictures of developers in deck chairs watching WWDC on big screens, to the seemingly thousands of announcement summary graphics, Apple style, which enthusiasts have been working on. Some show aMacBook Air 15", a stubby Mac Pro (a bit less likely), there is a 'next-gen CarPlay occasionally, much speak of updated OS and – of course – an all-new xrOS / Reality Pro.
Less frequent but perhaps more sensible we see ARKit 7 and RealityKit 2 – updates to Apple's existing augmented reality systems are bound to be in there.
USB-C Airpods? Nah, probably with the new iPhones later in the year.
OK, doing my morning (yes, it's morning where I am) Twitter trawl as WWDC hoves into view and it seems most folk are happy to just wait/sleep until the big event kicks off now! Some might not be able to sleep though...
WWDC IS TODAY WWDC IS TODAY WWDC IS TODAY WWDC IS TODAY WWDC IS TODAY WWDC IS TODAY WWDC IS TODAY WWDC IS TODAY WWDC IS TODAY WWDC IS TODAY WWDC IS TODAY WWDC IS TODAY WWDC IS TODAY WWDC IS TODAY WWDC IS TODAY WWDC IS TODAY WWDC IS TODAY WWDC IS TODAY WWDC IS TODAY WWDC IS TODAY…June 5, 2023
Fans of industrial action might enjoy some fireworks at Apple Park today. The Writers Guild of America will be holding an "Apple Day of Action" targeting the Apple TV+ streaming platform. If nothing else, this might expose – as if you didn't know – the fact we'll all be watching a pre-recorded keynote, as Apple has done since 2020. Yes, that means an editor somewhere knows something you don't... but not long now...
Journaling on your iPhone? Some tell us there will be an Apple 'Journal' app announced with the iOS update at WWDC – with very tightly integrated location services. An exclusive social media tool, a diary, or a mental health feature? No one seems completely sure but be prepared for some lovers and some privacy freak-outs!
Just a bit over an hour to go. What would you sell, if anything, to buy an Apple headset? Remember it'll apparently cost about the same as a Sony A7 IV and a decent lens or two (and might not be available outside the US at launch).
Something we've not talked about yet – will Apple find a way to mention HomeKit today? We all know that it could be better, even without AR! 50 mins to go...
Drone users, and especially FPV fans might already be asking "Will Apple's goggles work for me?" It's possible they will out of the box – several people have mentioned the idea of all existing iPad apps working. So, as you use a phone as a monitor with the radio control, could it connect to the goggles? Will there be a USB-C port... or Lightning...
People are taking their seats at Apple Park now. Skies are sunny, excitement is in the air. Not a lot of chatter about potential improvements to the camera app on the iPhone!
OK... get your drink of choice to hand and take your seats, it's nearly go time! You've got 5 mins.
Ooo... quick thought for videomakers – iPad Final Cut Pro a week or so ago, and the headset running iPad apps means could mean you can edit video simply by waving your hands around. Hope no one stood next to me on the train does that though...
Oooo.... it's started. Sort of.
By which I mean the animated Apple has started doing something different and there is music now... the stage is set...
Tim Cook and Craig are on the stage, promising incredible announcements. The video hasn't started yet.
Correction!!!!! It has!!!
There's a developer... he's imaging, with bubbles...
Lovely intro. Now Tim is promising a "Very special day of announcements" by the Apple rainbow (and telling developers they're lovely).
Biggest announcements ever promised. Exciting new products. But we're gonna start with the Mac...
John Ternus starts talking about Apple silicon, and the Macbook Air 13"... I wonder what's coming...
...Yep! a 15-inch MacBook Air. Doen't look like there's a SD Card port though.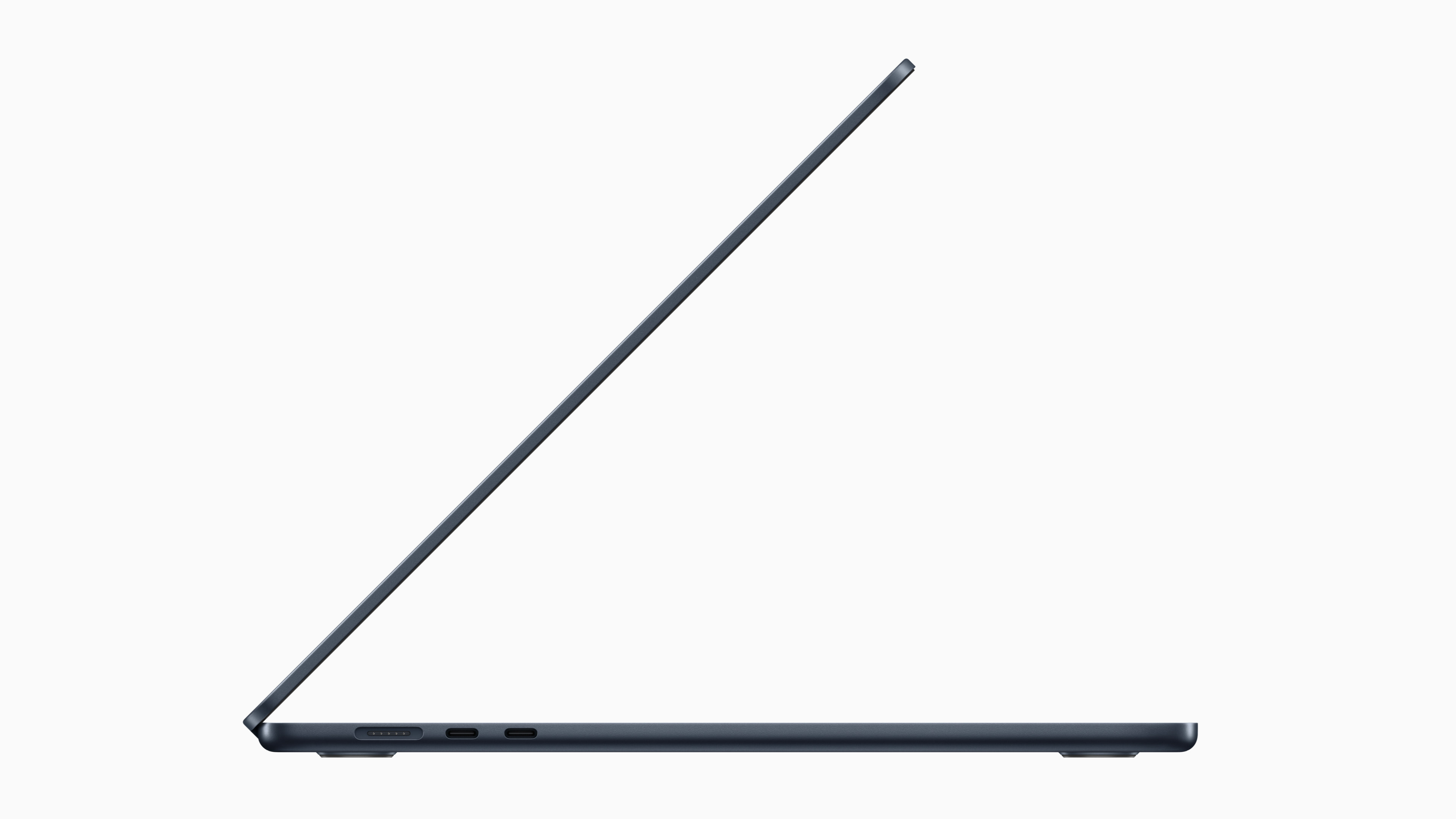 MacBook Air 11.5mm thin / 3.3 pounds, two USB-C on the left, headphone on the right. There's a notch. 1080P camera, 3-mic array, 6 speakers (inc woofers), and M2 chip – 12x faster than Intel. 18 hours battery (not 24 folks, sorry).
15-inch is still fanless, 500-nit brightness, 8-core CPU, 10-core GPU
Starts at $1,299 or $1,999 for education – available next week.
OK, well that's one prediction ticked off, now we're on the pro products – and there is a real sense of rush here in the Mac section. Must be something coming. We're on the Mac Studio, which is getting M2 Max – a 25% boost they tell us.
Also as predicted, M2 Ultra arrives with 24 cores, 76 GPU cores and 32 core neural engine. Up to 192GB unified memory supported (bet that'll cost you)!
See our full Apple Mac Studio M2 (2023) review
22 Streams of 8K Pro Res... OK, I that'd really help me out reviewing the DJI Inspire 3!!
Ah... seems like a Mac Pro is coming too... or something with PCI...
...Indeed, but no new box. A Mac Pro with M2 Ultra, which they tell us beats the Intel equivalent 3x, but adds the PCI expansion ports.
Intel does it with Afterburner. M2 Ultra will do that off the bat. But there are 8 thunderbolt ports too and 6 open gen-4 PCI ports.
Tower and rack mount versions of the cheese grater are on offer.
Mac Studio still starts at $1999, Mac Pro $6,999.
OK, that's it for Mac. Tim is back, strolling in the park. What's next? Some praise for developers... and then software platforms...
Craig stands with his legs very wide apart as he announces iOS before shifting a little for comfort. The 'Phone' app is getting an update. Looks like you can choose your own 'poster' – what the person sees at the other end – and appears on your contact card.
Phone is also getting 'Live Voicemail' – it'll transcribe, on screen, what is being said to your voicemail. Hope no one is watching the screen!
Messages is getting a refresh too... search will be less bad. Some other refinements. And 'check in' to automatically let people know you're home safely. It can even share your battery level so people will know not to bother you(?) / if your excuse about battery was true!
Photos can be turned into stickers for messaging, and Live photos into animates stickers, which you can now add to messages. Could be fun, and it's added system-wide. And it'll be there for 3rd party apps.
"NameDrop" as a way to pass content or contact data between devices like AirDrop. Better idea than name!
Oh, please, please let this one be true: auto correct to be – I'm gonna say "less bad." Apparently. It won't fight you repeatedly.
Ah, so Journals is going to be connected to the 'Memories' thinggys that Photos shows you. It will offer you 'suggestions' from your photos as well as your music – and developers can get in on the act too. You can assemble them into a Journal entry, and follow prompts like "What was the highlight of your visit?"
Sounds a bit junior school...?
It's going to be a lot easier for your TV to set off all your devices. You won't need to say "Hey" before you say "Siri."
OK, on to the iPad...
Craig again. It's almost like this is edited (oh, it is). iPad OS17 will have interactive widgets. And you'll be able to personalize the lock screen like iPhone.
Was he just a bit sarcastic about the iPad – as he shows 'multiple timers' he added "We truly live in an age of wonders." Don't break the aura, Apple.
Ooo... looks like the iPad will be able to use an external camera like the one on an Apple monitor. Nice add. OK, that's it for iPad. Now Mac OS...
Mac OS Sonoma will be the next edition. It's where wine is from. Californian wine. The first thing on the list is 'stunning new screensavers' which look a lot like a few more of the gorgeous drone videos seen on Apple TV.
Desktop widgets... that sounds a bit, well, historic. Though they can be run straight from the iPhone – example being turning on your car's AC from your iMac.
Jeremy Sandmel is now talking to me about gaming. On Macs. Sounding a bit pleading already as he asks developers to bring games to the Mac, which will have Game Mode that can optimise the game's control of the system. Stray and No Man's Sky - big Playstation Games - on the list.
And a Game Porting Toolkit. Wow, Apple really want developers to run games on Mac.
Ah and as hinted at Hideo Kojima is bringing Death Standing to the Mac (so the presentation is now subtitled). Looks nice. Me, I like to compartmentalise – I have a PS5 for games – but I could be persuaded to part with it.
Video conferencing is next – apparently the AI will let you make yourself a bubble in front of your presentation. Also gesture-based fireworks animations can be triggered behind you with two thumbs up. Hmm.....
Coming up on the hour and we're now on Safari – the lovely if less-than-popular web browser. Privacy is the big play here. And, finally, profiles for the work and play sides of your life.
Web Apps could be handy though – basically a link to the website that can have an app icon in the dock. Handy in an era of web based apps.
Audio & Home next. Might not be much for photographers here as they talk AirPods...
OK, so home cameras are going to be a bit easier to find – we're told – from a revised tvOS. But the big change is that FaceTime – using your phone as a camera – will work on Apple TV. Yep, family calls on the big screen.
Looks like it might also be a way of trying to get people to watch TV together remotely. Of course they'll all need subscriptions to Apple TV+
On to WatchOS...
Again with the widgets. Slightly different designs, bit more room for developers to play with on the bigger watches. Yet more watch faces. And Snoopy. That's fun. But show me a new product. It's been 8 years since Apple entered a new product category (and that was the watch...)
OK, I take that back – cadence sensors can now be connected to my watch. Time to sell my Garmin!
Hikers / nature photographers might find the 'remembers the last place you had cell coverage' feature being added to Watch's Compass app. Not to mention the contour map. That's pretty cool and could help a lot of outdoor photographers.
Chat windows that I'm following are not being quite so enthusiastic though. People really want to see a new product.... but we're on to health...
...perhaps they're really not going to do it. Perhaps everyone was wrong. Or perhaps mental health is the last thing before.
Oooo.... now Vision Health. Now why might Apple be thinking about that? Glasses do, after all, make it difficult to wear goggles.
It'll tell you to old your iPad further away too, if it thinks you should. That's going to be annoying. Anyway....
Right, that's it for software. We're back with Craig and he looks and sounds like he's done... but he's gonna have to hand back to Tim.
Big stage now... is this it?
New AR Platform - this is it! OK, it's got some cameras - looks like snowboarding goggles mixed with an iPhone.
Those renders weren't so far off. Wow!
Vision Pro
"See, hear and interact with digital content just like it's there"
Your surroundings become an infinite canvas.
Well, no need for that big TV now – if you live alone anyway. Spatial audio and a massive screen is one of the examples.
Tim very clear that this "Marks the beginning of a journey" which suggests that this is gonna be pricey and hard to get hold of.
The home view is new - round app icons, a bit like WatchOS meets iOS.
Things 'cast shadows' on furniture. You can place apps nearer or further.
OK, this looks properly amazing.
I'm wondering how much some used Google GLASS are worth right now...
So the 'digital crown' lets you block some or all of the view in front of the screen, so AR or VR or somewhere in between is an option.
No hand controllers – browse by looking, or with hands. Tap and flick.
Ah - your eyes are displayed using 'EyeSight' – it's just a screen on the front that shows your eyes, but helps people nearby see whether you're looking at them - or you're in Cylon mode.
Which suggests you can't actually see the room through them, AR style. You must be seeing everything in video. What is the latency, right? Possibly very weird?
Virtual keyboard or dictation options for typing. Or the real keyboard with bluetooth. You can also bring your Mac into play by looking at it, then expand your own 4K display in the air (was that the monitor we hard heard about?))
I saw a trailing cable in that Apple Vision Pro shot – presumably you wear a battery at belt / pocket level like a lot of FPV goggles (you know what I mean, drone fans).
If this is Apple Vision Pro, how much less with Apple Vision Studio, Apple Vision Mini, and Apple iVision cost? And how long before they come out?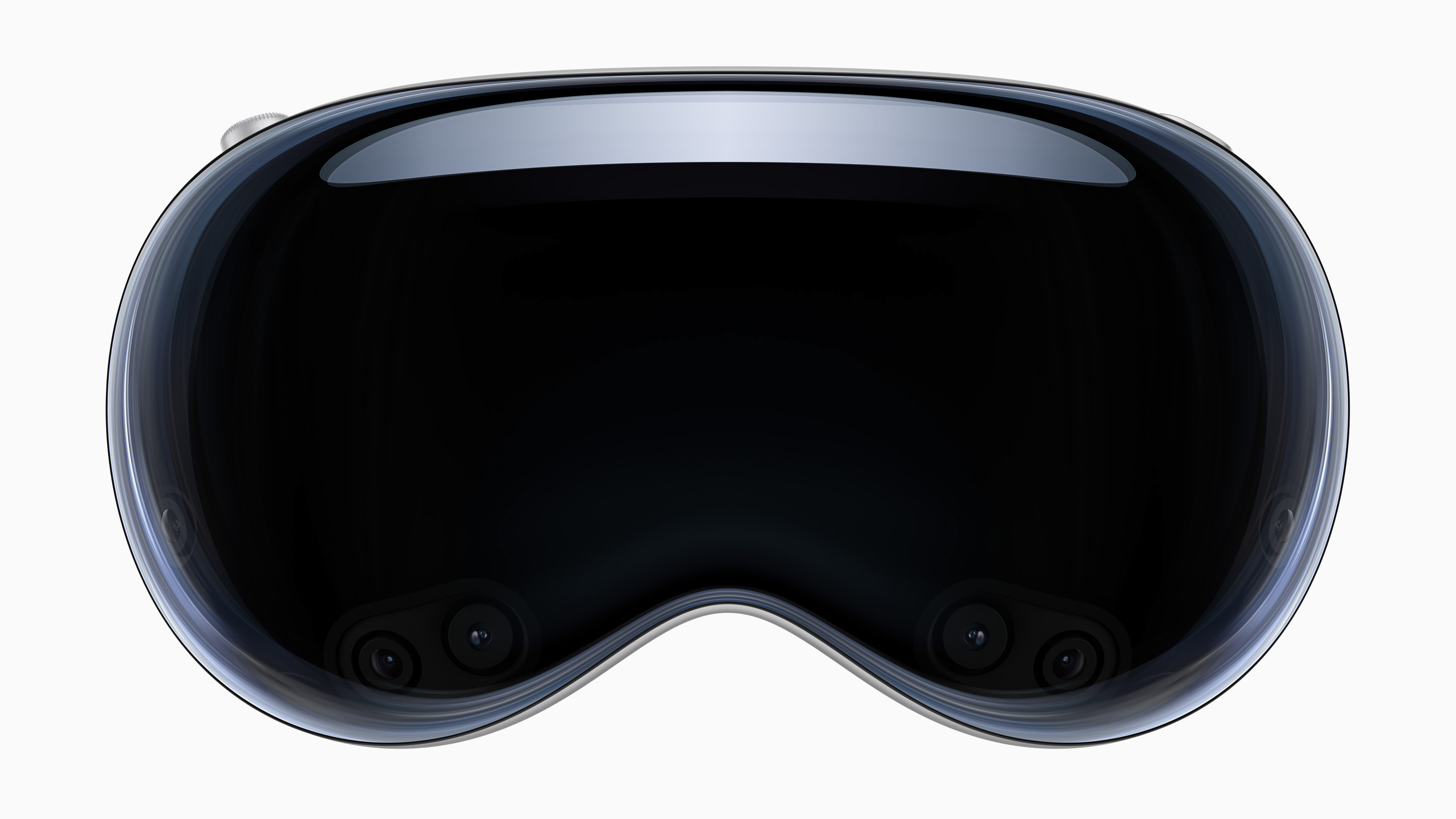 Vision Pro is Apple's first 3D camera we're told!
It's easy to capture a spacial video of a fun moment, we're told, and they can be experienced afterward, though obviously you have to wear the thing to take the photos. The screen on the front will flash the Cylon eye.
Cinema environment lets you turn any room into a cinema. OK, not that surprising a feature. Is starting to make me wonder about the resolution. And which streaming services will provide an app.
Oh, and 3D movies (Avatar clip shown) will be supported.
You can play your favourite Apple arcade games. Oh, sorry, Apple Arcade. So there are 100 but most of them probably don't benefit from a big magical floaty screen!
Bob Iger of Disney joins Tim on stage... seems they're getting in on the act...
Disney have some ideas for glasses, apparently. Which means Star Wars games. View basketball from the drone camera. Have Mickey Mouse run around your house. Have DisneyWorld on the kitchen table. Hmmm... I'm actually getting less excited about the goggles already...
Only actual announcement - Disney Plus will be there on Day 1. Well, that must have kept the developers up nights.
OK, back to actually finding out about the Vision Pro:
Lightweight materials. Front is 3D laminated glass as a lens for eyesight and polished for all the cameras that perform eyesight.
Custom Aluminium frame around face.
Computer inside the front, cooled 'by performance thermal design'
Thousands of human heads studied.
Spatial audio pods
3D-knitted headband attaches with secure lock, and it can be changed (for size and, possibly, style).
Zeis lens attachments with magnets
External high performance battery connected by woven cable (did I hear 2 hours?)
Pixel time – micro OLED – 64 pixels in same space as iPhone pixels. 23 million pixels across both panels. Custom 3 element lens. Video can be true 4K at massive scale and sharp fine text, we're told.
Sound has a new integrated dual-driver system. Matches to room using audio ray-tracing from sensors.
2 cameras per eye track eyes. A lot of cameras on the outside too! Two below each eye, one on the side, and others. Total of 12 as we've heard.
M2 processor gets a friend, called R1 to process the input and 'virtually' eliminate lag. 12 milliseconds, apparently – less than a blink. To be fair that is very good, if true.
visionOS (not xrRS) it is. And it sounds like we'll hear 'Spatial Computing' a lot.
The 'digital persona' sounds a bit like a Canon idea we reported on recently, but clearly it'll be all about a more 3D version of telepresence – so popular with big bosses for international conference calls. It is 3D variant of FaceTime.
We're onto the developers tools, and 'Reality Composer Pro' – seems like a tool to help developers have a go even if they can't afford the Vision Pro!!
We're also going to get Unity games natively on Vision Pro, apparently.
And a new App Store.
Optic ID security – it looks at your Iris – takes the place of Face ID.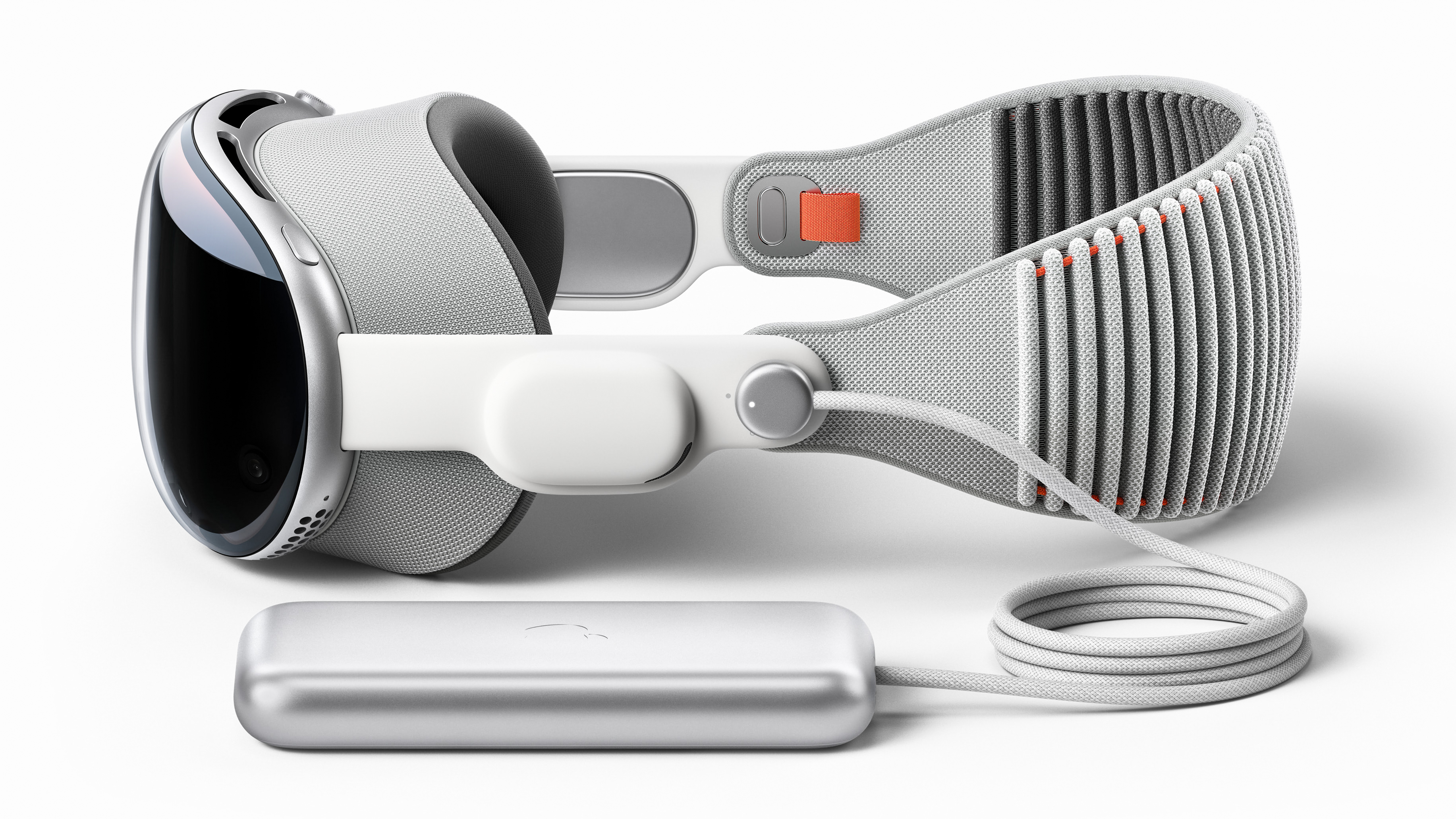 Ahh... feels like we're getting to the price.
And it's $3,499 – even more!
And only in the US early next year. Other countries later.
Well, that's it. Wow. That was exciting. And expensive. Very, very expensive. But I still want one. Apple can still do it. (Except the Disney bit – that was a wasted few moments).
Now Tim is doing a real wrap up...
Watching the ad for Vision Pro at the end. Already wondering how they'll show these things at Apple Stores!
OK, I'm off for a rest – will check back in with other WWDC events later.
The morning after... OK, well it's been fun listening to or watching non-tech reporters (and even a few tech reporters) trying to get their heads around the Vision Pro and why it matters).
Lot of discussion from Apple Park about how they're not as light as you might imagine, and so perhaps that 2 hours is enough.
Oh, and it's USB-C charging.
And, finally, despite showing Avatar 2 as a 3D movie, it's worth noting that the film is 3h12 – so the experience won't be immersive unless you sit within reach of a power point (you can connect directly to a Mac, apparently).
Thank you for reading 5 articles this month* Join now for unlimited access
Enjoy your first month for just £1 / $1 / €1
*Read 5 free articles per month without a subscription
Join now for unlimited access
Try first month for just £1 / $1 / €1