There are a couple of ways to get the best cheap camera deals. One is to keep your eye on the latest prices, deals and camera promotions. The other is to shop amongst cameras which are a couple of years old. 
Very often, a camera that's been out for a year or longer will start to fall in price, and some makers keep older models on sale alongside newer ones at massively reduced prices. This means buying last year's model (or the year before) can save you MASSES of money.
The fact is, even cameras a few years old are still pretty advanced and more than a match for many brand new entry level cameras. Even though it looks as if camera technology is racing ahead at breakneck speed, this is mostly at the higher end of he market, and further down the price scale things move a little more slowly. Some of the best DSLRs and best mirrorless cameras are surprisingly affordable cameras which have actually been out for a while.
So here's our list of what we think are the best cheap camera deals right now. You can use our navigation buttons to go straight to the section you want: Cheap DSLR deals, Mirrorless camera deals, Compact camera deals. 
The best cheap camera deals in 2020
Cheap DSLR deals
You can get some great cheap DSLR deals right now. The DSLR market has slowed a little with the arrival of mirrorless cameras, but a DSLR is still one of the best ways to get started in photography, and the models we've chosen still stand up really well today.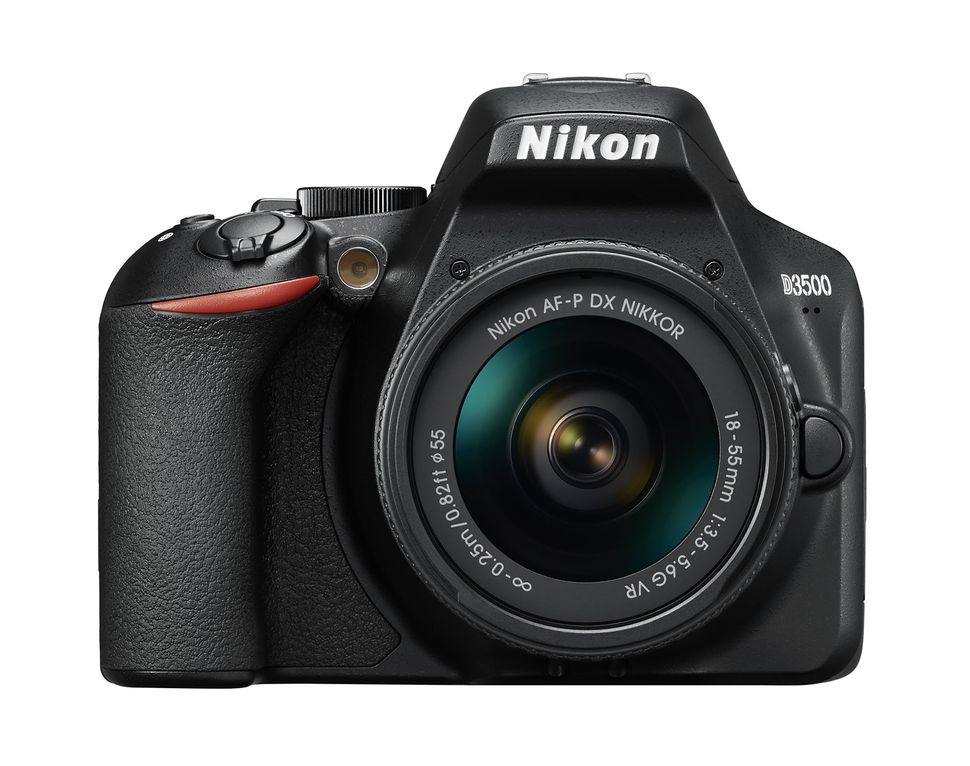 The entry-level model in Nikon's DSLR range looks a lot like the previous Nikon D3400 before it, but subtle design tweaks have produced improved on a winning formula to produce a camera that's small and light, yet comfortable to grip. It's an entry-level model but it has a 24.2MP sensor as good as those in cameras at twice the price, and it offers a very good 5fps continuous shooting speed for a beginners camera. The Guide mode will help beginners get started and understand the basic principles, and the D3500 has all the manual controls you need to learn about photography as you improve your skills. The cheapest deals include a non-VR kit lens but we'd recommend paying that little bit extra for the VR version of the 18-55mm standard zoom.
Read more: The best Nikon lenses right now
Image 1 of 5
Image 2 of 5
Image 3 of 5
Image 4 of 5
Image 5 of 5
This isn't the cheapest DSLR you can buy by any means, but very often it's worth paying a little extra money to get a much better range of features – and this is the perfect example. The EOS Rebel SL3 (aka EOS 250D) has Canon's top-of-the range APS-C sensor with 24.1MP of resolution and brilliant Live View shooting, thanks to a fully-articulating touchscreen display and Canon's fast Dual Pixel CMOS AF autofocus. In fact, we'd actually say this is one of the only DSLRs where composing shots with the screen is downright preferable to using the viewfinder. Canon also packs in 4K video and Wi-Fi and NFC connectivity, wrapped up in the smallest DSLR body you'll ever see. It's not the cheapest DSLR you can get, but we think if you take all its features into account, it is actually the best value.
Read more: Canon EOS SL3 / Canon EOS 250D review
Image 1 of 5
Image 2 of 5
Image 3 of 5
Image 4 of 5
Image 5 of 5
Canon has always been great at making feature-packed, entry-level DSLRs and the EOS 800D keeps up this tradition. Also known as the EOS Rebel T7i, the EOS 800D is built around a 24.2MP APS-C sensor that's paired with Canon's latest DIGIC 7 processor. The autofocus system features 45 cross-type AF points, plus Dual Pixel CMOS AF for live view and video. For 4K video, though, you need to look at the Rebel SL3 / EOS 250D. Other features include built-in Wi-Fi, NFC and Bluetooth, which let you pair the camera with a smart device and quickly transfer images, while the 3in touch-sensitive LCD has a Vari-angle design – great for selfies and vloggers. Like many entry-level cameras, the EOS 800D doesn't quite stretch to offering weather sealing, but the battery is a strong point, with its 600 shots per charge meaning you should be good for a whole day's shooting.
Read more: Canon EOS 800D review
Image 1 of 5
Image 2 of 5
Image 3 of 5
Image 4 of 5
Image 5 of 5
The D5600 is more expensive than other DSLRs in this list, but it's a very good camera that was once sold at much higher prices. The 39-point AF system offers more focus points than other cheap DSLRs and the 3.2in vari-angle touchscreen display on the back is bigger than most. The live view autofocus isn't as accomplished as on the Canon Rebel SL3 or any of the compact system cameras here (particularly for video), but the overall performance is still excellent, and lens options are plentiful. We probably wouldn't choose it for video, but as a versatile, high-quality compact DSLR it's a really good deal these days. We especially like it for travel, because of its size, we recommend getting it with Nikon's retracting AF-P 18-55mm VR kit lens.
Read more: Nikon D5600 review
Image 1 of 6
Image 2 of 6
Image 3 of 6
Image 4 of 6
Image 5 of 6
Image 6 of 6
Canon's original EOS 6D was a hit for a number of good reasons, and the EOS 6D Mark II successor arrives with a fresh 26.2MP full-frame sensor with Canon's clever Dual Pixel CMOS AF system incorporated into its design. A 45-point AF system replaces the dated 11-point AF system of the EOS 6D, while a flip-out touchscreen, a 6.5fps burst-shooting mode and better video specs round off the model's highlights. Autofocus is snappy when you're using the camera conventionally, and if you switch to live view it's fast enough to make you think you're using a mirrorless camera. DSLRs have traditionally struggled here, so Canon deserves a lot of credit for closing the gap. We reckon this is a great camera for those looking to step up from an APS-C body. Scroll down for more details on the specs and to get the best Canon EOS 6D Mark II deals.
Read more: Canon EOS 6D Mark II review
Mirrorless camera deals
There's a lot more going on in the mirrorless camera market right now, and this means a fast turnover of new models. That's great news for bargain hunters, as it means older models are now becoming available at a fraction of their original price.
Image 1 of 4
Image 2 of 4
Image 3 of 4
Image 4 of 4
For those existing Nikon DSLR and lens owners wanting to jump aboard its new mirrorless system, or utilize it alongside that very same DSLR, the Nikon Z6 currently offers the best deal. Yes the Nikon Z cameras feature a new lens mount, but the manufacturer is also selling an FTZ mount adaptor allowing purchasers to use their existing Nikon lenses, plus there are three dedicated Z mount lenses currently available at the time of writing. If you're eyeing this one up over the Nikon Z 7, be aware that although it's cheaper there thankfully don't appear to have been corners cut in terms of construction. It has an extensively weather-sealed, magnesium alloy body, plus a respectable 200,000 shot shutter duration. In short, externally you can barely tell the Z6 and Z7 apart.
• Nikon Z lens roadmap: everything we know
Image 1 of 3
Image 2 of 3
Image 3 of 3
A major draw with the Canon is its implementation of Dual Pixel CMOS AF, as introduced on its DSLRs, here offering a whopping 5,655 focus positions covering 88% of the frame horizontally, plus 100% vertically. The EOS R doesn't feature in-body image stabilization, but many of the RF lenses have IS (image stabilization) built in.
Videographers will be pleased by the inclusion of 4K recording, albeit here up to 30fps and imposing a 1.7x crop. The camera's LCD screen features a touch and drag capability, meaning that a focus point can be selected by dragging a thumb across the screen in a similar fashion to alternatively using a joystick. It's also full articulated, unlike those in rival full frame mirrorless cameras.
We're going straight in at the deep end here with an expert/pro full frame mirrorless camera that you can now buy for less than the price of many enthusiast cameras. The Sony A7 was launched way back in 2013, and it was far from cheap at the time. Five years later, though, it's still on sale, and it's the cheapest full frame camera you can buy. Is it out of date? No, not really. In fact Sony tells us that it's still making it. Compared to a DSLR, the A7 is small and lightweight, though, once you add a decent kit lens or a telephoto, that advantage quickly disappears. The A7 was the first full-frame compact system camera on the market, and although it lacks some newer features like a touchscreen display and 4K video, the quality of the Raw images produced by the 24.3MP Exmor CMOS sensor continues to impress. The only real letdown is that first generation A7 models do not have the in-body stabilization now standard across the range. You can get this camera body-only (if you already have Sony lenses) or with the cheap but adequate Sony 28-70mm kit lens.
Read more: Sony A7 review
Image 1 of 4
Image 2 of 4
Image 3 of 4
Image 4 of 4
If it's a very high-resolution camera you need, then the 45.7 megapixel Z7 currently offers the best deal in Nikon's full frame camera range. It includes a five-axis in-body stabilization system, a new range of Nikkor Z lenses and compatibility with existing Nikon F lenses via the optional FTZ adapter, which is a bonus for existing Nikon DSLR owners with an existing collection of lenses.
• The best Nikon Z lenses for the Z7
The build quality is impressive, with a 200,000 shot shutter life and a weather resistant magnesium alloy body. A recent firmware update means the Z 7 (and the Z 6) can now use the latest CFexpress memory cards. In terms of technology, the Z 7 is similar to Nikon's own D850 DSLR, albeit in more portable form and with a differing control layout. The Z mount 24-70mm f/4 S lens released alongside the camera body is a neat and exact fit.
It's Sony again! This time, the company is selling its first-generation A6000 model, originally designed for enthusiasts and experts, for a knock-down price. For a long time it was the Sony A5100 that made more sense for the cash-strapped beginner looking to get to grips with mirrorless shooting, but as the A6000 has steadily dropped in price, it's now the clear favourite. Much like its RX100 compact camera, Sony has kept this in its mirrorless line up for some time, and it continues to offer an amazing set of specs against other models in in the same price bracket. Highlights include a 24.3MP APS-C sensor, 11fps burst option, Wi-Fi with NFC and a tilting LCD screen on the back, but its the excellent 179-point phase-detect AF system and 2.36million-dot EVF that really show it to be a camera willing to perform to a standard beyond expectations at this level. Keep watching the price on this camera because retailers often drop it to silly levels.
Read more: The best lenses for Sony A6000 cameras
Image 1 of 4
Image 2 of 4
Image 3 of 4
Image 4 of 4
The diminutive GX80 can be adapted to the needs of any user, from the beginner that just wants to rely on the leave-it-to-the-camera Intelligent Auto option, to the photographer that wants complete control over all exposure settings like shutter speed and aperture. You also get 4K video recording capability and Panasonic's speed DFD (Depth From Defocus) autofocus system. The built-in electronic viewfinder (amazing in a mirrorless camera at this price) makes it a great option for using in harsh sunlight or darker conditions, while the tilting screen makes it easy to shoot from ground level. Together with Panasonic's tiny Micro Four Thirds lenses, this makes it perfect for travelling or holidays. So what's the catch? It uses Panasonic's older 16MP sensor rather than the lates 20MP version, but that's only a 4MP difference and given what else this camera can do – and at this price – we wouldn't worry about it. Make sure you get it with the retracting 12-32mm 'pancake' lens – this combination is not a whole lot bigger than a compact point and shoot camera.
Read more: These are the best mirrorless cameras right now
Image 1 of 6
Image 2 of 6
Image 3 of 6
Image 4 of 6
Image 5 of 6
Image 6 of 6
With the EOS M50, though, we think Canon  hit the sweet spot. This camera is easy to use for beginners but has a built-in electronic viewfinder. The EF-M 15-45mm f/3.5-6.3 IS STM kit lens has a retracting mechanism to make the camera smaller to carry around when it's not in use, and there is a small but handy selection of other EOS M lenses you can use with this camera. If travel is your thing and a couple of lenses is all you need, the EOS M50 is great, and because it's now been out for a little while, the prices are starting to fall.
Read more: Canon EOS M50 review
Compact camera deals
The compact camera market has taken a bit of a hit from the rise in use of camera phones, but there are still some great deals to be had. There are some things a compact camera can do that a camera phone can't... such as long zoom ranges, and prices that wouldn't even get you a mid-range smartphone.
The Panasonic ZS50, also known as the TZ70, gives you a mammoth zoom range that goes up to 720mm (35mm-equivalent) setting, plus a built-in electronic viewfinder – very useful in bright light. Panasonic has even provided focus peaking for precision when manually focusing and time-lapse video option, and even Raw shooting (although this is arguably less significant on a camera with such a small sensor). On that subject, don't let the sensor's 12.1MP pixel count throw you off; Panasonic deliberately reduced this from the 18.1MP TZ60 that came before it for the benefit of image quality in low light. Full HD video recording to 60p, effective Hybrid O.I.S. image stabilisation and both Wi-Fi and NFC on top of all this make the SZ50 unquestionably brilliant value for money and another great camera for travel.
Sony's original RX100 was released all the way back in 2012, but the fact that you can still pick one up brand new says a lot. Blending a 20.1MP 1in-type sensor with a 28-100mm f/1.8-4.9 lens inside a tiny body, this was the camera that very much raised the standard for such models. The series has since welcomed four further iterations, and these have all been very well received, but in terms of value for money the original model is still difficult to argue with. Sure, its age means it misses out on a few newer technologies, but you get Steady-Shot image stabilisation, 10fps burst shooting, Full HD video to 60p and a control ring around the lens for more immediate changes to key settings. Do note that there are now seven (yes, SEVEN) different generations of RX100 family currently  on sale – but even this oldest, first version, is still rather good.
It's one of the pricier cameras on this list, but the FZ1000 offers such superb value for money that it simply can't be left out. On top of the very solid foundation of a 20.1MP 1in sensor and a 25-400mm f/2.8-4 Leica-branded optic, Panasonic has gifted the camera with Power O.I.S. image stabilisation, Raw file capture, 12fps burst shooting and both Wi-Fi and NFC. Videos are captured in both 4K and Full HD quality, with a 120fps setting in Full HD for slow-motion output, together with advanced options such as zebra patterning and even a 3.5mm mic port, while a 2.36million-dot electronic viewfinder is partnered with a fully-articulated 3in LCD. Can you find another camera that can provide all of that for the same money? Nope!
More camera buying guides: