Granted, binoculars are something we buy in order to view close up detail from afar. But sometimes once we've pinpointed our subject, it's frustrating not to be able to zoom in that little bit further to really pick up on a particular detail, such as identifying marks or a particular plumage.
Fortunately help is at hand. While some may sniff that the quality of zoom binoculars isn't as sharp as a fixed lens pair, the zoom conveniently means that we have high magnification at our fingertips as and when we need it, after we have first located our subject.
Whereas regular binoculars might give their specification as 12x32, meaning a 12x magnification and a 32mm diameter objective lens, with zoom binoculars we'll see the likes of 8-24x25, where between 8x and 24x is the adjustable magnification, or zoom range, and 25mm is the diameter of the lens in play.
Of course, just like regular binoculars, the size, shape and specification of zoom binos varies. Higher-powered units with larger objective lenses may provide more poke and brighter images, but are typically the bulkiest and weightiest – that much is straightforward enough. Apart from the fact that we can get that bit closer to our subject, the same principles and largely the same handling process as regular binoculars apply. While we may sometimes complain that our binoculars aren't powerful enough, it's not like we're going to complain that they're too powerful. Though do be aware that the further we zoom in, the harder it may be to maintain a wobble-free image, especially if we're using powerful binos handheld. As ever, it's about finding that sweet spot between power, portability, price and, of course, the clarity and sharpness of the viewed image.
So without further ado let's dig into what's currently available and discover the best zoom binoculars out there for 2023…
Best zoom binoculars in 2023
Why you can trust Digital Camera World Our expert reviewers spend hours testing and comparing products and services so you can choose the best for you. Find out how we test.
This compact, lightweight and portable porro prism pair of zoom binos offers adjustable magnification power from 8x to a generous 24x. There's an obvious flick switch provided atop the device for such adjustments to magnification, and a so-so sized 25mm objective lens. We also get the standard centrally mounted focus knob, turn and slide rubber eyecups, good quality Bak4 prisms used in the construction of its optical system, plus a manageable weight of 350g.
The above all means it's easy to stow and transport, making this option ideal for everyday use, even if it seems a little light to completely avoid image judder at maximum magnification without any stabilizer built in. It's the nature of the beast that we also need to adjust focus each time we alter the zoom setting. Still, while it's not waterproof, this Nikon option nevertheless offers a portable all-rounder at a fair price for those observers who want to get close, and at times closer still.
The near identical Nikon Aculon T1 8-24x25 is more readily available in some places.
See our full Nikon Sportstar Zoom 8-24x25 review
By contrast with the eminently portable Nikon option, this chunky alternative offers both a huge maximum magnification and huge objective lens. That means it's been built for tripod use – and an adapter mount is included – with not only long distance viewing but also stargazing being one obvious aim, given the power, clarity and brightness its specification suggests.
Usefully, a thumb-operated zoom lever allows users to adjust magnification on the fly without taking their eyes away from the eyepieces. The construction here includes regulation issue high quality BaK-4 prisms twinned with multi-coated lenses to optimize light transmission. Given the power on offer it's perhaps less of a surprise that close focus is a bit of a misnomer, given that the nearest subject we'll be able to get sharp is a rather lengthy 23 metres away.
While having all that power at our finger tips is theoretically great if we want to view everything from the birds in the trees to moon and beyond to the stars in the sky, and adjust the magnification range to suit each time, it does inevitably result in a bulkier and weightier product. Given that these binos are relatively chunky we're grateful they're shock resistant should they be accidentally knocked, while a carry case and strap is provided.
As a brand Celestron is renowned for mixing build quality with performance and value for money. These outwardly very traditional in appearance full size porro prism binoculars involve a rubber coated aluminium body. This ensures a lightweight feel yet a firm hold, plus a degree of protection against the odd bash. Otherwise the core features to consider here are obviously that zoom starting out at a standard 10x and moving up to a generous 30x maximum magnification wedded to a larger than usual 50mm objective lens, which should let in plenty of light to make for clear, sharp observation.
Water resistant, but not completely waterproof, these would be best suited to wildlife watchers and 'twitchers' wanting to get that bit closer to the action, with multi coated lenses and BaK-7 prisms ensuring optimal light transmission and a tripod adapter available if additional support is needed. A strap and carry case come as standard to complete the package.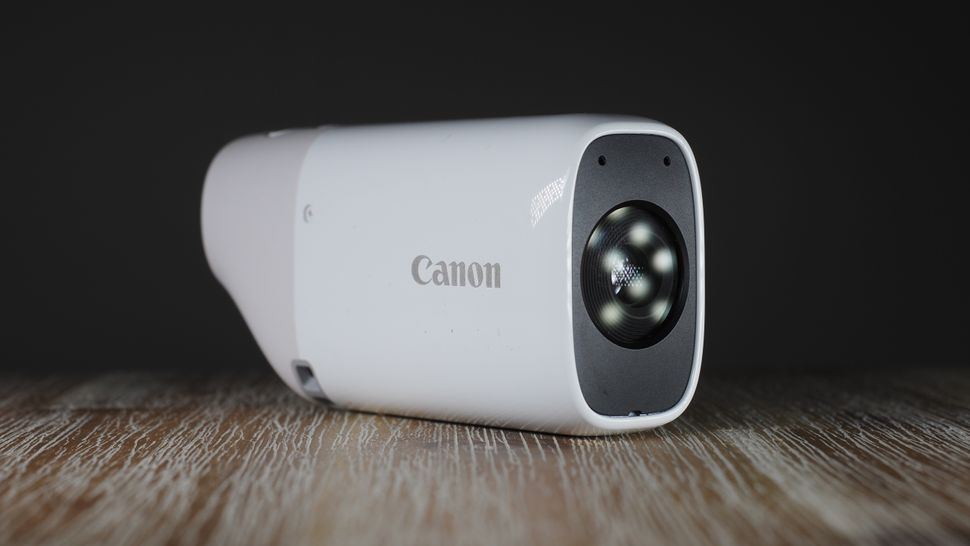 Yes this is a monocular rather than a binocular. Secondly, we're including it here because not only does it feature a zoom facility but it also has a camera built in. Plus it's from a manufacturer with a long and distinguished heritage when it comes to both cameras and optics.
The feather-light weight here of just 145g means that this model is conveniently portable and can be slipped into a convenient pocket. Unlike some binos that incorporate a camera though it doesn't have an infrared night vision facility, so is more for daytime use. The Canon's optical zoom is also relatively modest in present company. That said, it can be expanded from its maximum 400mm optical setting via 2x digital zoom to provide a maximum focal length equivalent to 800m.
Instead of using eyepieces, our subjects are instead located via an electronic viewfinder. Video capture resolution is a respectable Full HD 1080P at 30fps, while 12MP stills are courtesy of a 12.1MP 1/3-inch CMOS sensor. Closest focusing distance is just one metre and basic Wi-Fi and Bluetooth connectivity means that images can be shared with a smartphone via the Canon Connect App. Predictably this unit requires batteries and slightly less impressive is its mere one-hour battery life, giving just 150 images.
Conveniently though its battery can be recharged via USB port, while imagery is saved to an optional microSD card, an extra expense. With built-in image stabilization provided, the added fact that the design of the device means it fits snugly in the grip of the palm, while resting against the eye socket of the user, meaning a steadier view is achievable.
See our full Canon PowerShot Zoom review
Looking enticingly futuristic with a cleverly compact design, this handheld porro prism option marries a respectable if not quite outstanding 8x to 16x magnification range, to a fairly average 21mm objective lens size. As is common in present company, multi coated optics maximise light transmission while reducing the possibility of lens glare and flare. A rubberised outer coating further offers a degree of protection and grip.
We're also told the construction of this Pentax has been devised to minimise moving parts and thus extend the product life for years to come. Optical zoom and focus are both adjusted via two separate dials atop the device with, we're told, aspherical lens elements providing edge to edge sharpness, despite the overall minimal size of the binos. A practically compact solution this may be, meaning we're more likely to take it out and about with us, but those looking for zoom binos with a bit more poke may want to look elsewhere.
Promising high-resolution viewing with minimal distortion whether we're observing sports or wildlife in close up, these traditional and practically designed porro prism binos are suitable for a wide variety of subject viewing, while possessing that extra zoom poke when required, with 16x seeming rather sensible instead of groundbreaking.
Relatively compact, manageable in weight – if not exactly the lightest in present company – yet ergonomic with it, robust rubber housing both makes for a firm hold and adds a degree of protection. Fold-down eyecups, meanwhile provide comfort when used with or without spectacles. Case, lens caps and strap are also included.
Read more:
The best binoculars
Best budget binoculars under $100
Best camera binoculars
Best marine binoculars
Best rangefinder binoculars
Best compact binoculars
Best opera glasses