Trouble streaming the above video? View/download it here
For a treasure trove of space photos simply head to the NASA website and start exploring the collections of high-resolution, incredibly detailed images of stars, planets, nebulae and more.
They're stunning as they are, but you can also make use of them for creative effects in Affinity Photo, like our star-studded portrait treatment. This involves a cunning combination of tonal tricks and blending modes, and it only takes a few minutes. We begin by preparing our portrait, then copying in a star image and blending it with the Multiply blending mode. This lets us merge the bright stars with the brightest parts of the portrait for stellar results. We finish by using Curves to perfect the tones and colours.
Along the way we'll explore a host of fundamental layer skills in Affinity Photo. We've supplied a portrait to download, but if you want to use your own then it's best to frame the person against a perfectly white background. This way, when we invert the portrait the background becomes fully black and therefore the stars are restricted only to the details in the subject's face.
Don't worry if your chosen portrait isn't against white, we'll show you how to blow out the backdrop on any portrait to get you started.
Download the project file(s) to your Downloads folder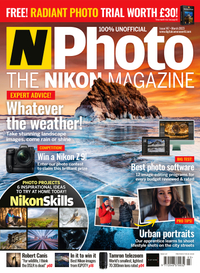 N-Photo: The Nikon Magazine is a monthly magazine that's written by Nikon enthusiasts for Nikon enthusiasts, you can be sure that all the content is 100% relevant to you! So for the best Nikon-focused news, reviews, projects and a whole lot more, subscribe to N-Photo today – with our unmissable sub deal!