Watch video: How to capture wicked watch photos
If you're interested in product photography but don't have a home studio, consider lifestyle product photography instead. This niche genre is perfect if you're short on home photography ideas and want to capture products in the real world.
Such images might depict an object surrounded by relevant props (a gold bracelet draped across a marble surface, next to a white flower head), or an object being used (a hand holding a glass of champagne, with a gold bracelet on the wrist). Lifestyle images are particularly popular on Instagram, with brands such as @daisy_jewellery and @watchgecko using them to display their products.
• Read more: Best macro lenses
This style of photography suits almost any object, but we chose to use a watch. Not only are watches commonplace items, but there's one for almost every occasion you can think of. If you have a dress watch and a dive watch, for example, you could create two very different arrangements. The key is to pair your product with a few complementary items, without cluttering the frame.
Our field watch takes its design cues from old military watches. Its rugged aesthetic lends itself to outdoorsy items, hence the rope, canvas bag and leather straps. So, grab a few items that complement your timepiece, find a good source of natural light and learn how to capture a lifestyle product photograph.
How to capture a lifestyle product photo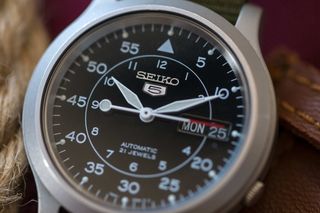 1. Set the time
Look at watch adverts in magazines or jewelry shops and you'll likely find they're set to 10 minutes past 10. This is considered to be the most attractive positioning for the hour and minute hands. Not only is it pleasingly symmetrical, but some liken it to a smiling face.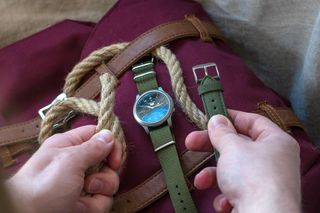 2. Pick your props
Use related props. Our Seiko SNK809 is based on classic military field and 'flieger' pilots' watches. Its tool-like aesthetic works well with outdoorsy items, hence the rope and canvas rucksack. The latter's burgundy color complements the olive green strap of the timepiece.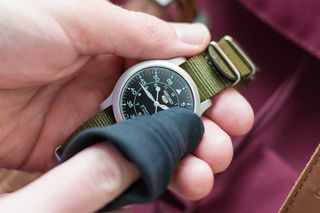 3. Spit and polish
You'll probably have to do a bit of cloning in post to remove bits of fluff or dust on your props, scratches on the watch casing or smudges on the crystal, but make your life easier by polishing your watch beforehand. And use an air blower to remove the majority of unwanted debris.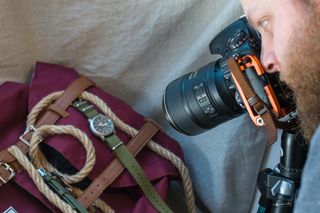 4. Get in close
The Nikon AF-S VR 105mm f/2.8G IF-ED is ideal for watch photography. This macro prime has a minimum focus distance of 1ft and boasts a 1:1 reproduction ratio. If you don't have a macro lens, kit lenses often have decent close-focusing capabilities and so does the popular Nikon AF-S 50mm f/1.8.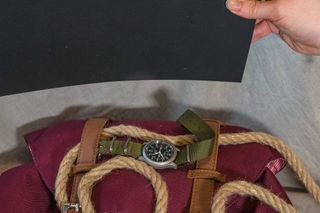 5. Soft lighting
We used natural window light and a continuous LED panel to light our subject (the latter isn't essential). Watch crystals and metal reflect light, so try bouncing it off the ceiling or a nearby wall to soften it. A black sheet of card can be used as a flag to block light and prevent ugly reflections.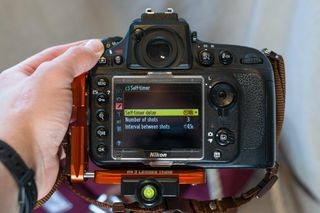 6. Camera settings
Use Aperture Priority and focus on the watch dial. A tripod isn't essential, but it allows you to hold an LED light or your flag. We shot at 1/15 sec, f/4, ISO100. Ensure the shutter speed is fast enough to freeze the second hand. We also set a 10-second self-timer, with multiple shots at 0.5-second intervals. This prevented camera shake and left our hands free.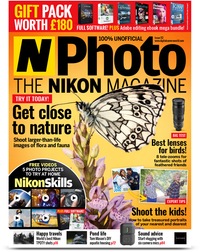 N-Photo: The Nikon Magazine is a monthly publication that's entirely dedicated to Nikon users. For the best news, reviews, projects and more, subscribe to N-Photo today!
Read more:
Shoot and edit amazing product shots
Best ringflash for macro
The best macro lenses