Meet the pro: Andrew Parkinson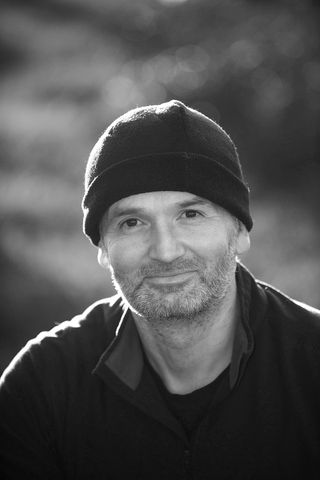 Andy Parkinson is an award-winning wildlife photographer, regular National Geographic contributor and a recent Nikon ambassador. Working with wild animals only, he often speaks about conservation, animal rights and photo ethics.
Animals portraits are our way of trying to convey the character, personality and even the soul of the animal whose life we've set out to document. They are an invaluable tool in creating a connection between our species and theirs.
The main image here is as much about the conditions that day as it is about my relationship with this individual animal. I have known this particular hare now for three years, so when the perfect conditions were forecast – high winds, freezing temperatures and a big load of snow – it was the pleasure of her company that I sought out, high on her mountain plateau home.
The ferocity of the conditions that day represent the very upper limit of what I'm physically able to endure. In doing so, however, I was able to produce one of my most intimately compelling images, rich in detail and character.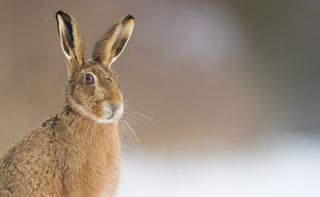 More in this five-part series
Andy's top tips for better wildlife portraits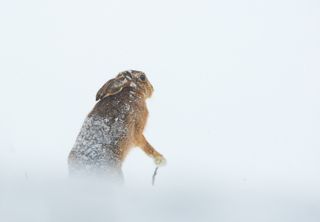 1. Shoot at eye level
This is the best way to create a feeling of intimacy with your subject. It will also likely push the backdrop further away, thereby focusing the viewer's attention on the only aspect of the image that is in sharp focus – the subject itself.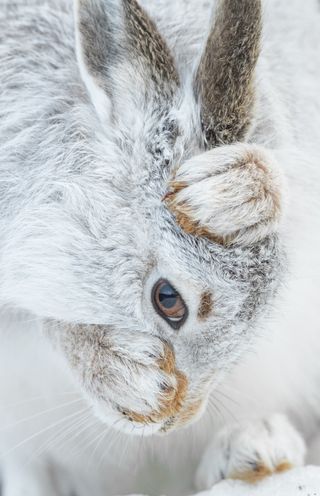 2. Use your aperture creatively
Don't assume that the only technique for portraits is to use your widest aperture, such as f/2.8 or f/4. In this portrait I was shooting at f/10 to try to bring as much of the hare's face and paws into sharp focus as I could.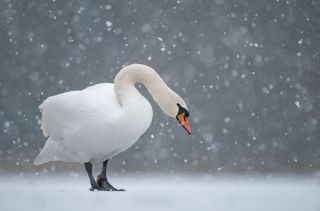 3. Give your subject room to breathe
Portraits don't always have to fill the entire frame. Sometimes including some of the habitat, or the conditions, gives the portrait some extra context and interest. Remember that it's the personality/character of the subject that's most important.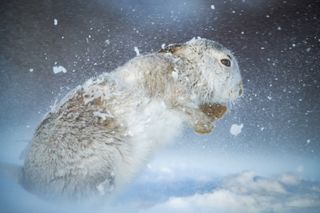 4. Shoot flexibly
Just because your subject is static doesn't mean that it will remain so. I often have a minimum shutter speed of 1/500sec, even for a stationary subject, in anticipation that something like this might happen.
Read more:
Take your outdoor photography to the next level with The Photography Show
The best camera for wildlife photography in 2021
The best trail cameras in 2021