Watch the video: couple photography
Couple photography is not easy... posing two people in a portrait can often be twice as hard as shooting just one sitter. There are twice as many limbs to look out for, four eyes to keep in sharp focus, and double the chances of blinking or dodgy expressions. However, it can also be incredibly rewarding. At the risk of sounding a little sentimental, it gives you the chance to show the bond two people share and create images with real emotion.
• More photography tips: how to take pictures of anything
• Newborn photography tips
• Get more photoshoot ideas
So how do you go about taking great shots of couples? To show their special connection you need to work on the composition, body language and expression. It's always best to keep things natural, but it can help if you have a few stock poses to rely on. Here we're going to look at six poses that you can try out on any couple. Each emphasizes something different about their relationship, from their closeness to their sense of fun.
Don't just go straight into the posing. Before the shoot, ask the couple about the style of shots they'd like. It'll give you a better idea of their tastes, and whether they'd prefer traditional or contemporary portraits. They'll be more relaxed, and the photos better, if they feel they're getting the shots they want.
We're going to look at both formal and contemporary styles of images. We'll start off with a traditional pose, then move on to more relaxed, contemporary ideas. Give these poses a go, and be ready to capture the chance moments that'll crop up. You'll take portraits that are guaranteed to entertain and delight.
1. Traditional pose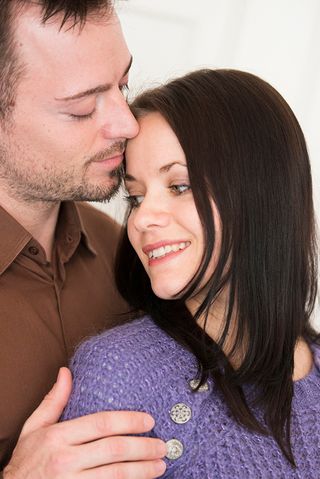 Ask the woman to stand slightly side-on, then get the man to stand behind and place his hand on her arm. Make sure both subjects' hands are neat and tidy, with fingers together. This angle works well for larger people, as standing side-on presents the slimmest view of the body to the camera.
2. A passionate embrace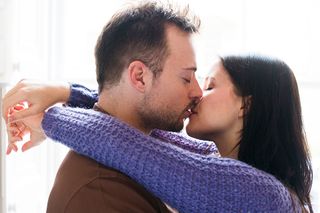 Get them facing one another with the main light source behind. Ask her to wrap her arms around his neck, keeping them straight, and rest their foreheads together. This'll give you a classic, passionate shot. You could ask for a kiss, but get them to touch lips lightly rather than squash faces.
3. Cuddles and piggy backs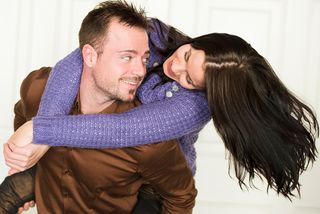 Have the man sat down, with the woman cuddling him from behind. Ask her to whisper something wicked into his ear for a great reaction shot. For a variation on this kind of pose that'll add a little fun, ask them to do a piggy back. Shoot in bursts to capture the expressions.
4. Show their quirky side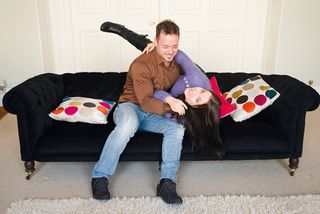 If the couple are after something a bit less conventional, you could try a quirky pose. Negative space can be good for this kind of shot, so step back a little and look for clean, symmetrical backgrounds. Experiment with playful poses and be ready for the inevitable burst of laughter.
5. Have some fun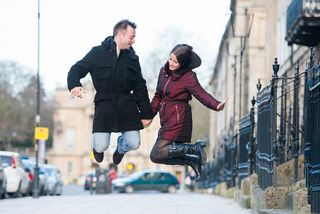 If they're up for it, try some action shots. Ask them to do a funny jump, pull some dramatic dance moves, or do anything else that shows off their characters. Props and accessories can also come in handy here, as they give your subjects something to play with while you shoot
6. Step back or go close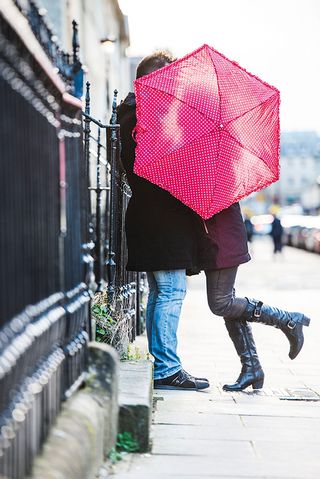 Try giving the couple some space to increase the sense of intimacy. Have them walking away from you, shoot them out of focus or obscure the pose with props and scenery. Alternatively, go to the other extreme and crop in very tight, picking out little details that hint at the wider scene.
More videos:
147 photography techniques, tips and tricks for taking pictures of anything
Studio portrait lighting: essential tips and setups explained
Headshot photography tips: how to shoot the perfect head-and-shoulders portrait
Fill-in flash: tips and tricks for using a flashgun in daylight