Zhiyun has gained a reputation as one of the top brands for best camera gimbals and best phone gimbals, but they have also expanded their video range to include a variety of LED lights. Among them is the new Zhiyun MOLUS G60, which utilizes COB (chip-on-board) technology to provide a powerful 60W constant light in a Rubix Cube-sized chassis.
Read More: Find out how to improve your lighting with our guides to the best video lights and the best LED light panels.
COB lights feature multiple LED chips mounted closely together on a single circuit board, creating a highly efficient and uniform light source. This design allows for improved brightness and color accuracy compared to traditional LED lights, while also remaining lightweight and compact.
With so many video lighting options available, how does the Zhiyun MOLUS G60 stack up?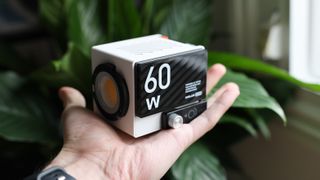 Specifications
Output Power: 60W
Cooling Method: DynaVort Active Cooling
Color Temperature: 2700K~6500K
Brightness Adjustment Range: 0~100%
CRI: ≥96
TLCI: ≥97
Illuminance In 6500K/100% Brightness (1 meter): 2,376 lux (11,194 lux with reflector)
Power Supply Method: USB-C PD, AC power adapter
Power Adapter Operation Voltage: 100V~240V
PD Input Power: ≥18W
Extension: 1/4 General Threaded Hole
Size (WxDxH): 90.6 x 67 x 66.95 mm
Weight: 300g
Key Features
The Zhiyun MOLUS G60 features the same design language as other Zhiyun products, and is distinctly in the same design family as last year's FIVERAY M40, despite the MOLUS name change. The G60 might have fit better looks-wise in the FIVERAY family, but it doesn't really fit in with its more professional-looking brother, the Zhiyun MOLUS X100, although it does share the same Zhiyun ZY mount for accessories.
The MOLUS G60 is an impressively compact lighting unit that lives up to its name by delivering a whopping 60W of power. It has a color temperature range of 2700K-6500K, with a CRI (color rendering index) of ≥95 and a TLCI (television light consistency index) of ≥97. The light's brightness and color temperature can be conveniently adjusted using the ZY Vega app via Bluetooth or through manual control dials located on the rear of the device.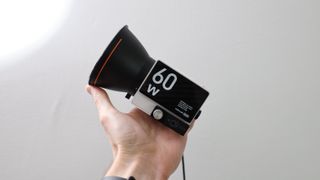 The new Zhiyun NY Vega companion app can wirelessly control both the G60 and other lights from Zhiyun. The app enables complete control over individual lights or selected groups of lighting with minimal effort.
There are two ways to power the MOLUS G60, either using the included DC adapter or by using the 100W PD USB-C power port. If connecting using the USB-C PD port, then the supply from the wall adapter will affect how bright the light can go, with a 100W wall adapter recommended for 100% brightness.
The MOLUS G60 utilizes Zhiyun's DynaVort cooling system which has been used to great effect in its previous lights. DynaVort uses a gyroscope-modeled heat sink and a FOC fan to prevent overheating, based on a fluid dynamics and attitude control algorithm, the technology significantly increases cooling efficiency by more smartly controlling airflow through the light. As a result, the lights provide a consistent source of illumination without any flickering or cool-down periods.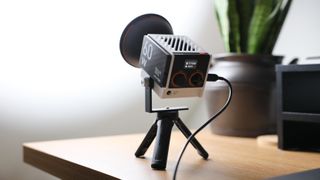 Build & Handling
The build quality is good if a little plastic-y, it doesn't feel cheap or breakable, however, it doesn't quite have the same premium feeling as the MOLUS X100. The dials for the brightness and color temperature are on the rear of the body and have a nice click as you turn them, you can also press them in to cycle between three quick settings. This fast cycling is fairly essential, as the G60 does require you to turn the dials far more than feels necessary. The dials also have a slightly different shape from one another, which both adds to the playful design but also allows you to turn each dial by feel alone.
The overall design might be divisive, I personally think the design is fun and quite enjoyable, but it might stick out as not being serious in a professional setting. Although with these lights aimed at content creators more than high-end studios that shouldn't be much of a problem.
The MOLUS G60 has a connected arm at the base which can be positioned at different angles, this is a really quick and simple setup and works really well for small setups like using the light for product photography or vlogging. The arm has a 1/4-inch screw hole so it can be attached to Zhiyun's included mini tripod or a larger light stand.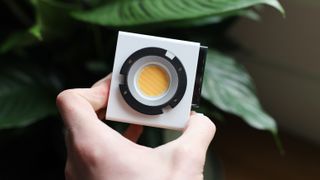 The light is so incredibly compact, it fits in the palm of my hand. This is a blessing and a curse, when using the Bowens mount adapter and even medium softboxes, the light is not heavy enough to balance the weight and the stands tipped forwards. If you want to use larger lighting adapters then forget about it without properly weighting your light stand.
It is also slightly frustrating that the G60 does not contain a battery or comes with an optional external battery like the MOLUS X100. The G60 just seems like it was destined to be run wire-free, so having trailing wires traipsing from the light and across the floor is more of a hindrance than it could have been. You can run the light from a PD power bank, but powerful enough power banks are not in abundance, with only one or two trustworthy ones available at time of writing.
On the subject of USB-C PD, powering the G60 with USB-C is one of the most exciting prospects, however, a big caveat is that a 100W PD USB-C wall adapter is very hard to find, with a couple of chargers (including my 97W MacBook charger) not working at all. The X100 can be used at a lower max brightness with less power. I managed to achieve a 60% brightness using a 65W GaN wall charger, but PD might be more exciting as more powerful power adapters become available.
The DynaVort fan in the G60 is phenomenal, it does an exceptional job at dissipating most of the heat, although it still requires a few minutes after being turned off before I would recommend returning it to its case. The fans are whisper quiet, I could barely hear them except for in a totally silent room, and even then I had to get really up close.
The G60 offers a range of high-quality optional accessories, including larger diffused reflectors, mini softboxes, and Bowens mount adapters. These accessories can be purchased separately or as part of kit bundles. The light comes with a small reflector as standard.
The accessories use Zhiyun's ZY mount, which features a simple and secure lock and release system. However, it can be a bit tricky to line up the accessory correctly when attaching it, resulting in some awkward fumbling while trying to click it into place. It would be helpful to have a more obvious starting arrow to ensure proper alignment.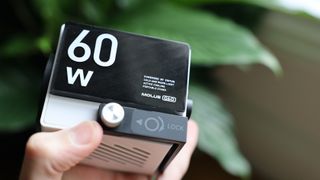 Performance
The MOLUS G60's 60W power output is truly impressive given its compact size, and is more than sufficient for most content creation scenarios within close to mid-range distances. However, in my small studio setup, full brightness was actually a little overpowering.
When used with just the reflector, the light is quite directional, which may not be flattering depending on the intended use. I observed harsh shadowing on product shots and on my model. However, the optional softbox and other light shaping tools available for purchase alongside the G60 provided enough diffusion to soften the light to a pleasing level. The optional Bowens mount adapter with an umbrella hole allows for using existing light modifiers.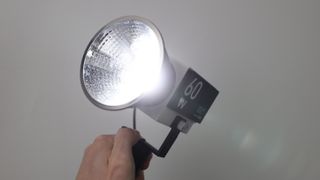 The G60 offers a color temperature range of 2700K to 6500K, providing natural-looking light throughout the day. The color accuracy appears consistent, with a ≥95 CRI rating and no discernible hues on my test footage.
The new Zhiyun ZY Vega app is user-friendly, though somewhat basic. I tested the app on Android, and the G60 connected via Bluetooth instantly, allowing me to update the firmware wirelessly and control the lighting effortlessly using the brightness slider. The app enables grouping lights or controlling them individually.
While it is disappointing that the G60 does not offer RGB colors or lighting effects, it is possible to use gels to achieve additional colors. However, this is not as accurate or consistent as using colored LEDs. The absence of lighting effects is surprising, given that most LED lights offer modes for lightning, watching TV, and more. Zhiyun's FIVERAY F100 light stick offers a range of color options and lighting effects, making it a surprising omission from the G60. Hopefully, this can be added via a future update.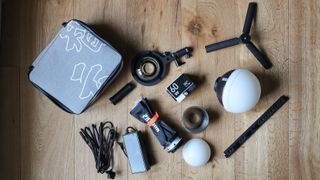 Verdict
The Zhiyun MOLUS G60 is probably one of the best options for any content creators who move around a lot, who don't have a lot of space, or just need a simple but incredibly functional lighting source. The 60W power is bright enough for most close to mid-distance situations such as talking to camera or a studio shoot, and the DynaVolt fan does a great job at keeping it cool. Neat features like PD USB-C, as well as a dedicated power supply offer improved versatility. The accessory system is well thought out, with great quality accessories from Zhiyun as well as a Bowens mount adapter.
There are some small disappointments like the lack of an optional dedicated battery pack, or lighting effects or colors, but these are easily looked past when you are reminded of how much power Zhiyun managed to squeeze into this Rubix Cube size box.
Read More: Find out how to improve your lighting with our guides to the best video lights and the best LED light panels.