The Zhiyun Crane 2S is one of a series of hand-held stabilising gimbals that's well-known amongst videographers, and this model is aimed at DSLR or mirrorless camera users.
The Crane 2S is lighter than the Zhiyun Crane 3S which is for bigger cinema and DSLR camera systems, but can still accommodate a hefty camera like the Canon EOS-1D X Mark III as well as smaller models like the Sony A6600. Zhiyun does not, however, quote a maximum payload.
Specifications
Pan range: 360°
Tilt range: -91° to +155°
Roll range: -57.5° to +237.5°
Power: 3x 2600mAh rechargeable batteries supplied
Weight: 1.88g (excluding tripod and batteries)
Key features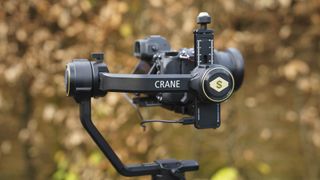 As a 3-axis stabiliser, the Crane 2S has three motors to control the movement of the camera. As well as ironing out the wobble of hand-held footage, these can make deliberate movements such as a smooth pan or a corkscrew-like rotation.
Mindful that filmmakers often have to swap between a gimbal and a tripod, the Crane 2S's quick release plate is compatible with tripod heads that accept Manfrotto 500PLong plates. Also, thanks to the Flex Mount system, it's easy to switch to vertical shooting on the Crane 2S.
Bluetooth connectivity is built in to enable the Crane 2S to connect with a smartphone running Zhiyun's ZY Play app. The app lets you control the gimbal remotely, making smooth movements using the motors.
Build and handling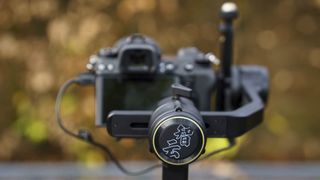 After charging the batteries, assembling the Crane 2S and mounting the camera, the first step before using the gimbal is to balance it and use the Auto Tune feature. This is a straightforward and logical process, and the adjustments are easy to make, but allow 20-30 minutes the first time you do it.
Unlike some smaller gimbals, the Crane 2S has plenty of clearance around the average full-frame mirrorless camera and there's a good range of adjustment to get the balance just right.
If your camera doesn't have a vari-angle screen, the Crane 2S's rear roll motor may obscure it on the back of the camera, but there are a couple of solutions. The first is attaching a monitor to the Crane's 2S's accessory connector – but that adds extra weight. The alternative is to take out a removable section of the arm, lowering the motor. It's a fiddly process that needs to be done with care.
At 1.88Kg without the batteries or mini tripod which doubles as a handle extension, it takes some muscle power to use the Crane 2S on a long shoot. However, that weight is because of its solid build and strong motors.
Performance
Ideally, the camera should be balanced in the gimbal with it set-up exactly as you intend to use it, but inevitably, as soon as you start shooting you realise that the screen needs to be tilted to a slightly different angle, the neutral density filter that you thought you'd need isn't required and you need to zoom in a bit. The Crane 2S takes this kind of thing in its stride, keeping the camera level and steady.
There are six stabilisation modes to choose from, Pan Follow (PF), Locking (L), Following (F), Full-Range POV (POV), Vortex (V) and Go. These are selected by single, double or triple-pressing the M button or using the trigger button (Full Follow mode), and the active mode is shown on the small screen. It takes a while to get to grips how to access each option and which to use when, but Pan Follow is good default choice.
The Crane 2S does a great job of compensating for the bounce and swing that is normally introduced when walking with the camera, transforming jerky footage into smooth, watchable video. It means you can walk or run with a subject, keeping them tightly framed in front, behind or alongside the camera.
Vortex mode creates corkscrew rotations which can be effective or nauseating depending upon how you apply it and the strength of your stomach.
Verdict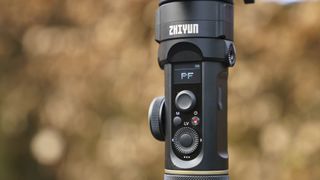 There are smaller, lighter and more affordable gimbals but the Crane 2S is a reliable piece of kit that helps you create steady footage in a variety of situations. It's also versatile, letting you swap between different cameras and ways of shooting with ease. After a few hours of use, you forgive the extra weight and enjoy exploring new creative opportunities.
Read more:
• Best stabilising gimbals
• Best video tripods
• Best 4K cameras for filmmaking
• Best cameras for vlogging