Thinking of getting into astrophotography but can't stand the thought of assembling an expensive and complicated rig? Aimed at would-be astrophotographers, the Unistellar eVscope has instant must-have appeal for anyone attracted by the idea of having photos of deep-sky objects magically delivered to their smartphone from a telescope sitting in a backyard. That's precisely what the Unistellar eVscope offers plus a chance to take part in some guided live observation nights.
The Unistellar eVscope isn't the only smart telescope in town. It joins the Vaonis Stellina, though that product didn't have an eyepiece, and instead funnelled all observations to a smartphone. That's the main trick of the Unistellar eVscope, too, but it does add an electronic eyepiece on the side of the telescope. So as well as astrophotography, you can also have a solo or shared observing session under the stars as you would with the best telescopes.
A reasonably compact device, the Unistellar eVscope is the equivalent of a 114mm/4.5 inch reflector telescope. It's fitted with a 114mm/4.5 inch diameter mirror that has a focal length of 450mm, so a focal ratio of f4. However, instead of having a secondary mirror to produce images for an eyepiece, this smart telescope sends light to a Sony Exmoor IMX224 imaging sensor. It's all inside a 65cm tube that's mounted on a motorized Alt-Azimuth arm and motor. Inside that motor is a lithium-ion battery that's good for nine hours.
Order the Unistellar eVscope at Astroshop £2,660
Order the Unistellar eVscope at Astroshop $3,635
Unusually for a telescope, its internal battery is recharged using USB-C and, naturally for a device that relies on the user having a smartphone or tablet, it provides a standard USB slot for recharging any smart device.
Handling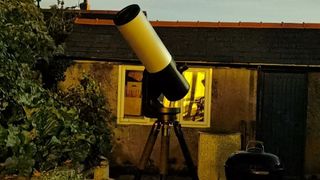 Slightly annoyingly it ships with a hefty and proprietary tripod; it would have been nice to be able to use it on any photographic tripod, but there's a weight issue going on here. The Unistellar eVscope and tripod together weigh 9kg, so although it all comes packed in an excellent custom-made backpack, you're probably not going to be hiking into the back of beyond with the Unistellar eVscope.
Nor do you really need to because rather remarkably it produces excellent images even from a light-polluted urban back garden. So how does the Unistellar eVscope work? It's not a telescope, but a camera; it collects long exposure images and stacks them, revealing faint but beguiling objects like nebula and galaxies in all their glory. Seriously, you'll never get a view like this from any standard 4.5-inch reflector telescope.
Not that it always starts off like that. After a relatively simple alignment process (an on-board computer compares what stars it can see with planetarium software and aligns itself), initial images are nothing to get excited about. In spite of the fact that this is an automatic 'Go To' telescope, which you can point at any number of recommended sights via a smartphone app, the first images of star fields and nebula were nothing to get excited about. Sometimes there was nothing to see at all.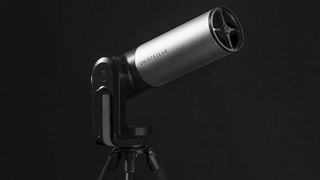 The trick is to engage the Enhanced Vision (EV) mode, which can take anything from a few seconds to a few minutes depending on the object. After a few minutes everything is revealed; open clusters of stars, faint planetary nebula and dim and distant galaxies are revealed, and with an almost unbelievable level of clarity and colour. What's happening is that the telescope is tracking the object you've chosen, knows the camera settings (ISO and exposure), and how many images it needs to take and live-stack to give you the most detail. The finished image then just pops-up on your phone and is ready to share.
Sounds too easy? In some ways, it is. The sky's transparency does make a lot of difference, and during our review there were a few times when the app crashed, lost connection to the 'scope, or that EV mode stalled. The upshot was a lot of time standing around outside staring at a phone, which isn't really what astronomy should be like.
Performance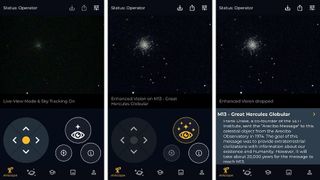 However, there's no denying the Unistellar eVscope's skills. For this review it was slewed to the Ring Nebula (M57), a faint fuzzy circular object in the constellation of Lyra that's ideally placed in the UK summer skies, but consistently impossible to see using a small telescope from a light-polluted back garden. However, even the first image taken by the telescope of M57 was acceptable; the EV mode versions were incredible. Ditto for the 'Great Hercules Globular Cluster' (M13) and the 'Cigar Galaxy' (M82).
That said, the images you produce – which you see on your phone via the Unistellar app, and which can be shared easily — aren't exactly Hubble Space Telescope-like. They're relatively low resolution at 1.2 megapixels, but the app does allow plenty of manual adjustments.
As well as going through a list of recommended targets in the app, and allowing the Unistellar eVscope to slew to them and photograph them, it's also possible to take part in some citizen science. For example, during our review, there were groups of users attempting to find an exoplanet. Asteroid-hunting, occultations and other group observations are on the menu, too.
Conclusion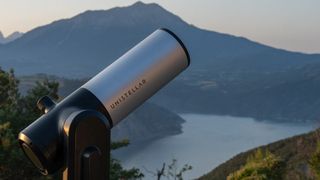 Are smartscopes like the Unistellar eVscope the future of astrophotography? Definitely, though the software needs to be faster and more reliable, and the images higher in resolution, for smartscopes to really catch-on. Still, the Unistellar eVscope is a lot of fun and surely the easiest way so far to get into backyard astrophotography.
Order the Unistellar eVscope at Astroshop.eu £2,660
Order the Unistellar eVscope at Astroshop.eu $3,635
Read more:
• Astrophotography: How-to guides, tips and videos
• The best camera for astrophotography
• The best telescopes for astrophotography
• The best star trackers
• The best lenses for astrophotography
• The best CCD cameras for astrophotography
• The best spotting scopes
• The best binoculars