If you shoot with an interchangeable lens camera, attaching a filter on your lens can be a great way to expanding your creative possibilities. Old colour filters from the days of analogue photography may be obsolete in the digital age, but polarising, neutral density and graduated neutral density filters are all still invaluable for producing effects that are difficult and sometimes impossible to recreate in software.
We've become used to such filters taking the form of circular designs that screw to the filter thread on the front of your lens. It's a system that works well, but requires you to have multiple filter sizes to suit different lens diameters. Large lenses require larger filters, and these can often be pricey.
Alternatively, a square or rectangular filter can cover a variety of lens sizes, but still requires you to carry multiple adapter rings to fit a square filter holder to different lens sizes, and these filter/holder combos tend to be bulky and expensive.
Enter STC's Clip filter. These compact filters literally clip into your camera's lens mount opening. You then attach your lens over the top, sandwiching the filter between the rear-most element of your lens, and your camera's sensor (or in the case of a DSLR, the filter sits just in front of the reflex mirror).
This system has several advantages:
One filter size will work with all types and sizes of lens
The filter can be smaller and more portable than most lens-mounted filters
You can use these filters with ultra-wide lenses that don't have a front filter thread
There's no risk of vignetting when used with an ultrawide lens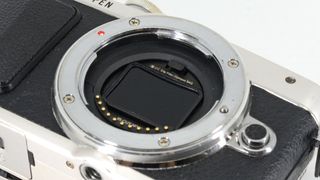 Camera compatibility
STC Clip Filters are available for a wide variety of cameras, including:
• Canon (full-frame & APS-C DSLR)
• Nikon (full-frame & APS-C DSLR)
• Sony (α7 series and α9, E-mount APS-C)
• Fujifilm (X-series APS-C)
• Pentax (full-frame & APS-C DSLR)
• Olympus (Micro Four Thirds)
Versions for Canon RF-mount and Nikon Z-mount mirrorless cameras are apparently coming soon, as are Micro Four Thirds variants for Panasonic, Blackmagic Pocket Cinema Camera 4K and DJI.
Available filter types
Neutral density filters: ND16 (4 stop), ND64 (6 stop), ND400 (9 stop) and ND1000 (10 stop)
Infrared filters: 590nm, 720nm and 850nm
UV/IR-Cut filters: 595nm, 610nm, 615nm and 625nm. "Restores your astro or full spectrum modified camera to normal spectral response"
Astro-Multispectra filter "Enables astrophotographers to capture two narrowband emission lines simultaneously, rendering ultra high contrast nebula images even if under the influence of strong light pollution in city."
Sensor protector filters: available for Sony full-frame and APS-C mirrorless, Fujifilm APS-C, Olympus MFT
Filter construction
1mm German Schott® B270 Glass, mounted in a black anodized 304 (A2) stainless steel frame
Double-sided anti-smudge nano coating for liquid and fingerprint resistance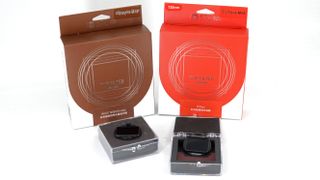 Design & handling
We tested two of STC's Clip filters; a 6-stop (ND64) ND filter, and a 10-stop (ND1000) ND filter, both for the Olympus Micro Four Thirds lens mount. STC produces Clip filters for almost every common lens mount type, but the advantage of testing a Micro Four Thirds version is that this mount is one of the smallest out there, resulting in the filters being equally compact. Therefore if the MFT Clip filters are easy to fit/remove, all mount versions of the Clip design should be easily usable.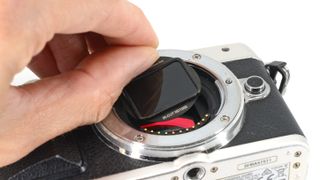 A word of warning, however. STC labels these particular Micro Four Thirds filters as 'Olympus MFT', and that's no accident. Contrary to popular belief, Olympus and Panasonic Micro Four Thirds mounts are physically different. While lenses may be interchangeable between brands, the mount aperture directly surrounding the sensor is significantly different, and STC's MFT filters will only clip into the Olympus MFT mount. We tried to fit them to a Panasonic GH3, but there's no chance this would work.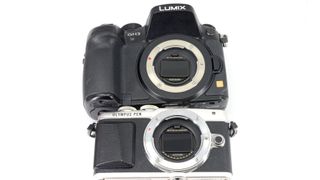 So, with an Olympus E-PL7 in hand, the filters do indeed clip into the lens mount directly in front of the sensor. The filter does need to be pushed in to a point it's recessed slightly below the level of the surrounding plastic, and you need to take care to ensure the filter is pressed in place quite evenly. Inserting it at a slight angle makes it very difficult for the 'trailing' edge to squeeze into place. There's a distinct click when the filter is successfully pressed home, and then you're ready to mount your lens of choice.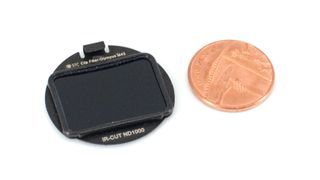 Being designed for a smaller than average lens mount, our MFT sample filters are somewhat fiddly to handle, at just 30mm in diameter and well under 1mm thick around the edge. Simply holding the filter isn't too difficult, but doing so in a way that ensures your fingers don't touch and smudge the glass when inserting the filter is much trickier. Smaller fingers are a definite advantage here, as are fingernails, as one will be required to pull the tiny 'handle' on the top edge of the filter in order to extract it from its recessed position in the lens mount.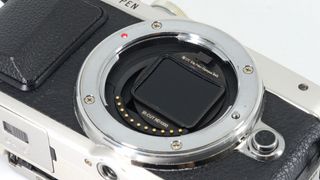 Performance
We ran our two ND sample filters through our usual ND filter testing procedure, as if they were regular lens-mounted filters. We got mixed results. On the plus side, neither our 6-stop or 10-stop sample filters had any negative impact on image sharpness. However, we found the '6-stop' filter to have a 5 1/3-stop density in reality, although the 10-stop filter was better with a 9 2/3-stop actual density.
Filter neutrality for our sample filters wasn't great, with the 10-stop filter producing a noticeable yellow colour cast, and the 6-stop filter generating a slight cyan-magenta tinge in our test shots. Colour casts are of course easily correctable in post processing software, but its an issue you don't need to fix with most of the filters in our Best ND filters buyers guide.
Verdict
STC's Clip filters are an interesting take on the humble photographic filter, and the design has several distinct advantages over conventional lens filters - mainly the inter-lens compatibility.
Then there's the issue of price. Take our ND64 and ND1000 sample filters. Each will set you back around $80/£75, which is a lot considering the tiny size of each filter, but it's good value when you remember that a decent 100x100mm square filter can easily run to twice this cost, and that's before you factor the added expense of a filter holder and lens adapter ring. And of course, all that kit will take up much more space in your kit bag than a tiny STC Clip filter.
The downside of the STC filter's compactness is that it can be fairly fiddly to handle, but in fairness we sampled probably the most fiddly filter size STC offers. A full-frame or even APS-C filter variant would likely be easier to use, and let's face it, a screw-in lens filter isn't always the easiest thing to deal with when you're fighting with a crossed screw thread.
The only significant downside with the ND Clip filters we sampled is their average optical performance. Colour casts and slightly inaccurate density ratings aren't necessarily deal breakers, but this is a sector where there's no shortage of high-performing ND filters that don't have such issues.
If you're after super-compact filters with maximum versatility, STC's Clip filters are certainly worth considering, especially if you need to use a filter with multiple lens sizes and haven't already invested in a square filter kit. The dedicated and unusual astrophotography filters are likely to be of particular appeal, whereas the ND range is up against some stiff competition.
Read more:
The best lenses for astrophotography
The best neutral density filters