The RX100 series has always been aimed at enthusiasts, but the Mark VI model on test seems to have a broader audience in mind.
Externally, little appears to be different from the models it follows, with the familiar 20.1MP 1in-type stacked sensor at its heart. It also follows its forebears in arriving with a premium price tag, although its new 8x optical zoom, which stretches from 24-200mm in 35mm-equivalent terms, makes it a much more viable option for travel, while its 4K video capabilities and flip-up and down LCD mean that it should appeal to vloggers and (admittedly well-heeled) selfie aficionados too.
The RX100 VI veers from the path of previous models in the line by packing a lens equivalent to 24-200mm in its body, rather than the 24-70mm f/1.8-2.8 used on the Sony RX100 V. Naturally this is accompanied by a less-impressive sounding maximum aperture of f/2.8-4.5, but that's still respectable when you consider that the camera is just less than 2mm thicker than the Mark V.
Compare the family: Sony RX100 III vs RX100 IV vs RX100 V vs RX100 VI vs RX100 VII
Specifications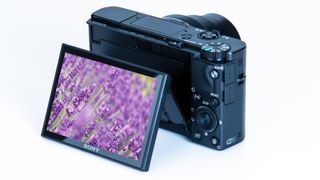 Sony product number: DSC-RX100M6
Sensor: 20.1MP 1.0-type (13.2mm x 8.8mm) Exmor RS CMOS sensor
Lens: 24-200mm f/2.8-4.5
AF points: 315 points phase AF, 25-point contrast AF
ISO range: 125 to 12,800 (expandable to ISO80 & ISO25,600)
Max image size: 5,472×3,648
Metering modes: Multi-pattern, center-weighted, spot, average, highlight
Video: 4K UHD at 30p, 24p
Viewfinder: Pop-up 0.39in EVF, 2.36m dots
Memory card: SD/SDHC/SDXC (UHS I)
LCD: 3-inch tilting touchscreen, 921K dots
Max burst: 24fps
Connectivity: Wi-Fi, Bluetooth, NFC
Size: 101.6 x 58.1 x 42.8mm
Weight: 301g including battery and card

Features
The lens packs a 15-element, 12-group configuration, with eight aspherical elements and four of these being advanced aspherical (AA) types, and two extra-low dispersion elements among these. Furthermore, to lend a hand when shooting at the maximum 200mm-equivalent end, the lens has a four-stop Optical SteadyShot system built into it. One slight downside is the minimum focusing distance across the range; 8cm isn't too bad at the 24mm end but 100cm at the telephoto extreme is quite long.
This 3in, 921K-dot screen is also the first in the RX100 line to be controllable by touch, albeit not with the same level of control as we're used to. You can't, for example, select and change menu items, but you can tap to focus, or focus and expose in one action. A small focus box appears as you do this,
which can get visually lost against some subjects on account of it being small and
grey, but it's great to see this functionality finally make its way here.
The 2.36 million-dot electronic viewfinder, which hides in the top plate when not in use, has also seen changes. It now pops into place in a single action when released, as opposed to needing to be pulled back as before. Its resolution translates to a nice, crisp reproduction of the scene, although you do need to shield it with a finger in harsh light, as there's no protection here.
Handling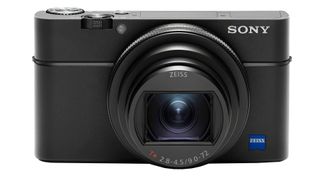 Two other areas in which Sony has made changes are the focusing system and burst mode. The model now packs a 315-point phase-detect AF system that covers around 65% of the frame, and, at the time of its launch, Sony claimed that the camera is capable of the "world's fastest focusing speeds of 0.03sec". While these claims always relate to specific settings, there are no issues when the camera is used in everyday situations, with focus being very prompt. The marginal slowdown at telephoto settings and in poorer light is also expected, but even here the camera acquires a lock well.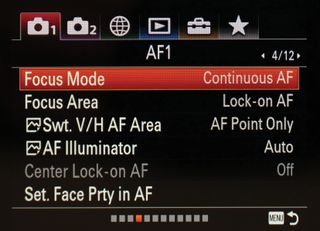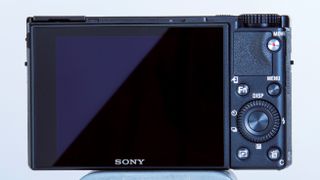 Sony also claims to have improved the face and eye detection system from previous models, and these do indeed appear to work well in practice, with a tiny box quickly appearing over the subject's eye, even in high-contrast conditions. The camera also promises to maintain focus during bursts of up to 24fps; in use, the focus points adhere very well to subjects as they move away from or towards the camera, and also when travelling laterally, although it can be difficult to see how many images you've taken when shooting at such speeds. You also can't enter the menus as this is flushed out to the memory card, which may frustrate if you've captured a few seconds' worth of images, although the camera does helpfully indicate exactly how many images are left to be written while this happens.
With an almost identical design to previous models, this offering arrives with the same pros and cons levelled at those cameras. So, its tiny size and ability to slip into a roomy pocket is huge bonus, and the control ring around the lens provides another physical means of adjusting key settings. On the other hand, the smooth finish and lack of a grip of any sort does make it less secure in the hand than some other models.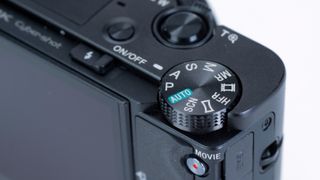 Performance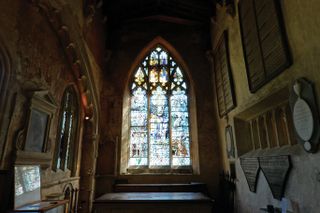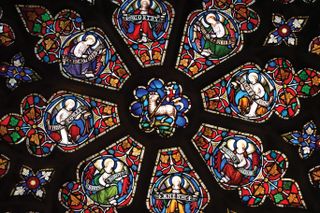 The camera's metering system is generally reliable enough to produce consistent exposures in a wide variety of situations, and it's unswayed by brighter areas, which can often cause underexposure elsewhere. When used out and about in good light, therefore, the penalty you'll occasionally face is blown highlights rather than dense shadow details, although the roll-off here is pleasingly gradual. The Auto HDR option does a very good job to balance areas of high contrast while keeping images natural, although the results are JPEG only, so you may wish to capture RAW files and tease out a little detail from each extreme instead.
The lens is one Sony hasn't used before. Separating subjects from the background is trickier than before, partly thanks to the maximum aperture but also the minimum focusing distance (see ZEISS lens box). While detail is generally very good throughout the frame, softness is visible in corners and at edges when the lens
is used at its wide-angle end. Zoom in a little and stop down the aperture and this noticeably improves, and detail on the whole is strong. Areas of high contrast are also characterized by noticeable purple fringing in JPEGs towards the edges of the frame, although control over distortion is very good – no doubt in part to those aspherical elements, but also built-in processing.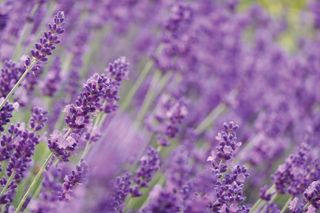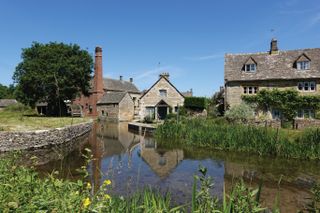 Colors generally appear faithful on default settings, so you may want to switch to the Vivid option and adjust the white balance away from the Auto setting if you want to use images straight away. The lack of in-camera RAW processing is something of a pity, though, as it forces you to make such adjustments out-of-camera after capture.