Nanlite produces a wide range of the best LED video lights for photographers and videographers, from lightsaber-sized wand lights like the PavoTube 30C to palm-sized spotlights such as the Forza 60C.
Wand lights like the PavoTube 30C produce a wide spread of soft fill or key light. The Forza 60C ships with an RF-FMM-45-S spotlight reflector attachment that focuses the Forza's light into a tight and bright beam which makes it a powerful key light. Thanks to a supplied Bowens mount adaptor you can attach other FM mount lighting accessories (such as the Nanlite SB-FMM-60 softbox) to the front of the Forza 60C and create a wider and more diffuse field of illumination (though you'll need to buy these accessories separately).
Read More: Interested in LED lighting? Find the right lights for you with our guides to the best photography lighting kits and the best LED lighting panels.
The Forza 60C is a full-color spotlight that boasts a wider spectrum of colors than other lights in the Nanlite range and you can adjust the colors that it emits to match the color temperatures of other light sources or provide creative tints for a more dramatic look.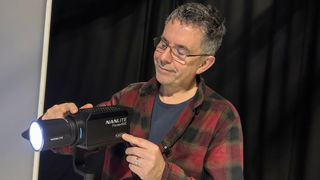 Specifications
Power consumption: 88W
Beam angle: 56.5º
CCT range: 1800K - 20000K (GM+100)
CRI: Average 96
TLCI: Average 95
TM-30 Rf: Average 100
Special Effects: HUE Loop, CCT Loop, INT Loop, Flash, Pulse, Storm, Police Car, TV, Paparazzi, Candle/Fire, Disco, Bad Bulb, Firework, Explosion and Welding
Size: 224 × 110 × 88mm / 8.82 x 4.33 x 3.46"
Weight: 1.08kg / 2.38lb
Key Features
Unlike fixed color temperature lights such as the more expensive SmallRig RC COB 350D (see review) you can use the Forza 60C's CCT menu to emit a wide range of color temperatures - from a warm 1800 degrees K to a cooler 20,000 degrees K. This is the widest range of degrees Kelvin that I've encountered when reviewing LED lights over the past year. This versatility means that you can make the Forza 60C match a range of natural light sources at different times of the day. (Such as sunrise or midday) or mimic indoor light sources such as tungsten or even candlelight.
Talking of candles leads us to the lamps' Effects menu. Here preset effects enable you to conjure up a flickering candle, alternating blue and red flashes from a police car and the type of flickering lightbulb on the blink that you tend to find when exploring a house in a scary movie.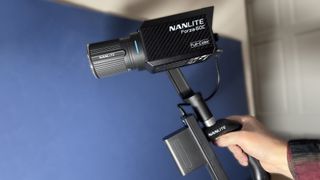 The HSI (Hue, Saturation and Intensity) menu enables you to twist a dial to produce a wide range of color tints for a stylized lighting set-up. To produce millions of colors LEDS traditionally mix Red, Green and Blues (RGB) together. The Forza 60C is able to produce a wider spectrum of colors by adding Lime, Amber and Cyan LED beads to the mix (hence the RGBLAC abbreviation). This six-color mixing technology certainly helps the Forza 60C stand out from the more limited RGBWW (RGB + White + warm White) crowd. It also ensures more accurate color reproduction.
For more precise color selection you have independent control over the mix of Red, Green, Blue and White channels using RGBW mode. An additional XY mode enables you to choose colors that rest within a specific color space so that you don't produce out-of-gamut colors (though you'll need to do this via the Nanlink app rather than the lamp's physical control dials).
Build & Handling
The beauty of the Forza 60C is that it's compact and portable. As it only weighs 1.08 Kg you can carry it around on its supplied handheld BH-FZ60 battery grip with ease (though the batteries clipped to the grip will make it a little heavier). This handheld grip frees you from being constrained by the length of a cable plugged into the mains, so you can illuminate a wider range of locations.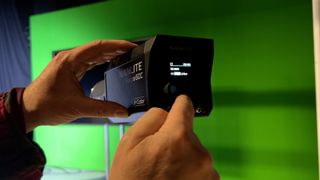 The lamp and accessories (including a Bowens mount adaptor, battery grip, and main power adaptor) all fit snugly into a branded and padded Nanlite case for easy transport. The case also contains a strap for you to attach if you prefer to carry it over your shoulder instead of by its handle.
Performance
The Forza 60C may be small but it packs a punch thanks to its 60W output. Indeed during our test shoot the spotlight reflector that ships with the Forza focused the light to such an intensity that skin tones became over-exposed at full brightness. At 1 metre the Forza produces a blinding 12,810 Lux!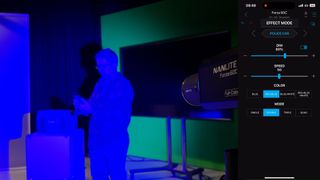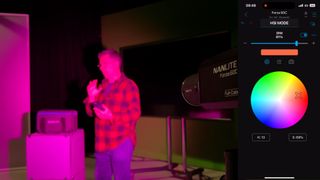 Fortunately, we could rotate one of the two rear dials to drop the brightness to a more suitable level (or drag a slider on the Nanlink smartphone app to adjust brightness while standing in front of the LED.) The app, which controls the Forza 60C via Bluetooth is an invaluable tool, especially if you're a single operator and need to adjust the light while you talk to the camera.
In my test video (below), I should have dropped the brightness a bit more than I did to reduce over-exposure, but that's my fault and not the Forza's!
Verdict
The Forza 60C is an expensive bit of kit but when it comes to accurate and creative color rendition this powerful yet compact LED outperforms many of its rivals thanks to its advanced RGBLAC color technology. We also enjoyed its wide range of creative animated lighting effects though these will be of more use to creative video drama producers than to photographers.
Despite the intensity of light funneling through the attached reflector, the LED didn't run too hot (and we didn't notice any distracting fan noise), so we could quickly pack it away at the end of the shoot without a long cool-down period. A compact, powerful, precise, and versatile LED.
Read More: Interested in LED lighting? Find the right lights for you with our guides to the best video lights, the best photography lighting kits, and the best LED lighting panels.