Leica Monovid 8x20 is compact, roof prism type monocular a mere four inches in length is ideal for the pocket. A wrist strap is handily provided alongside a leather-look, magnet-fastening carry case to keep it safe when transporting. The monocular itself is further claimed to be weather resistant. It is commonly available in matt black – though red and silver versions are also available – with that familiar Leica red badge its most prominent feature.
Small this monocular option may be, but, as this is a Leica optic, it's no surprise that a degree of sophistication comes with it, including the ability to screw on an additional close up lens – secreted within the cap of the carry case – for an enlarged, microscopic view of subjects closer to home, such as crumbs on your laptop, or the petal details of a flower. This auxiliary lens allows viewing as close as 25-30cm away – so less than arm's length – and with identical 8x magnification. Anything beyond that is blurred. In short, this relatively simple looking product would seem to pack a lot in. So how does it handle in practice?
Specifications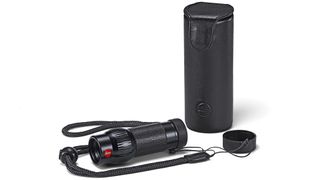 Magnification: 8x
Objective lens diameter: 20mm
Field of view at 1000m: 110 metres
Closest focusing distance: 1.8 metres
Eye relief: 15mm
Weight: 112g (monocular), 14g (close focus lens)
Dimensions: 97.9x105x35.5mm
Key features
Just like on a pair of binoculars, as regards this monocular, the '8x' figure refers to the magnification while the '20' figure refers to the diameter of its lens, namely 20mm. Obviously there is some compromise in terms of magnification and resolving power in order to achieve its compact dimensions, but few manufacturers will have managed to achieve the optimum balance as well as Leica here.
As well as the device itself, and the close up screw-on lens mentioned in the introduction, here we get a carry case, hand strap and a cap for the eyepiece. Weighing just 112g on its own, or slightly more with the extra close up lens attached, this is a monocular that manages to feel lightweight and portable, yet reassuringly sturdy when grasped in the palm too.
Build and handling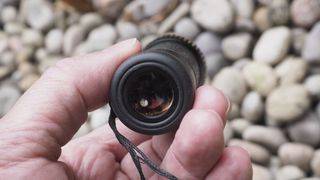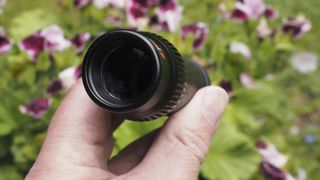 Due to its slender and relatively lightweight – albeit solid feel – nature, we found it tricky to hold the Leica Monovid 8x20 monocular steady for long periods, unless literally resting its eyecup against the lens of our glasses. If you want more than a quick glance at a subject, and are after something a bit more comfortable for prolonged operation, then a much larger spotting scope or pair of binoculars will be preferable.
Though this device is compact, as we mentioned in our intro, it manages to offer a level of sophistication that belies its diminutive size. For example, its eyecup can be satisfyingly pulled out – like a pirate extending their eyeglass – for use if not wearing glasses, or left its regular out-of-the-box retracted position for those who do wear spectacles. The lightweight yet strong aluminum metal build of the unit also impresses.
The large, bulbous and ridged focus ring on the Leica is hard to miss on what is otherwise a slender and smooth device. On our sample this ring was a little stiffer than we would have liked, especially when needing to quickly adjust focus in order to follow subjects and keep them sharply rendered. As it is, making such focus adjustments required a slow and deliberate turn of the wrist; if said ring was a little looser we felt focus operation could be quicker.
Performance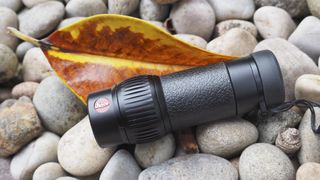 We came to be using the Leica Monovid 8x20 after playing with Leica's own much larger Televid spotting scope, with the result we noticed that the close up image provided wasn't quite as crystal clear as that much larger, bulkier and expensive device. But it's all relative, of course.
We tried out the close up lens, which lets you observe in fine detail anything held 25-30cm from the end of the scope. Anything closer or further away than that is fogged. It's fine for examining the veins in your hands in close detail, or the microscopic specks of dust you didn't realise were clogging up your computer keyboard. Another suggestion is that it has practical use for literally reading the small print in brochures.
Verdict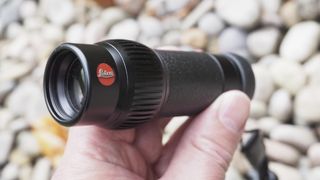 Looking for some form of scope to bring the faraway close and into sharp focus, but don't want the weight and bulk of a spotting scope or even a pair of binoculars? Then, as long as you're not too demanding in terms of resolving power when compared to either of those alternative options, the Leica Monovid 8x20 will fit into that particular niche.
There's not too much to this one and what we see here is pretty much what we get. With the exception of that screw-on close up lens hiding in the cap of the carry case provided, it's a case of hold this one up to your eye, adjust the thick and bulbous focus wheel until the image before you is sharp – and that's it. Whether ultimately this device is worth your investment depends on how valuable you feel it will be to possess a monocular that is unobtrusive enough that you can have about your person at any time, plus how steady you are able to hold it, and for how long.