This isn't the first Doogee rugged phone we've covered; the brand has established a great reputation producing almost indestructible handsets for what is a very competitive niche in the phone market. One where svelt design gives way to something that can withstand some serious drops.
People looking for the best rugged phone aren't always looking for the absolute top specs (not, of course, that they'd complain). Instead the term "toolphone" is common – a phone considered part of a toolkit while, perhaps, a smarter phone is the daily driver. In other words plenty of contractors want an on-site work phone that can cope with some roughness, and some might also have another handset.
The Doogee V31GT, however, tackles both sides of things. It is clearly of sturdy construction, with a massive battery, continuing the tradition of the company's Doogee S96 GT and S96 Pro before it. It also boasts a thermal camera – a very useful tool for electricians, HVAC engineers and others. (Hey, you can even use a thermal camera to win at hide-and-seek!)
What's interesting is that, for those comparing functionality (if not, perhaps, headline specs) with premium handsets, the phone is also a contender. The design cleverly places stereo speakers at either end of the screen so it can be used to enjoy video in a way many rugged designs fail to consider. Perhaps the Doogee V31GT has the potential to save carrying two handsets...
Doogee V31GT: Specifications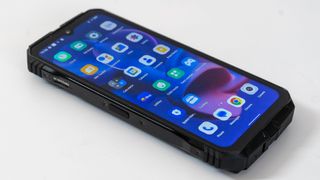 Release Date: September 2023
Rear cameras: 34MP f/1.8 (nightvision) + 8MP fd/1.8 (wide) + 256x192 pixel thermal
Front camera: 32 MP f/1.8
Display: 6.58-inch 120MHz IPS 1080 x 2408 px (400ppi)
Operating System: Android 13
Chip: Mediatek MT6877V Dimensity 1080 (6nm) + Mali-G68 MC4 GPU
Max video resolution: 4K
Touch ID: Yes (side-mounted)
Face ID: Yes
5G: Yes
Resistance: IP68/IP69K dust/water resistant (up to 1.5 meters for 30 min) Drop-to-concrete resistance from up to 1.8 meters - MIL-STD-810H compliant
Capacity: 256GB internal with optional microSDXC card slot RAM: 12GB Dimensions: 167 x 81.4 x 15.5 mm Weight: 386 g / 13.62 ounces (on our scales)
Charger: USB Type-C 2.0 3.5mm Headphone port: Yes What's in the box?: Type-C to Type-C Cable and 66W fast charger, anti-explosion film, card user manual, warranty card.
Doogee V31GT: Key features
A very tough 5G Android 13 phone, with elements of Kevlar and a 6.58-inch Gorilla Glass 5 screen, the device is job-ready boasting a thermal camera from infiRay which can spot body heat from up to 1km (over half a mile) and a 24-megapixel night vision camera. The handset also plays host to a 50MP main camera and a wide camera, so staying near flagship territory, plus stereo speakers for better leisure time during the breaks for on-site work. Oh, and for those excited by premium features, there is NFC, a 120Hz display, and (Apple has made a lot of this one) a programmable key.
It doesn't only support fast charging but includes a 66W charger in the box. Face or fingerprint scanner security is on offer, plus NFC. The enormous battery supports 960 hours of standby or 28 hours video playback. The handset is also packaged with an extra screen protector as well as the one fitted in the box.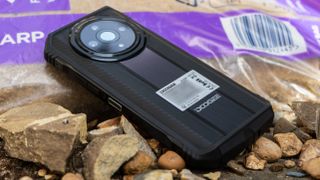 Doogee V31GT: Build and handling
This phone has the look and feel of something you'd find in a toolbox, but fronted with a top-quality 120Hz display. Top and bottom of the display – or at the sides when you're watching movies or playing – are dual speaker grilles that help the phone provide a useable stereo sound (in marked contrast to many rugged designs that go for a loudspeaker on the back).
On which subject, rotating the handset the back carbon trim on the sides and a brushed center design is dominated by an enormous circular camera module which has a rim that protects a thermal camera, LED flash, wide and main optical camera, and a night vision camera. There are also two night vision infra-red lights tucked in the camera donut.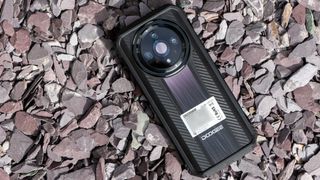 The rim of the handset is black coated metal with protective rubber at the top and bottom and coming to a decent distance around the corners so you can be confident this will survive a drop (and it did when we tried it). On the right side are a fingerprint-sensing power button and textured volume buttons, while the left has a custom button (yep, a bit like the iPhone 15 Pro), and a TF/SIM card slot (or double SIM).
Fingerprint ID isn't the only way to sign into your phone though – the forward-facing camera is capable of 2D face ID (meaning it works if you're not wearing glasses or 'face decorations' – similar to the Google Pixel Pro, but not matching Apple's FaceID system which uses a 3D scanner).
Charging is via USB-C at the base of the handset. As mentioned, a 66W fast charger is in the box (although UK customers will need an EU plug adapter). There is also a USB-C to USB-C cable – more than can be said for the premium brands. There is no always-on display, but a tiny red/green LED at the top of the screen will let you know it's fully charged more effectively at a glance.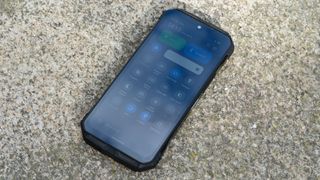 Doogie V31 GT: Performance
Ignoring the bigness for a while, the phone feels premium in hand, with a responsive and bright screen hosting Android 13 with no obvious bloatware. There is the EasyLauncher tool which provides big easy buttons that might suit a rough workplace or a senior citizen, and a separate InfiRay app is needed to launch the thermal camera.
There is also a ToolBag which includes various distance estimating and alignment tools that make use of the gyro and GPS. This is all very useful but will remind you that a laser measure and perhaps lidar would make this the ultimate toolbag phone. Neither is essential, however (and let's face it a laser measure is easier to use when it's not inside a phone).
When you're not working, gaming and viewing benefit from the fantastic screen and the speaker positioning sets it far ahead of other rugged phones which commonly have a big speaker in the back (more concerned, perhaps, with acting as the site radio). The lower frequencies could be better, but the sound can fill a small room and the phone is thick enough it can be balanced on its side for viewing (so long as you're not sawing the same table!)
The battery life is also stunning – I've been able to leave the phone in standby for days and only consumed a few percent, especially where it can find a Wi-Fi signal.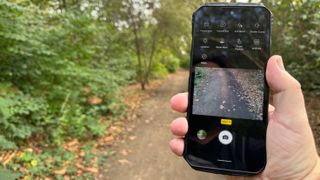 Doogie V31 GT: Camera Performance
The main camera produces excellent images and the Android 13 camera app has a reasonably straightforward interface. Oddly the the infrared Night Vision camera is one option on the list while the thermal camera has its own InfiRay app. It sits between Beauty and Video on the left of 'Picture' (the main camera mode) and High-Res, Super Night, and the 'More' option (that reveals manual mode, panorama, etc.).
Otherwise, everything is logical to use and the High-Res option produces a spectacular 8192 x 6144 pixel (50.3MP) image which skirts 17MB in file size and, except toward the corners, seems pixel sharp, at least when taken in daylight.
The Night Vision camera provides good illumination for an average-sized room or equivalent distance, so should suit some working in the dark. The Super Night is just a mode of the main camera, however – but it does produce color results.
The video clips I recorded were a little disappointing; I don't think I'd use the phone to record footage unless it was resting on something as the image stabilization is one area that hasn't really matched the premium brands.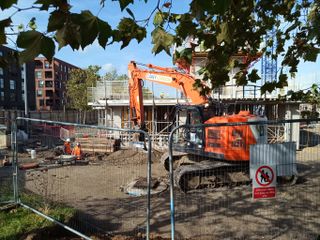 The thermal camera app also manages to impress, since it uses an optical camera to create a hybrid image. It isn't perfectly aligned (they rarely are), but by overlaying a contrast map from an optical image (at least where there is enough light), the relatively low resolution of a thermal image can be made easier to understand by the untrained eye. This works well if you're a heating engineer or electrician turning in a report with a few snaps to illustrate a point.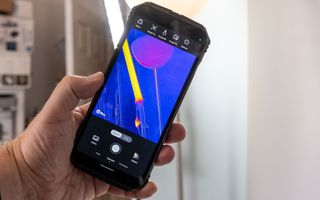 Doogee V31GT: Camera samples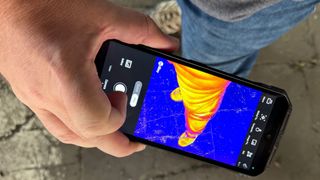 Doogee V31GT: Overall Verdict
If you're looking for a tool phone this is an excellent choice. In fact, dare I say it, if you're looking for a premium Android phone this is a fair contender too. Clearly, it won't beat the new Pixel 8 Pro on size and weight, but the cameras are surprisingly good for a rugged phone while there are no apparent compromises on workplace functionality – thermal and night mode are there. The only thing missing is a laser measure.
The excellent battery life doesn't just come at the expense of weight; you don't get the modern always-on screen for glance-checking the time or battery seen on the iPhone either. But if you can live without that, you're not making any other compromises. The cameras are the best in any rugged phone I've tested (and, at standard zoom, don't look bad against my shiny new iPhone, if I'm honest)
If you're looking for a tool phone or a rugged phone that can match or beat your daily driver as a phone, this is the one. And if you're used to carrying two phones, perhaps the weight won't be such an issue!
✅ Buy this if...
You need a thermal camera and a night vision camera
You want excellent battery life
Fast processor and media playback is important to you
🚫 Don't buy this if...
Weight and size are an issue for you
You want a laser-measure built-in
You were hoping for wireless charging
You might also like...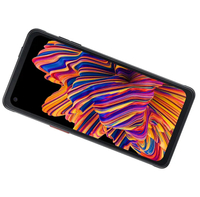 If you don't need a thermal camera, the Samsung Galaxy XCover Pro is still rugged enough for the MIL-STD-810G spec. It might not match flagship specs (far from it) but it is a trusted brand and lighter, which might be a factor if you're carrying it as a tool phone.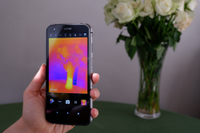 if you're keen on the thermal camera, but want a smaller handset then the CAT S62 Pro might not be stuffed with the latest features (it dates from 2020), but it does boast a thermal camera from FLIR.
If you're looking for one of the best rugged phones, we keep a separate guide. You might prefer to keep your thermal camera separate (or at least detachable) too, so we have a guide to the best thermal cameras and even the best thermal camera drones!