Google Pixel 8 and Pixel 8 Pro launch: Google unveils its latest phones alongside the Pixel Watch 2
Follow the live launch with us as we find out all the details about the new flagship Google Pixel 8 and Pixel 8 Pro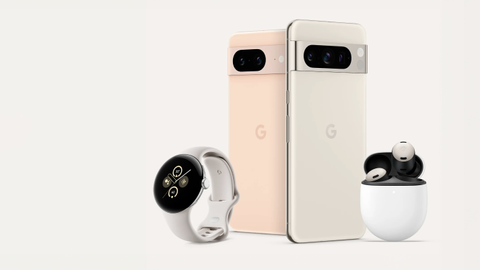 (Image: © Google)
Google is getting ready to unveil its flagship Google Pixel 8 and Google Pixel 8 Pro phones for 2023.
Following on from the Google Pixel 7 and Google Pixel 7 Pro from last year, we are not expecting many shocks with this year's models similar models to last year, but with the Google Pixel 8 and Pixel 8 Pro rocking new Google processors unlocking some expected new AI photo and video editing magic. Google might also have some other surprises up its sleeve too.
Tune in here as I follow the launch live and give my hot takes on the new devices. You can watch the launch on Google's YouTube channel (below) and the event kicks off tomorrow Oct 4 at 10 AM ET / 3 PM GMT / 1 AM ACT.
Preorder the new Pixel 8 now:
Google Store (US) - $699 | Google Store (UK) - £699 | Google Store (AU) - AU$1,199
Preorder the new Pixel 8 Pro now:
Google Store (US) - $999 | Google Store (UK) - £999 | Google Store (AU) -AU$1,699
Refresh
Luckily thanks to Google's very leaky ship, we already know most of what Google is planning to announce tomorrow. You can check out our extensive breakdown of all the leaks for more information.
It is safe to say that these two new phones are shaping up to offer a lot of new and exciting software features, including AI-powered photo editing and video editing software built into the phone and powered by Google's Tensor 3 chip.
We are also looking at a couple of potential hardware tweaks, including a new flat-edged screen (goodbye awkward curves) with a new screen technology powering the display that might be Google's brightest ever.
Based on early rumors, looks like are expecting a slight upgrade on the cameras on the Pixel 8 Pro. A rarity in phones, as it is usually the forgotten camera, but looks like the Pixel 8 Pro will be improving on the ultrawide camera with a much larger 48MP sensor over the usual 12MP sensor (which the regular Pixel 8 is still stuck with). This camera also should have better macro performance. The rumored sizes of the three cameras on the Pixel 8 Pro are as follows.
Google Pixel 8 Pro:
Main Camera: 50MP
Ultrawide Camera: 48MP
Telephoto Camera: 48MP
Google Pixel 8:
Main Camera: 50MP
Ultrawide Camera: 12MP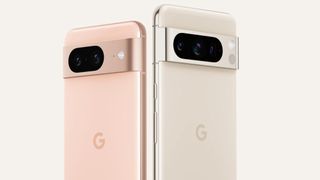 Just putting the Pixel 8 launch to one side for just a second, the latest info unearthed by APK Insight, suggests that Google might be working on a flip phone. While we are fairly confident that this won't be revealed tomorrow as Google is terrible at keeping secrets, but it's interesting to see that the Pixel family might be expanding soon, and also shows Google's growing confidence in its phones, which many predicted would not last.
The switch to Google's new Tensor G3 SoC means the Pixel 8 should be capable of 8K30 video recording, at least in terms of its raw processing ability. Whether or not Google will be able to deal with the thermals side of this is another matter. We do know that the Pixel 8 will feature:
Video Boost: "automatically adjusts color, lighting, stabilization, and graininess to make every moment more cinematic"
Audio Magic Eraser: uses Google AI to reduce background noise
Real Tone: now in video, to represent skin tone nuances more accurately
Video Night Sight: for enhanced low-light video quality
Just a couple of hours now until the big event.
There are several contradictory rumors about the price of the new handsets. A lot of leaks suggest that the Pixel 8 might see a $100 price increase to $699, which would serve to better separate it from the Pixel 7a, but if the price increase is worth it remains to be seen.
The Pixel 8 Pro might remain at $899, which still keeps it very competitive against rivals, especially Apple's pricey iPhone 15 Pro Max.
The phones are also tipped to come with pre-order bonuses including a free Pixel Watch 2 with the Pixel 8 Pro, and a free pair of Pixel Buds Pro with the Pixel 8.
As someone who is already set to click that pre-order button, I really hope this turns out to be true!
Just over 30 minutes to go! What are we all most excited for?
10 minutes to go and the obligatory hype video has just started!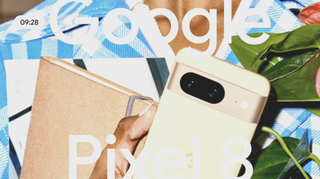 Currently over 65,000 people tuned in for live stream, a lot of people are eagerly anticipating these phones!
Google's intro video very cleverly sends up just how terrible they are for leaking practically everything about their phones! Worth a watch.
Pixel is the fastest growing smartphone brand, and the only brand gowing in units sold YoY apparently!
Get ready for a lot of AI talk over the next hour. Google is already teeing up the biggest improvements in this years phones to be its AI enhanced cameras and editing software.
AI is also coming to the Pixel Buds Pro, with improved Clear Calling, with reduced background noise processed by AI. They will also double the Bluetooth bandwidth. The very curated sample that Google just played sounded super impressive. Can't wait to try this in the real world.
Pixel Buds will also pause and turn on transparency mode when it detects you talking. Although this has been problematic on other headphones, with these modes being a little too sensitive, so I will be keen to see Google's implementation in action.
Starting with the Pixel Watch 2 today.
With big performance improvements inside, as well as improved Fitbit integration. The processor is now a quad-core, and the battery will now last a full 24 hours with always-on display. The battery on the original watch was its weakest point, so this is a great improvement.
The cover glass is also supposedly more durable, which is great as many people have managed to crack their domed displays.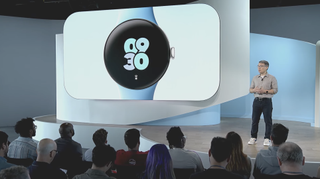 The Pixel Watch 2 works even better with brand new and improved sensors as Fitbit's newly redesigned app for even deeper insights into your health. Google stripped back the health features on the original Pixel Watch, which was an odd choice after spending a lot of money to acquire Fitbit, so it is great to actually see a more serious take on health with this newer model.
Pixel Watch 2 will start at $349 for the WiFi only version, but will offer a more expensive LTE enabled version. The Pixel Watch 2 will only come in one size.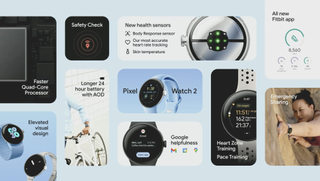 It is finally time for the Pixel 8 and Pixel 8 Pro!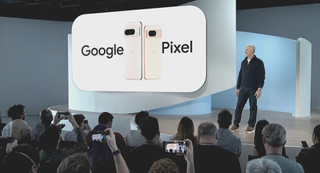 Unsurprisingly, all the colors and design leaks have turned out to be completely accurate. The colors for the Pixel 8 will be Hazel, Obsidian (black), and Rose. The colors for the Pixel 8 Pro will be Bay (blue), Obsidian, and Porcelain.
Pixel phones will now be easier to repair, with a partnership with iFixit to make it easier for third parties to repair Pixel 8 phones (or you attempt it yourself, although we would not recommend this).
The Pixel 8 has a new Actua display that is 40% brighter than the Pixel 7.
The new Super Acuta display on the Google Pixel 8 Pro is now even brighter at 2400 nits and 1-120Hz variable refresh rate.
The new temperature sensor on the back can basically be used as a thermometer on just about anything, so you can work out if you are sick, or more importantly, exactly when your coffee is too cold!
The new Google Tensor 3 chip is (obviously) better than before. It was now run twice the amount of machine learning models as the Pixel 6 (which is a slightly skewed comparison to make).
We are going to hear a lot about all the new AI-powered things the Tensor 3 will enable, like Google's language translation and call screening features, both of which are incredible features but are already available on the Pixel 7 and 7 Pro. We will also hear more about the new camera features and editing features, which is much more exciting.
Onto the cameras. The big improvements this year are based on video performance, which has always been a weak spot for Pixels. Although after declaring it is better, Google sped through this a little, so I guess we will have to wait and get our hands on the phones to see exactly how it is better.
AI is also coming to audio (what isn't it coming to) and now Pixels will let you reduce distracting sounds in videos with Audio Magic Eraser. By creating distinct layers in audio you can remove specific layers of noise during editing. Perfect for removing traffic noise, sirens or barking dogs.
Group photos are also improved with new Best Take feature, which uses a series of photos in a burst so you can pick the expression for every person individually in the image.
Magic Editor will now let you select and move objects while editing photos, you can also pinch to shrink or grow objects. We have seen this on other phones and software, so it is good to see Google playing catch up with this one.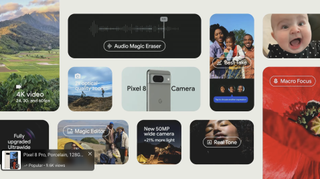 Onto the Pixel 8 Pro. Every camera in the Pixel 8 Pro is upgraded. With a 50MP main sensor and two 48MP sensors for the ultrawide and telephoto cameras, the telephoto camera also now lets in more light.
The Pixel 8 Pro also comes with a new Pro Photo mode, which lets you control every aspect of the photo-taking process just like you are shooting with a mirrorless camera, like aperture or ISO.
The phone also now supports full 50MP RAW DNG files, that maintain HDR tuning while editing in Adobe. This might be the new best phone for pro photographers!
A new feature called Video Boost will now boost the HDR content and color of your videos using computational models as well as enabling Night Sight video, for improved video in low light.
Looks like this will mostly be handled off the phone though, and there will be a short delay between you taking the video and it being ready, with Google Photos sending a notification when it has completed processing videos.
Google specifically called out the iPhone 15 Pro Max on stage for this feature, so it must be pretty confident that this is going to impress people when they actually use it. In the presentation, it looks cool, but also a little over-processed in the example Google used.
Google is showing a long video about shooting at night using the new Video Boost feature, which is also its Video Night Sight feature (a bit confusing). Night Sight video looks so impressive in Google's (curated) examples!
The feature won't be ready for launch but will come later in a Pixel Feature Drop toward the end of the year.
Google's Assistant on Pixels will now be improved by integrating with Google's Bard AI model. Like with all AI previews, there are lots of promises of how easy AI will make your life by using your data for deep learning. However, take this with a grain of salt as my Google Assistant still sometimes struggles to turn my lights on and off...
Assistant with Bard should be able to help you by analyzing your screen content for better responses, as well as helping you plan and make lists by scouring the internet for you and pulling in helpful information.
More on Magic Eraser. Instead of correcting images with content-aware fill, the new Magic Eraser on Pixel 8 Pro will now use generative AI to completely recreate background pixels when removing or moving objects to fill in the space. This is the same as Adobe's Firefly AI in Photoshop (and might even be using the same tech as Google and Adobe do have a partnership in this area). But using it directly in Google Photos might be the easiest way to use generative AI we have seen yet!
Zoom and enhance! Anyone who watches a lot of cop shows needs to buy a Google Pixel Pro. The Pixel 8 Pro can now enhance an image as it zooms in using AI. Sci-fi writer's dreams are finally coming true!
Pixel 8 will start at $699, be available in three colors, Obsidian (black), Rose, and Hazel, and will be available starting next week in stores or can be pre-ordered now.
The Pixel 8 Pro will start at $999 (which is $100 more than the Pixel 7 Pro). Again will be available next week, or can be pre-ordered now, and comes in Obsidian (black), Porcelain, and Bay (sky blue color).
The Pixel 8 and 8 Pro will now have 7 years of OS updates, Feature Drops, and security updates! Which takes it all the way until 2030! This even beats Apple's official product updates, which you can be sure that Google did not fail to mention on stage.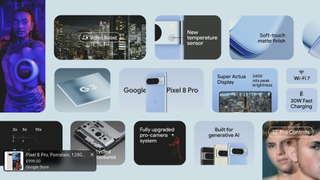 And that is a wrap! Lots of exciting stuff in there that sounds like the Pixel 8, but especially the Pixel 8 Pro is now the phone to beat when it comes to the best camera phone.
I am very excited to try out the improvements to Magic Eraser and see the improved video quality. Not long to wait, with the devices coming next week, we will bring you our thoughts in our reviews of both phones!
Thank you for reading 5 articles this month* Join now for unlimited access
Enjoy your first month for just £1 / $1 / €1
*Read 5 free articles per month without a subscription
Join now for unlimited access
Try first month for just £1 / $1 / €1