The Celestron StarSense Explorer DX 130AZ telescope isn't going to do much for your astrophotography ambitions, but it will definitely help you learn to navigate the night sky. Its headline act is surely its clever StarSense app, which is used to align it to objects in the night sky, though that's only half the story.
Essentially piggy-backing on the electronics in your smartphone for all 'the complicated stuff', the StarSense Explorer DX 130AZ is actually a fairly simple – if great quality – point-and-shoot telescope, with no motorized and/or equatorial mount and no way of slewing to objects, aside from some elbow grease.
However, with the StarSense app holding the hand of beginners, the StarSense Explorer DX 130AZ is easy to use and offers some really sharp views of star clusters, galaxies and the Moon. Since it asks you to do the hard work you may even get an education in navigating the night sky, too.
Key features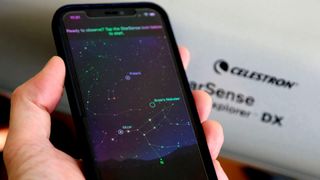 A Newtonian reflector telescope with a 5-inch aperture and a smartphone mount attached to its side, the StarSense Explorer DX 130AZ comes with a couple of rather basic and low-power eyepieces in the box; a 25mm wide-angle and a higher power 10mm. Some will want to upgrade them before too long, but they will do the trick for beginners.
In the box you'll also find a red dot finder, which once aligned carefully can be used to help you find objects in the night sky during times when you don't want to use the StarSense app; you just look through its sight and move the StarSense Explorer DX 130AZ until the red dot appears on top of your target.
Given its manual alt-azimuth mount the StarSense Explorer DX 130AZ is not a good choice for astrophotography. After all, it needs repositioning every few minutes to keep the intended target within the crosshairs. However, you're free to indulge in a little casual afocal smartphoneography just by holding your smartphone's camera over the eyepiece and lining-up a shot of the Moon. There is, of course, a slight issue with that because your smartphone is actually busy being the control hub of the StarSense Explorer DX 130AZ.
However impressive its StarSense app is for aligning it, the fact remains that it works better in a dark sky, with light pollution and a bright Moon making it less effective. Telescopes always behave better under dark skies, so we appreciate that the telescope is lightweight enough to be driven out to the countryside and set-up under dark skies, though the tripod doesn't quite feel as solid as it could do. Still, we like that StarSense lets you know whether an object is 'City Viewable' or 'Dark Sky Viewable', which helps keep expectations in check and helps beginners in urban areas avoid wasting time.
Build and handling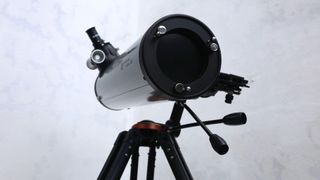 It sounds impossible but, yes, the StarSense Explorer DX 130AZ can be aligned using a smartphone app. However, it's important to note that it doesn't align itself. Rather, it aligns the telescope with your smartphone's GPS and the app's database of stars and you have to physically align it with the night sky.
Although it's a manual affair, the app holds your hand, presenting arrows and a 'bullseye' in the app to guide you in. You then have to use two fine motor controls to get it dead-on while you look through the eyepiece. It's not difficult – and it's much easier than the traditional three-star alignment process that lots of beginners fail with immediately when using entry-level telescopes – but it still requires a little practice and some patience.
Overall we really enjoyed using the app to align the telescope with object after object, but having to constantly rely on your own smartphone can get a little tiresome.
As well as being slightly annoyed that we couldn't take it out of the mount to take a quick picture through the eyepiece we also found that the battery drained fairly quickly, particularly on cold nights. There's another slight complication in that Newtonian reflector telescopes do need to have their optics aligned, something called collimation. That could be a little daunting for beginners.
Performance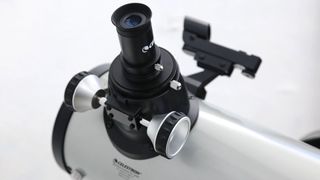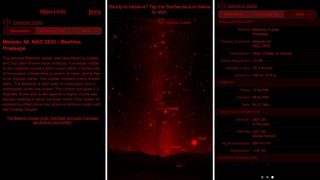 Used initially on a crescent Moon, the StarSense Explorer DX 130AZ excelled with sharp views through its 25mm eyepiece. It's a joy to focus, with a tactile and low-gear focusing knob making it really easy and quick to get some sharp images, in this case using the 25mm eyepiece on the terminator line between light and dark on the lunar surface. Stunning!
However, as the Moon waxes towards full it becomes too bright to look at; consider buying a 'moon filter' to cut out glare. We were able to take a quick image of the Moon through the eyepiece, but that's about your lot for astrophotography with this telescope.
Put to work on several deep sky targets – including the M35 open cluster in Gemini, the nearby Orion Nebula and the Beehive Cluster – the StarSense Explorer DX 130AZ was equally impressive, with plenty of detail and contrast.
We also liked the StarSense app not just for its alignment skills, but for its spoken-word audio on hundreds of objects and its astro-centric design. For example, you might think that the white light from an always-on smartphone attached to a telescope would interrupt your night vision. That's true, but the StarSense app sensibly has a red-light mode to lessen that (though you should also turn down the brightness on your smartphone).
One thing modern telescopes don't yet do is appraise your exact position vis-a-vis buildings and trees. However, as well as recommending objects behind houses, the StarSense app did tend to suggest a lot of objects very close to the horizon, which is when they're at their trickiest to see clearly.
Verdict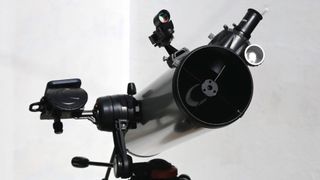 The StarSense Explorer DX 130AZ is a fine telescope for beginners wanting astronomical views. We can see the thinking behind it, and the way it uses its StarSense app to align with the night sky is very clever. However, we do have two concerns.
The first is that everyone likes to keep their smartphones in their hands or in their pocket; we're not convinced leaving their beloved phone outside in the cold to (quite quickly) run out of battery is high on most stargazers' lists.
Secondly, by using an app for the complicated stuff the StarSense Explorer DX 130AZ is left entirely bereft of all electronics. So why the high price? The StarSense Explorer DX 130AZ has a convincing answer to that second concern in the shape of exceptionally sharp images.
Without a motorized equatorial mount it's of little use for astrophotography, but it does give sharp, contrasty views of star clusters, globular clusters and galaxies. Although the eyepieces bundled here aren't the best, this telescope's core optical quality makes them worth upgrading because the StarSense Explorer DX 130AZ is definitely a keeper.
Read more:
• Astrophotography: How-to guides, tips and videos
• Astrophotography tools: the best camera, lenses and gear
• The best lenses for astrophotography
• The best star tracker camera mounts
• Best equatorial mounts
• Best deep-space telescopes
• The best light pollution filters
• The best CCD cameras for astrophotography
• The best spotting scopes
• The best binoculars
• The best microscopes