Deep-space imaging is an art-form all in itself. Astrophotographers employ high-quality telescopes and filters with sophisticated image processing capabilities to produce wondrous, colorful and intricate images of expansive star-forming nebulae, swirling spiral galaxies, and the lobes of planetary nebulae. In some cases, you'd be forgiven for thinking they are being produced with the Hubble Space Telescope. Dozens or even hundreds of sub-exposures, stacked to produce datasets spanning many hours, can turn even the deepest, faintest deep-sky object into a detailed cosmic structure. But it requires practice, no little skill, and the right equipment.
If you're setting out to image the deep sky, then a fast telescope is a must. The 'fast' refers to the focal ratio. Instruments with high focal ratios, say f/10 or f/11, are referred to as 'slow' - they take longer to gather the light, meaning they're better for imaging brighter objects, such as the Moon and planets, without becoming over-exposed too quickly. Use a slow telescope to image a magnitude 12 planetary nebula, and you'll struggle to collect enough light to pick out any details or produce a bright image.
Telescopes with low f-ratios, say about f/5 or less, are referred to as fast because they are able to gather light onto the pixels of your camera's imaging sensor more quickly, producing a brighter image and meaning that fainter objects can be imaged in less time - perfect for those faint nebulae. The less time you are imaging, the less likely that the object will drift off target, or a satellite trail will ruin your exposure, or so on.
Maybe you want a telescope that's adept at imaging both planetary and deep-sky targets. In this case, telescopes with f-ratios between f/5 and f/10 are jack of all trades, though of course they'll skew more towards one type of object than the other depending on how fast or slow they are. And, of course, a slow telescope can handle imaging the brighter deep-sky objects well enough, so you're not completely limiting yourself to planets if you get an f/10, for example.
You've also got to balance all this with other concerns, such as the mount you have available, and the budget with which you can buy your imaging telescope. With all this in mind, here are five instruments that to greater or lesser degree, fit the criteria for astro-imaging, ranging from beginners to advanced, and from short-exposure 'snapshots' to 'deep' long exposures.
Best deep-space telescopes in 2023
Why you can trust Digital Camera World Our expert reviewers spend hours testing and comparing products and services so you can choose the best for you. Find out how we test.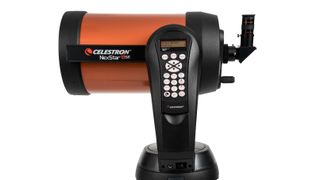 Some telescopes are designed specifically for the deep sky in mind - giant Dobsonians that drink up faint photons of light from faraway nebulae and galaxies, or astrographs dedicated to high-resolution imaging of faint cosmic fuzzies. Sometimes, though, the best deep-sky telescope is one that is adept at other things too, providing you with the versatility to observe more than just deep-sky objects.
This is what Celestron's NexStar 8SE is so brilliant at. The telescope itself has fantastic heritage, Celestron's original design dating back to the 1970s, so you know you're getting something that has been tried and tested over five decades, and it really shows.
Optically, the views are sensational for an eight-inch telescope. Training it on the trio of open clusters in Auriga - M36, 37 and 38 - we saw crisp, bright resolved stars across about four-fifths of the field of view. The Orion Nebula, an old favourite for testing new telescopes, showed its familiar nebulous patch clearly. The supplied 25x Plössl eyepiece is adequate, but switching to one of our own 16mm eyepieces offering 125x resolved the diamond-esque stars of the Trapezium cluster at the heart of the nebula.
It's also excellent for planetary targets – though low in the sky, Jupiter and Saturn appeared sublime, the banding in the Jovian atmosphere evident, and Saturn's Cassini Division dividing the rings clear to see.
Celestron's SkyAlign three-star alignment procedure (you can also use bright planets or the Moon) results in the target being placed in the centre of view more times than not, and the Go-To tracks smoothly and accurately. The NexStar database, accessed by the supplied hand controller, has more than 40,000 different objects for you to hunt down.
If there is a downside, it's the fork-arm mount. It's nice enough, but a bit lightweight with a low carrying capacity, so if you intend to load up your 'scope with cameras, filter-wheels and the like, you might want to invest in a sturdier equatorial mount. Some extra eyepieces besides the 25mm, along with a Barlow lens, wouldn't go amiss too to give the user a variety of magnifications.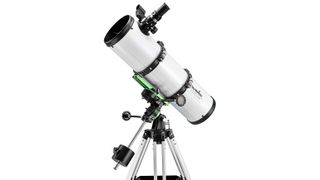 Every astronomer has to start somewhere, and the Sky-Watcher StarQuest-130P is a telescope designed with the beginner in mind. Its lightweight, but with a good-sized aperture, and versatile with a fast focal ratio that means it's not too bad for imaging as well as visual use through the eyepiece.
Let's start with the optical tube. Sky-Watcher's 130P Newtonian has been around for a while now, and its design and optics have been fine-tuned to provide views of excellent clarity. We saw that there is some field distortion (the technical term for which is 'coma') near the edge of the field of view, but nothing too serious and nothing more than what you would expect for a telescope of this type and price. Even more advanced astronomers, looking for a quick grab-and-go telescope, could do much worse than picking up the 130P.
The new product in this bundle is the StarQuest equatorial mount. We found that it certainly has got its good points, but also a couple of things to be wary of. It's set-up is nice and easy, and it's armed with two slow-motion control cables in both RA and Declination axes, which allowed us to nudge the telescope to our desired target, then keep adjusting to follow it as our celestial object of choice moved across the sky. But, this is also a hindrance if you're looking to image the target. The slow motion controls are in place of a motor drive, and though you wouldn't expect a telescope of this price to feature a motorized mount, it does mean that imagers are limited to very short exposures. For beginners, however, who perhaps wish to image with their smartphones and capture views of brighter deep-sky objects such as the Orion Nebula (or for that matter the Moon and bright planets), it's certainly sufficient.
The aluminum tripod isn't the most sturdy, and the StarQuest mount itself is a little on the lightweight side meaning we found there to be some wobble, again not ideal when you're trying to hold the system steady for imaging.
The telescope is of good enough quality that a beginner would want to keep hold of it, while first upgrading the accessories around it, before thinking of upgrading the telescope itself. The supplied eyepieces are okay, while the absence of a Barlow lens sticks out like a sore thumb. You'll also want to upgrade to a GoTo mount at some point, but for this bargain price, the Sky-Watcher StarQuest-130P definitely gets a thumbs up from us.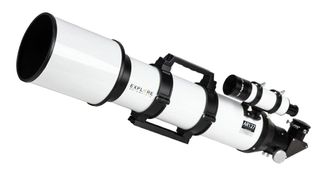 Explore Scientific's AR127 achromatic refractor is an impressive-looking telescope: large, but not too large as to be cumbersome, and sporting a glorious black and white finish. But enough of aesthetics; is it actually any good?
The AR127 doesn't come with a mount, tripod or any eyepiece accessories, which in itself tells you that it's designed for the more experienced astronomer who already has this kit lying about. We found that an EQ6 mount is probably the better choice than an EQ5 for this telescope if you're going to be imaging; while the EQ5 can easily carry the AR127's 7.1-kilogram heft, once we started adding a heavy DSLR and filterwheel, we started to tip the scales beyond what the EQ5 is built for. So the EQ6 it was.
The images produced by the AR127 were bright, sharp and with good contrast but – there was extra unwanted color. Perhaps too much. Refractors, by design, are subject to chromatic aberration, which is caused by different colors coming to focus at slightly different points inside the telescope tube, leading to color fringing around celestial objects, and the brighter the object, the worse it is. Expensive, premium refractors use multiple lenses and exotic glass coatings to minimise chromatic aberration; Explore Scientific's AR127 isn't quite in that category, we found. The extraneous color is most distracting around the Moon, and when we targeted Jupiter, we saw that didn't fair well either. But, if you can look past the chromatic aberration, Jupiter showed well, its belts crystal clear.
So, the chromatic aberration hampers planetary views, but how does the AR127 fare when directed towards deep-sky objects? The answer is quite well, and wide-field views are its speciality, when viewed at lower power. Auriga's open clusters looked like treasure chests of sparkling jewels. The Pleiades were outstanding, with dozens of fainter members standing out. And the galaxies of the Virgo Cluster provided a galactic wonderland.
If you don't mind the chromatic aberration, or have a predilection for imaging wide-field deep-sky objects, then the AR127 is a great choice.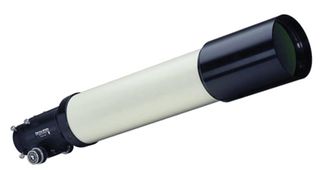 To beat the scourge of chromatic aberration, Tele Vue's NP127 IS refractor isn't a doublet lens, or even a triplet, but a full blow air-spaced quadruplet lens that packs a focal ratio of f/5.2 into a relatively short tube.
The four lenses make the system an expensive one, but worth it if you want the best views. Two of the lenses, at the front of the telescope, combine to form a doublet with a long focal length. The other two lenses form a doublet at the back of the telescope tube, to create a field flattener. The combined effect is a 660mm focal length, f/5.2 telescope virtually free of chromatic aberration and with a flat field, meaning no edge distortion from spherical aberration. Normally a single doublet refractor would require a tube that was much longer, and more cumbersome, than the 850mm of the NP127IS. The air between the two doublets helps the optics cool down faster, and we found within half-an-hour the telescope reached ambient temperature, removing those dastardly air currents that can affect seeing through the telescope.
The fast f-ratio and premium quality optics make the Tele Vue NP127 IS an imager's dream. The IS refers to the Imaging System focuser, designed for use with even the largest astronomy CCD sensors (52mm diagonal), and featuring a 10:1 dual speed focuser for fine-focusing. The focuser itself is able to carry up to 5.4 kilograms of equipment, so even the heftiest DSLR and filterwheel combo will hang off the end of the telescope with ease.
Imaging with the Tele Vue NP127IS is sensational. Even our few short test exposures of the Orion Nebula though this fast telescope showed the ability of the high quality of the optics to provide excellent images. Spend more time with it, producing multi-hour exposures, and the resulting vista will be like floating through space yourself.
Switch in a few eyepieces for the camera and you've got an excellent visual-use telescope too, and in our tests we found it performed visually just as well on the planets as it did on faint deep-sky objects. You might argue that for the price you'd expect nothing less, and Tele Vue's reputation of producing superlative products precedes it. The Tele Vue NP127IS lives up to that reputation and more.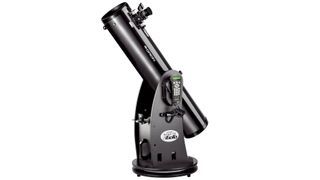 Though refractors are excellent for astrophotography, producing superb images with their high quality lenses, sometimes you just need a lot of bang for your buck, and Orion's SkyQuest XT8g Dobsonian does just that. Dobsonians are well known as being "light buckets" – large aperture telescopes on a simple rocker mount that drink in distant photons. The SkyQuest XT8g isn't just a simple mount, however: it's a Go-To Dobsonian that can track the sky as well as any motorised mount (the 'g' in the telescopes name refers to Go-To).
That larger 203mm aperture means the SkyQuest XT8g collects more light than, say, a 127mm refractor, shortening exposure times and making imaging a much faster process. Dobsonians are well known as being excellent all-rounders, and the SkyQuest XT8g is suitable for all kinds of astronomical object, and being a Dobsonian - a telescope system designed for its simplicity - it's easy to use too.
The mount is WiFi enabled, so we were able to control it via the SynScan Pro software we had running on our smartphones (you can also use a laptop). SynScan Pro is a free and well-known guiding software that has proven popular for many years. It's 42,000-object database give you more than enough targets to track down. You can also use the connected SynScan hand controller if you wish.
How well does the telescope's Go-To system work? Our tests showed it was quite accurate, almost always placing the object in or near the centre of the field of view. The motors were noisy, leading to some neighbours to peer out of their window to see what was going on, but it slews quickly and smoothly, rather impressive while lugging a 9 kilogram telescope around.
However, there is a hitch. A Dobsonian is an alt-azimuth mount, not an equatorial, so this results in field rotation – stars will appear to move around the field of view, leaving long, curved star trails during long exposures. Expert astronomers adept at using image processing software can employ de-rotation to rid themselves of this after their data has been collected, but it's not ideal. Still, for shorter exposure imaging of brighter deep-sky and Solar System objects, Orion's SkyQuest XT8g is quite adept.
The other thing to consider isn't really a problem, but will affect the type of astronomy and imaging that you can do with the the SkyQuest XT8g. Its large 203mm aperture, combined with its long 1200mm focal length, results in quite a wide field. We found that it was perfect for large deep-sky objects such as the Hyades, or prominent nebulae such as the Orion Nebula, and it was even great for imaging the Moon's disk, but smaller planetary nebulae tend to get a little lost in the field of view.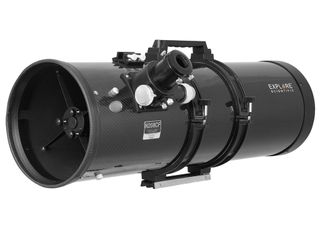 The Explore Scientific N208CF has been developed with the assistance of astrophotographers and after putting this astrograph to the test, we could certainly tell – it features a HR Variable Coma Corrector, which allows for perfectly round stars. Newtonian reflectors are predisposed to "coma", an optical aberration that causes targets to have a tail – or appear smudged – during observations. We are delighted to see that views are of a high quality, with no defects in sight.
The overall design – as reflected in the cost – is of a high quality. The focuser doesn't share the same standard, but it did the job when bringing targets into a sufficiently fine-tuned view. At 8.66kg the instrument is quite lightweight, making it simple to find a mount and tripod that can support its weight.
Despite the excellent high-definition views we achieved through the N208CF, which included exquisite views of the rugged surface of the Moon, the atmospheric layers of Jupiter's surface, the Orion Nebula (Messier 42), the Eskimo Nebula (NGC 2392) and the Horsehead Nebula (Barnard 33), this astrograph is quite pricey given that it doesn't come with any accessories, a tripod or mount.
That's not too much of a problem though, especially given that it allows you to choose your add-ons and create a set up that allows you to optimize your experience of imaging the night sky – and you can certainly get exceptional images through the N208CF. A must-have for the serious astrophotographer.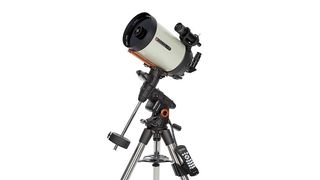 The final entry in our roundup of the best telescopes for deep space is the Celestron Advanced VX 8" Edge HD, which gives a flavor of the kind of telescope available to those with a larger budget. It represents an advanced amateur telescope capable of pretty much any task you'd care to give it. With superb quality optics and an excellent, accurate mount it offers a high performance level in almost every area of astrophotography. It also has the added bonus of offering a superbly user-friendly system. A telescope like this will provide a lifetime of observing pleasure to all but the most demanding observers.
Read more:
• Astrophotography: How-to guides, tips and videos
• Astrophotography tools: the best camera, lenses and gear
• The best lenses for astrophotography
• The best star tracker camera mounts
• The best light pollution filters
• The best CCD cameras for astrophotography
• The best spotting scopes
• The best binoculars
• The best microscopes