Keeping devices topped out with power throughout a busy day is essential, and thanks to power banks increasing capacities, and decreasing costs, this is now thankfully easier than ever.
The Belkin 20,000mAh power bank is a capacious and compact power bank that can charge your devices efficiently. With 20,000mAh of power, Belkin claims this power bank can provide up to 75 hours of additional battery life for an iPhone. It has both USB-C and USB-A ports so that you can charge multiple devices at once, and is compatible with any device that is able to charge via USB Power Delivery.
Belkin BoostCharge 20K: Specifications
Capacity: 20,000mAh
Max output: 15W
Ports: 2x USB-A, 1x USB-C
Size: 16 x 8.13 x 2.29 cm (6.3 x 3.2 x 0.9 in)
Weight: 490 g (17.28oz)
The Belkin charger is available in a few colors – the plain black version I have here for testing for anyone looking for a simple and understated power bank, but also comes in a dusky twilight blue color or a soft baby pink color for those looking for little more personality from their device.
The best thing about the Belkin power bank is the price, which at around $40 at the time of writing makes it competitive with other reliable power bank makers like Anker and Ugreen. Without the bells-and-whistles of flashy design or super fast charging, it means that Belkin has managed to keep this power bank very affordable, and perfect for those just looking for a simple and cost-effective method of keeping their devices topped up on the go.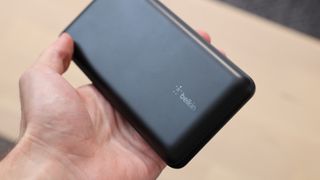 Belkin BoostCharge 20K: Design & Handling
The design for the Belkin power bank is pleasantly utilitarian, this power bank has no flashy features like a screen or bold metal and glass chassis, it is a relatively featureless plastic oblong, although this makes it feel much more robust, as the chassis is solid and tough. This design also allows the power bank to not be too heavy, and I found this much nicer to carry around than some more premium-made fast-charging power banks.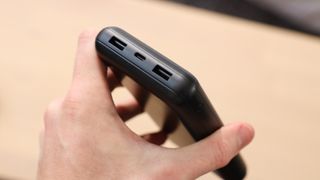 On the side, there is a button with four LEDs to keep track of how much power remains which is a useful touch. Up top, the power bank has one USB-C and two USB-A ports which will suit anyone who has lower-powered devices that use this older generation of connection.
However, the majority of my devices and cables are now USB-C to USB-C so another of these connections would have been my preferred layout. However there is one 6-inch USB-C to USB-A cable in the box, so if like me or don't have many of these cables anymore you can still get charging right away.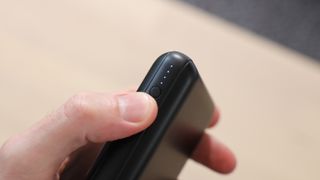 Belkin BoostCharge 20K: Performance
With 20,000mAh of power in its tank, the Belkin power bank managed to recharge my trio of daily small devices – my Pixel 8 Pro, Pixel Buds, and Pixel Watch – all for two consecutive days without me having to run to find a wall charger. If I just charged my phone alone, then I definitely could have squeezed a third day out of the capacity.
The only downside of the power bank is it quite slow to charge devices compared to a lot of other devices on the market. The power bank has only 15W of power output, which puts it below the potential maximum charging speed for the latest iPhones or my Google Pixel (~27W), let alone Android phones from OnePlus and Xiaomi that can charge at ridiculous speeds beyond that.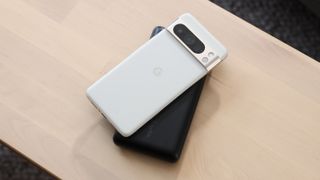 This is still about as fast as the maximum wireless charging speed for many phones, and it recharged my Pixel 8 Pro phone in a couple of hours, which is certainly still good enough, even if not the fastest possible.
The power bank takes several hours to recharge when empty, but if this is done overnight then it isn't much of a burden, and the power bank can be recharged with most power adapters you already own. The slower connection works both ways though, so using a more powerful wall charger unfortunately won't increase the charging speed of the power bank beyond its maximum input.
Belkin BoostCharge 20K: Final Verdict
The Belkin 20,000mAh power bank offered a convenient and budget-friendly solution and ensured my devices stay charged throughout the day, especially when you're on the go and away from a conventional power source.
While it may not be the quickest charging option available and isn't suitable for powering laptops, its substantial capacity was a reliable means to recharge my smartphones multiple times. Additionally, its capability to charge up to three low-powered devices simultaneously adds to its versatility, making it an ideal companion for those like me who constantly run a set of wireless headphones or a smartwatch.
Whether you're traveling, commuting, or simply hate going to a wall socket, the Belkin 20,000mAh power bank serves as a reliable energy reservoir for your essential devices.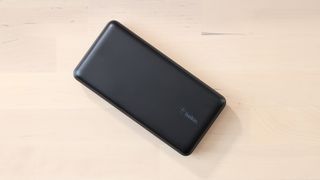 Should you buy the Belkin BoostCharge 20K?
✅ Buy this if...
You want several days of extra battery for your phone
You want a big yet affordable power bank
🚫 Don't buy this if...
You want to power a laptop
You want to charge multiple devices as fast as possible
You might also like...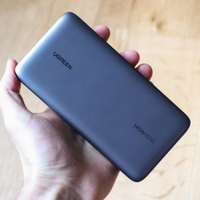 Looking for something similar but with the power to fast charge your phone and your laptop? The Ugreen 145W power bank is a capacious power bank that also has the power to keep even your most demanding devices running.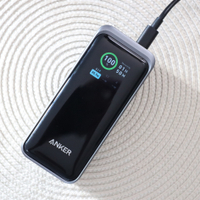 If style is your thing then the Anker Prime 200W power bank is one of the coolest looking out there, with a really useful screen that keeps you informed about how much time is remaining in the bank, and also the individual charging speeds from each port.