Smartphones are not built to be brilliant cameras. Yes, the best camera phones boast increasingly incredible optics relative to what they used to have, but that's about it. Adonit thinks they're too slippery, can't easily be stabilized. It thinks that they take terrible selfies, and run out of battery too quickly. Adonit is completely correct about all that, of course, and yet there's something about its PhotoGrip Qi that keeps it from being the must-have accessory.
Features and handling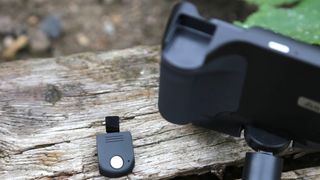 PhotoGrip Qi tries to do a bit too much. A product designed to turn a smartphone into a camera, its core features are more than worthy. Firstly, it's compatible with any smartphone over 4.5-inches in diameter and uses a simple spring-loaded clamp to grip any model. Secondly, the case itself features a rubber-like plastic handle that's ergonomically designed to grip easily while taking a selfie. It's even got a thumb-notch.
However, that grip isn't particularly useful for holding a smartphone with two hands to take a 'normal' photo. So it's for selfie-takers only? If that's the case, we're wondering whether the average selfie-addict would ever want a tripod thread for their smartphone. The provision of a 1/4-inch tripod thread is something that we really (really) like – and it's perhaps the best reason for a dedicated smartphone photographer to buy the PhotoGrip Qi – but it's hardly a must-have for the average casual selfie-snapper.
Although Bluetooth remotes have often been targeted at mainstream smartphone users, the whole idea of a remote shutter is going to appeal most to those who know a bit about photography. Like you (of course!). So the chance to pop-out a small Bluetooth shutter button and take a photo on a smartphone mounted inside the PhotoGrip Qi is welcome.
It works really well, too, slotting in and out easily, and also working as a built-in shutter button when its housed in the PhotoGrip Qi itself. It's powered by a flat circular CR2016 battery that should last a good while. However, it's a slight shame that it doesn't get recharged by the 3,000mAh lithium battery sitting underneath it.
That integrated battery is reserved for refueling a smartphone, though once again, we're wondering why a smartphone photographer's gadget is providing something that most of us already possess. Sadly, the battery is fairly small and only good enough for a partial recharge of a big flagship smartphone, but PhotoGrip Qi redeems itself somewhat by being QI wireless-compatible.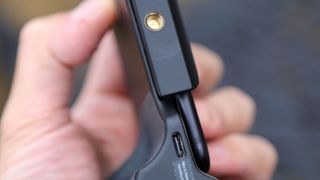 Now that's genuinely exciting. Haven't we all faced the dreaded flat battery after a half-day of smartphone photography, and been forced to cable-up to a portable power pack? Having no need for cables definitely makes the PhotoGrip Qi worth considering for a day's shooting. The battery itself must be recharged via USB-C, which does mean owners of very slightly older phones won't get much out of (or, rather, in to) the PhotoGrip Qi without traveling with a dreaded extra cable.
Though we do like its provision of a tripod thread, the PhotoGrip Qi does actually stand unsupported when in portrait orientation. In this position, it also makes for a rather good desktop stand for a phone. However, we're wondering why it's not also designed to sit steady on a flat surface when in landscape orientation; it's actually impossible to get a steady landscape image unless you use the included (or any) tripod. It's odd because the battery compartment protrudes at the bottom instead of the top for no apparent reason.
That tiny tripod in the box is pretty good at what it does, and it's small enough to put in a shirt pocket. However, its build quality – like the PhotoGrip Qi in general – is plasticky, and it has no ball-head, so there's zero movement for composition. That said, its rubberized feet are handy for shiny surfaces, and it does a decent job for quick pics.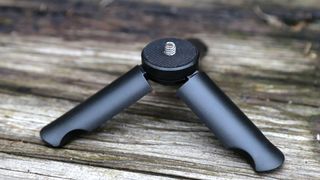 Verdict
Available black or white, and also shipping with a neoprene bag designed to hang around the neck, the PhotoGrip Qi is an intriguing idea with two killer apps – that QI wireless charger and that Bluetooth shutter – so you can recharge your phone while you take photos and also keep your hands off the phone altogether.
It's not the best in terms of build quality, but it's good enough, and if you do have one of the latest phones and you're after a way of stabilizing it, the PhotoGrip Qi is way more interesting than the cheap-as-chips phone-grippers for tripods sold online. It's also way more expensive.
Read more:
• The best iPhone tripods
• The best add-on lenses for iPhone and Android phones
• Best selfie sticks for your smartphone
• The best gimbals for your iPhone, GoPro and camera
• The best phone cases to protect your camera phone