The Moza Slypod Pro is an unusual move for parent company Gudsen, in that it's decided to fund it as a Kickstarter project. We're told, though, that it reached its funding target in the first five minutes, so its future looks pretty safe! Our review sample arrived ahead of the Kickstarter launch and looks, feels and operates like a fully finished product.
Gudsen's MOZA brand has carved out a bit of a name for itself in the world of gimbals, but has recently started to deviate and innovate. We've already had the world's first 2-in-1 slider-come-monopod in the shape of the Slypod, a clever motorised device that can automatically extend at different speeds via a dedicated app, and now we have its big brother, the Slypod Pro.
Bigger and more powerful than the standard model, the Slypod Pro now sports a set of detachable tripod feet, meaning it can be now used vertically as a tripod (or tri-foot monopod) as well as a horizontal or angled slider as a boom fitted to a regular tripod.
Specifications
Folded length: 650mm
Folded length (with tripod): 865mm
Expanded length (with tripod): 1180mm
Camera travel distance: 530mm
Maximum moving speed: 40mm/s
Minimum moving speed: 0.5mm/s
Weight: 1460g (main unit) + 330g (head) + 520g (tripod base)
Vertical load: 6kg
Horizontal load: 2kg
Battery life: 4 hours
Charging: Type-C USB (90 minutes)
Key features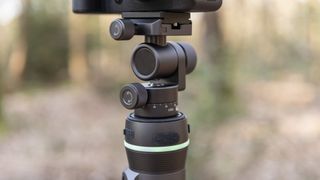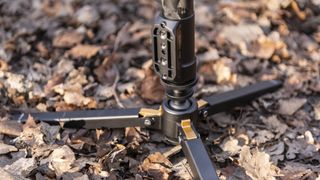 The Slypod Pro can be broken down into three parts – the compact pan and tilt head, the main powered monopod and the detachable feet.
Let's start with the monopod element. In its collapsed state it measures 650mm (without the tripod attachment), but thanks to the motor, it can be automatically extended a further 530mm to a total length of 1,460mm. The clever bit is that you can also regulate the speed as well, with a minimum moving speed of 0.5mm/s that can be increased to 40mm/s depending on the look you're after. Not only can it be controlled via the simple controls on the monopod itself, but there's also a dedicated app that you can control travel distance, speed and acceleration, which means that it's not only very versatile for video, but great for those looking to capture dynamic time-lapse imagery.
The compact pan and tilt head features a Arca Swiss quick release system, while the feet add an extra element to the Slypod Pro and turn it from a monopod into a tripod (of sorts) and allows you to tilt the monopod up to 60 degrees.
Build and handling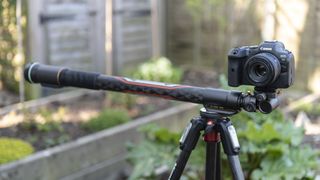 MOZA doesn't appear to have cut corners here. The main monopod unit has been constructed from carbon fibre, weighing in at 1,460g, while it's also weather-proof as well. Both the feet and pan/tilt head are metal and sport a pleasing matt finish.
The payload varies depending on which orientation you use it at 2kg horizontally and 6kg vertically, which might be something to bear in mind should you be planning some large, sweeping movements with some heavy kit.
Even without the tripod feed attached, the Slypod Pro weighs 1790g. This makes it quite heavy to manage and manoeuvre when used as a boom/slider, and you'll need a good strong tripod with decent sized head to keep it locked down tight and steady.
One slight niggle is the bag it comes with – it just feels cheap and a bit of an afterthought compared to the rest of the kit.
Performance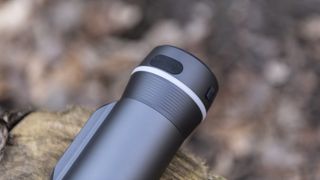 The Slypod Pro works a treat. Charging via a Type-C USB socket, you should be able to get up to 4 hours of use out of it before you'll need to charge it up again. If that's not enough for you, then the Slypod Pro can still be operated when charging – it also means it can be connected to a suitable battery pack out in the field.
Here's a video we shot with the Slypod Pro with the camera audio included, just to give you an idea of the noise levels so that you can decide how to tackle any live audio. If you're using a separate audio track or a voiceover it's not an issue. The movement is both super-smooth and highly controllable.
The creative approaches on offer are pretty impressive, with the Slypod Pro working as a great slider or as a jib arm, allowing you to introduce an array of other types of shot into your filmmaking with simple inputs. That's especially true if you partner the Slypod Pro with a gimbal.
The controls couldn't be simpler, while the app offers that extra level of adjustment if needed. The movement is nice and smooth too, though the motor noise at full speed is pretty loud. The motor is a lot quieter if you use lower speeds, but never completely silent (the app has a 'Silent' mode, but this simply reduces the maximum speed).
This means recording live audio could be difficult unless you stick to slow speeds and use an off-camera or strongly directional shotgun mic.
Verdict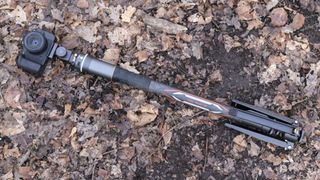 The Slypod Pro is one of those ideas that is so good that you wonder why no one has come up with it before. It might have limited use for stills photography unless you're shooting time lapses regularly (though it's still a very effective monopod), but for videographers looking for a versatile piece of equipment that will help them achieve a variety of shots in a single device that's also portable enough to pack away, this is a good buy.
Read more:
• Best camera sliders
• Best camera gimbals
• Best video tripods